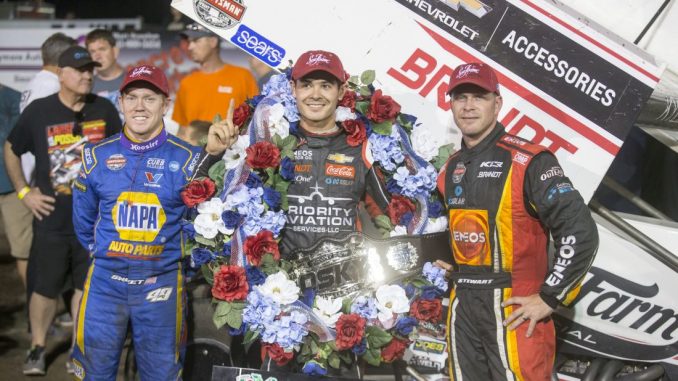 From Bill Wright
OSKALOOSA, Ia. (August 6, 2018) – In a young career that has already seen its share of "firsts", Kyle Larson became the first driver to win both an Ultimate Challenge and a Front Row Challenge.The Elk Grove, California, who had won the non-wing Ultimate Challenge in both 2011 and 2012, led wire to wire to win Monday's Sage Fruit Front Row Challenge presented by Musco Sports Lighting. Texan Christian Kinnison made his long tow worth it by winning the Badger Contracting IMCA Racesaver 305 sprint car main event.
Larson earned his way to the pole by first winning the $1,000 Keith Hutton Memorial "King of the Hill" Max presented by Deberg Concrete. The four-car match races set the 30-lap feature lineup, which had him on the pole.
He shot out to an advantage early over Kerry Madsen and last year's winner, Brad Sweet, who had his hands full with another former winner, Shane Stewart. Larson was in lapped traffic by the eighth circuit. At the same time, Sweet shot around Madsen for second on a very racy track surface.
Stewart and Madsen battled hard as well, trading the third spot three times in the middle stages. Meanwhile, up front, Larson was slowed a bit in traffic, but kept a steady lead over Sweet. The only caution of the event flew for debris with just four laps to go.
Larson would maintain his advantage at the finish, ahead of Sweet, Stewart, Kerry Madsen and Gio Scelzi. Spencer Bayston, Ian Madsen, Cory Eliason, Joey Saldana and Chad Kemenah rounded out the top ten. Scelzi set quick time over the 35-car field, while Daryn Pittman, Brock Zearfoss, Ian Madsen and Brian Brown won heats. All heat winners won $500 cash from Rudeen Racing, a $100 certificate from Weld Racing, and a cannister of protein from Nutri-Shop of Maple Grove, Minnesota. Paul Nienhiser claimed the B main.
Paul Silva, who set up both the Larson and Stewart cars, was named Snap-On "Mechanic of the Race" and took home a Snap-On 3/8 Lithium Impact Wrench Set courtesy of Team Steuchel and Dave Magrath Enterprises. Eliason was the hard-charger, winning a KSE Steering Pump. James McFadden won two awards: a $500 certificate from BMRS for the "Back It Up" Award (losing the most spots in the feature), and $500 from Hoseheads.com for being the highest finishing Pennsylvania driver/team. Every A main starter was awarded $100 from Al Driveline.
"This is pretty cool," said Larson in Victory Lane. "I've got a couple of Ultimate Challenge belts, and it's neat to get one for the Front Row Challenge. It's $20,000 to win, and one of the biggest races of the year. It's great to race in front of a packed crowd. The track was awesome. I felt like I did a good job until I got to traffic and I was stalled behind Pittman. The caution came out, and I was a little nervous about that. Brad is so good at the end of these races. We were able to carry the momentum and win it."
"I was thinking I was trying a little too hard," said Sweet of his late run. "(Larson) was coming back to me a little bit. I really burnt my tires off. I was driving out of control a little bit, which I usually don't do. I just wanted to beat this 'son of a gun.' He set a good pace and we ended up second. I don't know that I needed that caution. I had found a little something on the top of turn four. I was just happy that we were able to stop on the front straightaway tonight."
"This was a good run for us," said Stewart. "Paul (Silva) was doing double duty, and did a good job, along with Keith and Jacob. We've had a tough year and everyone has stuck with me. Team Chevrolet had a good run tonight, and it's good to see. Kyle did a great job. I felt like my car was pretty good too. Once I found the bottom, we gained some speed. I feel like I'm getting my momentum back at a good time."
In the 15-lap 305 feature, Brady Forbrook took the early advantage over Mike Johnston and Christian Kinnison. Kinnison would take second from Johnston on lap five. Forbrook entered lapped traffic on lap nine and Kinnison reeled him in. A lap later, he would make the winning pass.
Kinnison's win was worth $1,000 from Badger Contracting. In addition, he earned a $100 certificate from All-Star Performance. Mike Moore received the $250 BMRS "Back it Up" Award. Forbrook held onto second, ahead of Johnston, Mike Houseman Jr. and Jake Martens. Kaleb Johnson, Moore, Dusty Ballenger, Cody Ledger and Jacob Hughes completed the top ten. Forbrook, Martens and Moore won heats.
"It was definitely a sweet win," said Kinnison, a Denton, Texas native. "It's great to put it on the front straightaway and we can't wait for next year!"
23rd Annual Sage Fruit Front Row Challenge presented by Musco Lighting Results
Sage Fruit Front Row Challenge Main Event (started), 30 laps: 1. 57, Kyle Larson, Elk Grove, CA (1) 2. 49, Brad Sweet, Grass Valley, CA (5) 3. 2, Shane Stewart, Bixby, OK (2) 4. 2m, Kerry Madsen, St. Mary's, NSW, Aust. (3) 5. 71, Gio Scelzi, Fresno, CA (4) 6. 39, Spencer Bayston, Lebanon, IN (6) 7. 18, Ian Madsen, St. Mary's, NSW, Aust. (7) 8. 83, Cory Eliason, Selma, CA (15) 9. 26, Joey Saldana, Brownsburg, IN (8) 10. 10H, Chad Kemenah, Arvada, OH (14) 11. 9, Daryn Pittman, Owasso, OK (13) 12. 4K, Kasey Kahne, Enumclaw, WA (12) 13. 3H, James McFadden, Ormeau, QLD, Aust. (9) 14. 24, Lucas Wolfe, Mechanicsburg, PA (10) 15. 4, Brock Zearfoss, Jonestown, PA (19) 16. 35AU, Jamie Veal, Warrnambool, VIC, Aust. (16) 17. 3P, Sawyer Phillips, Pleasantville, IA (20) 18. 2KS, Austin McCarl, Altoona, IA (18) 19. 17w, Shane Golobic, Fremont, CA (23) 20. 21, Brian Brown, Grain Valley, MO (11) 21. 7, Carson McCarl, Altoona, IA (22) 22. 9x, Paul Nienhiser, Chapin, IL (21) 23. 59, Sammy Swindell, Germantown, TN (17) DNS – 14, Tony Stewart, Columbus, IN. Lap Leader: Larson 1-30. KSE Hard-charger: Eliason. $500 BMRS "Back it Up" Award: McFadden. $500 Hoseheads Highest Finishing PA Driver: McFadden. Snap-On Mechanic of the Race: Paul Silva.
Seafoam Motor Treatment $500 Quick Time: Gio Scelzi, 15.792.
True Value of Oskaloosa Heat one (started, *qualified for feature), 8 laps: 1. Daryn Pittman (2*) 2. Spencer Bayston (4*) 3. Gio Scelzi (6*) 4. Paul Nienhiser (1) 5. Cory Eliason (3*) 6. James McFadden (5*) 7. 5J, Jamie Ball, Knoxville, IA (8) 8. 41s, Dominic Scelzi, Fresno, CA (7) 9. 2K, Kevin Ingle, Huron, SD (9)
Plumb Tech Heat two (started, *qualified for feature), 8 laps: 1. Brock Zearfoss (1*) 2. Joey Saldana (4*) 3. Jamie Veal (2*) 4. Kerry Madsen (6*) 5. Sammy Swindell (3*) 6. 5H, Sammy Walsh, Orangeville, NSW, Aust. (7) 7. 7w, Tasker Phillips, Pleasantville, IA (8) 8. Tony Stewart (5*) 9. 19, Bob Weuve, Newton, IA (9)
Leaf Filter Heat three (started, *qualified for feature), 8 laps: 1. Ian Madsen (4*) 2. Austin McCarl (1*) 3. Kyle Larson (6*) 4. Chad Kemenah (3*) 5. Lucas Wolfe (5*) 6. Shane Golobic (2) 7. 99, Skylar Gee, Leduc, ALB, Can. (7) 8. 71A, RJ Johnson, Tampa, FL (8) DNS – 44, Trey Starks, Puyallup, WA
Taso's Steak House Heat four (started, *qualified for feature), 8 laps: 1. Brian Brown (3*) 2. Brad Sweet (5*) 3. Sawyer Phillips (1) 4. Shane Stewart (6*) 5. Kasey Kahne (4*) 6. Carson McCarl (2) 7. 48, Danny Dietrich, Gettysburg, PA (7) DNS – 35, Skylar Prochaska, Lakefield, MN
DeBerg Concrete Keith Hutton Memorial "King of the Hill" Max, 2 laps: Round one: Kerry Madsen, Gio Scelzi / Brad Sweet, Ian Madsen Round two: Kyle Larson, Shane Stewart / Spencer Bayston, Joey Saldana Final Round: 1. Kyle Larson (2) 2. Shane Stewart (4) 3. Kerry Madsen (1) 4. Gio Scelzi (3)
Schoenfeld Headers/Chalk Stix B Main (started), 12 laps: 1. Paul Nienhiser (1) 2. Sawyer Phillips (3) 3. Shane Golobic (2) 4. Carson McCarl (4) / 5. Skylar Gee (6) 6. Jamie Ball (7) 7. Tasker Phillips (8) 8. RJ Johnson (9) 9. Bob Weuve (11) 10. Sammy Walsh (5) 11. Kevin Ingle (10) DNS – Dominic Scelzi, Danny Dietrich, Skylar Prochaska, Trey Starks
Badger Contracting IMCA Racesavers
A main (started), 15 laps: 1. 82c, Christian Kinnison, Denton, TX (1) 2. 5, Brady Forbrook, Morgan, MN (2) 3. 14J, Mike Johnston, Des Moines, IA (4) 4. 4L, Mike Houseman Jr., Des Moines, IA (6) 5. 48, Jake Martens, Fairview, OK (5) 6. 22, Kaleb Johnson, Sioux Falls, SD (9) 7. 69, Mike Moore, Des Moines, IA (3) 8. 2D, Dustin Ballenger, Harrisburg, SD (16) 9. 47, Cody Ledger, Omaha, NE (7) 10. 8, Jacob Hughes, Hartford, SD (10) 11. 23s, Stu Snyder, Waverly, NE (21) 12. 80x, CJ Houseman, Des Moines, IA (14) 13. 48T, Tyler Thompson, Des Moines, IA (11) 14. 68+1, Blain Petersen, Essex, IA (13) 15. 45, Monty Ferriera, Fresno, CA (12) 16. 11, Frank Rodgers, Lucas, IA (17) 17. 73, DJ Palmer, Des Moines, IA (19) 18. O5, Colin Smith, Sheldon, IA (15) 19. 3TJ, Joel Thorpe, Urbandale, IA (20) 20. 62, Tim Fricke, Hastings, NE (18) 21. 462, Val Urman, Roseville, MN (8) DNS – 11B, Ben Woods, Newton, IA, 35K, Chad Koch, Lakeside City, TX. Lap Leaders: Forbrook 1-9, Kinnison 10-15. $250 BMRS "Back It Up" Award: Moore.
Heat one (started), 6 laps: 1. Brady Forbrook (4) 2. Val Urman (1) 3. Tyler Thompson (2) 4. Kaleb Johnson (6) 5. Blain Petersen (7) 6. Tim Fricke (3) 7. Frank Rodgers (8) 8. Joel Thorpe (5)
Heat two (started), 6 laps: 1. Jake Martens (1) 2. Cody Ledger (2) 3. Mike Johnston (6) 4. CJ Houseman (4) 5. Mike Houseman Jr. (8) 6. Dusty Ballenger (7) 7. DJ Palmer (3) 8. Stu Snyder (5)
Heat three (started), 6 laps: 1. Mike Moore (3) 2. Christian Kinnison (7) 3. Monty Ferriera (2) 4. Jacob Hughes (6) 5. Colin Smith (4) 6. Ben Woods (1) 7. Chad Koch (5)