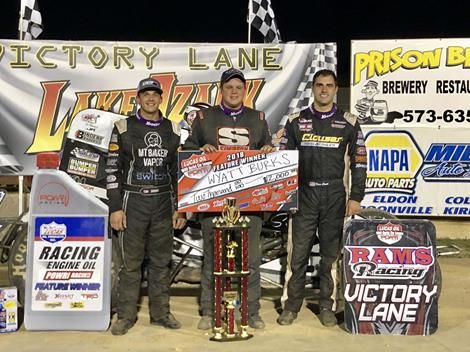 From Brian Walker
ELDON, Mo. (August 17, 2018) — Capitalizing on a late-race mistake from Landon Simon, Wyatt Burks of Topeka, Kansas stormed into the race lead on the 21st circuit and held on for his seventh-career POWRi Lucas Oil WAR Sprints League victory tonight at Lake Ozark Speedway. After Simon commanded the opening 20 laps, a costly mistake drifting over the cushion in turn two allowed Burks to throw the slider and take the top spot. He then fended off Simon's final attempt for the win a green-white-checkered restart, and parked his Clem's Signs No. 11W in victory lane on night one of the WAR Non-Wing Nationals.
Welcoming 31 entries to the opening night of the WAR Non-Wing Nationals, four heat races and a B-Main served as the preliminary action. Wyatt Burks won Hinchman Racewear heat one, Chance Morton took Bell Racing USA heat two, Quinton Benson claimed Schure Built Suspension heat three and Mario Clouser scored Wilwood Disc Brakes heat four. Jack Wagner won the Hoosier Tire B-Main and transferred along with Taylor Walton, Chris Parkinson, Warren Johnson, Joe B. Miller and Craig Carroll.
Following a six-car inversion pulled by LRB, Inc. #HighPointMan Chance Morton, the feature field was led to the green flag by Lane Stone and Landon Simon. Surging to the early lead, Simon went straight to the top and put his Mount Baker Vapor No. 24 immediately to the point. As Simon worked his way out to a solid advantage, Mario Clouser maneuvered into second and brought Wyatt Burks with him into the third spot.
Catching Simon to challenge him for the lead on lap five, Clouser made his presence known as the duo nearly went side-by-side at the stripe. Continuing to mount the pressure and hound Simon for command, Clouser chased him into lap traffic where the intensity only expanded. After nearly being stuck in the backstretch wall by a lap car, Simon recovered and maintained his lead at the halfway mark with Wyatt Burks closing on him and Clouser both.
Burks quickly came to life as he moved by Clouser for the second spot with a lap 13 slider and set his sights on Simon out front. He immediately threw a slider his way, but Simon persisted and drove around before the first caution of the race flew on lap 16. On the restart with nine to go, the relentless Burks went right back to attack Simon with a pair of sliders, but somehow Simon again managed to drive around and withhold his lead.
However, the move that decided it all took place as Simon drifted over the cushion at the exit to turn two and nearly found the outside wall. He kept it together and away from the wall, but his mistake was too costly as Burks closed back in and launched a monster slidejob into turn three to clear him and take away the lead on lap 21.
A caution on the white flag lap set up a green-white-checkered restart which gave Simon and Clouser one more shot at Burks. Turning in a great restart, Simon immediately dove to the bottom and chunked a turn one slider at Burks. However, Burks committed to the cushion and powered around him on the outside to retain the lead and pull away with a healthy advantage.
In the end, Wyatt Burks would lead the final five laps and withstand a daunting green-white-checkered finish to score the seventh POWRi Lucas Oil WAR Sprints League victory of his career, which places him in a three-way tie for for third on the all-time wins list. The thrilling triumph also gives the Topeka, Kansas native plenty of momentum heading into tomorrow's finale of the Non-Wing Nationals at Lake Ozark Speedway, which will send one stout driver home with a shot at $20,000 in the Bell Racing USA Triple Crown Challenge.
Trailing Burks to the line and rounding out the top five tonight at Lake Ozark was Landon Simon in second, Mario Clouser in third, Quinton Benson in fourth and Riley Kreisel in fifth. Closing out the top ten was Slater Helt in sixth, Shon Deskins in seventh, Chance Morton in eighth, Ty Hulsey in ninth and Craig Carroll in tenth.
Up next for the POWRi Lucas Oil WAR Sprint League is the finale of the Non-Wing Nationals at Lake Ozark Speedway in Eldon, Missouri tomorrow night, August 18th. Paying $3,000 to win, $300 to start, the event also serves as the opening leg to the Bell Racing USA Triple Crown Challenge, which is worth a $20,000 payday. If the winner of tomorrow's feature at Lake Ozark can also claim victories at Lucas Oil Speedway (September 22nd) and Fairbury American Legion Speedway (October 6th), they will earn a huge five-figure earning.
POWRi WAR Sprint Car Series
Non-Wing Sprint Car Nationals
Lake Ozark Speedway
Eldon, MO
Saturday August 17, 2018
Heat Race #1 (8 Laps): 1. 11W-Wyatt Burks, [4]; 2. 7-Shon Deskins, [1]; 3. 12-Wesley Smith, [5]; 4. 30-Ryan Kent, [3]; 5. 7JR-Warren Johnson, [2]; 6. 2H-Luke Howard, [7]; 7. 5-Kory Bales, [6]; (DNS) 99-Bailey Elliott,
Heat Race #2 (8 Laps): 1. 7M-Chance Morton, [5]; 2. 49B-Ben Brown, [2]; 3. 73-Lane Stone, [6]; 4. 22ADAY-Matthew Sharon, [4]; 5. 93-Taylor Walton, [3]; 6. 24C-Craig Carroll, [1]; (DNS) 31-Joe Miller, ; (DNS) 7R-JD Black,
Heat Race #3 (8 Laps): 1. 15B-Quinton Benson, [2]; 2. 24-Landon Simon, [4]; 3. 22S-Slater Helt, [5]; 4. 77-Jack Wagner, [1]; 5. 65-Chris Parkinson, [3]; 6. 4-Braydon Cromwell, [7]; 7. 82-Vinny Ward, [6]; 8. 8-Jeff Wingate, [8]
Heat Race #4 (8 Laps): 1. 6-Mario Clouser, [4]; 2. 24H-Ty Hulsey, [3]; 3. 90-Riley Kreisel, [6]; 4. 52F-Logan Faucon, [5]; 5. 16-Anthony Nicholson, [7]; 6. 73S-Samuel Wagner, [1]; 7. 41-Brad Wyatt, [2]
B Feature (12 Laps): 1. 77-Jack Wagner, [1]; 2. 93-Taylor Walton, [4]; 3. 65-Chris Parkinson, [5]; 4. 7JR-Warren Johnson, [6]; 5. 31-Joe Miller, [14]; 6. 24C-Craig Carroll, [7]; 7. 2H-Luke Howard, [2]; 8. 73S-Samuel Wagner, [8]; 9. 4-Braydon Cromwell, [3]; 10. 5-Kory Bales, [9]; 11. 82-Vinny Ward, [10]; 12. 8-Jeff Wingate, [11]; 13. 41-Brad Wyatt, [12]; 14. 99-Bailey Elliott, [13]
A Feature (25 Laps): 1. 11W-Wyatt Burks, [5]; 2. 24-Landon Simon, [2]; 3. 6-Mario Clouser, [4]; 4. 15B-Quinton Benson, [3]; 5. 90-Riley Kreisel, [7]; 6. 22S-Slater Helt, [10]; 7. 7-Shon Deskins, [12]; 8. 7M-Chance Morton, [6]; 9. 24H-Ty Hulsey, [8]; 10. 24C-Craig Carroll, [22]; 11. 31-Joe Miller, [21]; 12. 52F-Logan Faucon, [13]; 13. 7JR-Warren Johnson, [20]; 14. 65-Chris Parkinson, [19]; 15. 93-Taylor Walton, [18]; 16. 73-Lane Stone, [1]; 17. 16-Anthony Nicholson, [14]; 18. 49B-Ben Brown, [11]; 19. 77-Jack Wagner, [17]; 20. 30-Ryan Kent, [16]; 21. 22ADAY-Matthew Sharon, [15]; 22. 12-Wesley Smith, [9]