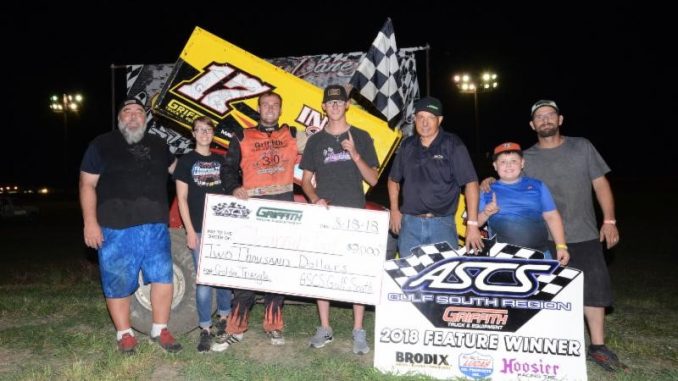 From Bryan Hulbert
BEAUMONT, Texas (August 18, 2018) Getting one for the thumb, Channin Tankersley raced to his fifth win of the 2018 season with the Griffith Truck and Equipment ASCS Gulf South Region; topping the field at the Golden Triangle Raceway Park on Saturday night.
Channin's 24th career triumph with the south Texas-based region, the driver of the No. 17g rolled to the front of the field after starting sixth on the grid for his fourth win in as many starts. Jacob Harris crossed second with Koty Adam making up the podium. Louisiana's Dustin Gates was fourth with Caleb Martin fifth.
Bruce Crocket faded to sixth after starting on the pole. Michael McNeil was seventh with Randy Allen picking up four spots to eighth. Tucker Doughty and Cody Stacy completed the top-ten.
Next for the Griffith Truck and Equipment ASCS Gulf South Region is a two-day affair at South Texas Speedway in Corpus Christi, Texas on Saturday, September 1 and Sunday, September 2.
For other news, notes, and information on the American Sprint Car Series, from the National Tour to any of the Regional Tours that make up the nearly 150 races across the ASCS Nation in 2018, log onto http://www.ascsracing.com, follow on Facebook, on Instagram, and on Twitter (@LucasOilASCS).
Race Results:
ASCS Gulf South Region
Golden Triangle Raceway Park – Beaumont, Texas
Saturday, August 18, 2018
Heat 1 (8 Laps): 1. 21-Koty Adams, [4]; 2. 17G-Channin Tankersley, [3]; 3. 12-Trey Schmidt, [2]; 4. 1-Randy Allen, [1]; 5. 3-Theresa Waller, [5]
Heat 2 (8 Laps): 1. 68-Dustin Gates, [1]; 2. 51-Caleb Martin, [5]; 3. 8-Bruce Crockett, [4]; 4. 48-Cody Stacy, [3]; 5. 30-Johnnie Wasson, [2]
Heat 3 (8 Laps): 1. 2X-Tucker Doughty, [2]; 2. 5-Jacob Harris, [3]; 3. 28-Michael McNeil, [4]; 4. 02-Harry Yerrington, [5]; (DNS) 28H-Mark Harris,
A Feature (25 Laps): 1. 17G-Channin Tankersley, [6]; 2. 5-Jacob Harris, [2]; 3. 21-Koty Adams, [5]; 4. 68-Dustin Gates, [3]; 5. 51-Caleb Martin, [7]; 6. 8-Bruce Crockett, [1]; 7. 28-Michael McNeil, [8]; 8. 1-Randy Allen, [12]; 9. 2X-Tucker Doughty, [4]; 10. 48-Cody Stacy, [11]; 11. 3-Theresa Waller, [13]; 12. 02-Harry Yerrington, [10]; 13. 30-Johnnie Wasson, [14]; 14. 12-Trey Schmidt, [9]; (DNS) 28H-Mark Harris,