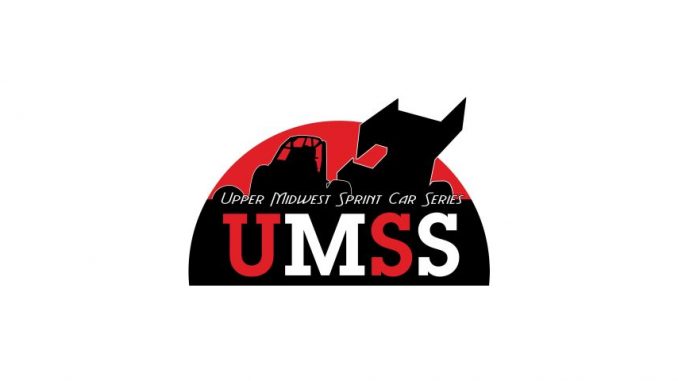 From Kristine Peterson
Chase Viebrock gets the win at his home track in UMSS POWRi Lucas Oil Sprint Car Series feature action on Saturday August 25th at Cedar Lake Speedway. This was Viebrock's second win of the 2018 season which will tighten up the season championship battle between Viebrock, Bowers and Ogston.
There would be only one Pirtek Fluid Transfer Solution heat race with Chris Martin of Ankeny, IA piloting the #44 from the pole and taking the checkers of the 10 lap race. Chase came from a 5th starting position to take a close second followed by Ogston, Pellersels, and Tostenson rounding out the top 5.
Ogston started the 20 lap feature and lead the first four laps until after a quick caution for debris he was overtaken by Viebrock who would stay out front for the remaining 16 laps. Chis Martin who had won the earlier heat race finished 2nd followed by Bower, Ogston and Pellersels were the top 5 finishers.
The UMSS winged cars will be joining the IRA 410 Sprints and UMSS Traditional Sprints for the 2018 annual Jerry Richert Memorial on 9/8 at Cedar Lake Speedway.
POWRi Lucas Oil A Feature (20 laps): 1. 50 – Chase Viebrock, 2. 44 – Chris Martin 3. 5 – Ryan Bowers 4. 03 – Jamey Ogston 5. 22 – Jeff Pellersels 6. 15C – Carter Chevalier 7. 36 – Jason Tostenson (DNF)
PIRTEK Fluid Transfer Solutions Heat 1 (10 laps): 1. 44- Chris Martin 2. 50 – Chase Viebrock 3. 03 – Jamey Ogston 4. 22 – Jeff Pellersels 5. 36 – Jason Tostenson 6. 15C – Carter Chevalier 7. 5 – Ryan Bowers (DNF)
Cam Bam Schafer topped an outstanding 28 car field in the feature race that ran green to checkers. There were 30 Traditional Sprints on hand to begin the night. Four Pirtek Fluid Transfer Solutions heat races, a dash for cash, and the 25 lap POWRi Lucas Oil feature race were on the agenda for this Traditional Challenge at Cedar Lake Speedway Saturday August 25.
The POWRi Lucas Oil Traditional feature race began with a touching missing man tribute to a long time crew member and UMSS traditional sprint supporter Steve Steinkraus (Steiny) who had recently lost his battle with cancer. At the drop of the green Cam took his #14 sprinter to the top side and moved forward along the rim of the cushion making it to the front in a hurry. He would stay out front throughout the 25 lap caution free feature. There was plenty of racing throughout the field but it was exciting to watch the 12 car of Johnny Parsons III come through the field advancing 9 positions into 13th by the time the checkers flew. This would earn him GRP's (Steiny) hard charger award. It was an incredible feature running caution free with all 28 cars finishing and 24 of those cars on the lead lap.
The UMSS Traditional Sprints will be at Cedar Lake on Saturday September 8, for the 18th Annual Jerry Richert Memorial.
POWRi Lucas Oil Traditional Feature results: 1. 14 – Cam Shafer 2. 93 – Brad Peterson 3. 12X Blake Anderson 4. 71S – Doug Schenck 5. 7H – Harry Hanson 6. 99 – Bryan Roach 7. 87 – Mike Mueller 8. 7 – Scott Brandt 9. 15E – Caley Emerson 10. 101 – Paul Schultz 11. 69S – Jon Lewerer 12. 2K – Jimmy Kouba 13. 12 – Johnny Parsons III 14. 33C – Cody Emmans 15. 34 – Denny Stordahl 16. 78 Rob Caho Jr 17. 19-Gary Mueller 18. N1 – Ty Sampair 19. 38S Al Stettner 20. 55 – Joseph Kouba 21. 7S – Craig Campton 22. K1 – Kevin Lear 23. 95 – Kevin Bradwell 24. 19B – Jack Berger 25. 89 – George Gaertner Jr 26. 2J – John Lowe 27. 00 – Ryan Buck 28. 36 – Tyler Wass
Pirtek Fluid Transfer Solutions Heat 1: 1. 12X – Blake Anderson 2. 15E – Caley Emerson 3. 2K – Jimmy Kouba 4. 101 – Paul Schultz 5. 34 – Denny Stordahl 6. 78 – Rob Caho Jr 7. 55 – Joseph Kouba
Pirtek Fluid Transfer Solutions Heat 2: 1. 14 – Cam Schafer 2. 99 – Bryan Roach 3. 95 – Kevin Bradwell 4. 89 – George Gaertner 5. 19B – Jack Berger 6. 00 – Ryan Buck 7. 36 – Tyler Wass
Pirtek Fluid Transfer Solutions Heat 3: 1. 93 – Brad Anderson 2. 7B – Scott Brandt 3. 19 – Gary Mueller 4. 71S – Doug Schenck 5. N1 – Ty Sampair 6. 12 – Johnny Parsons III 7. 2J – John Lowe
Pirtek Fluid Transfer Solutions Heat 4: 1. 7 – Harry Hanson 2. 87 – Mike Mueller 3. 69S – Jon Lewerer 4. 33C – Cody Emmans 5. 38S – Al Stettner 6. 7S – Craig Campton 7. K1 – Kevin Lear