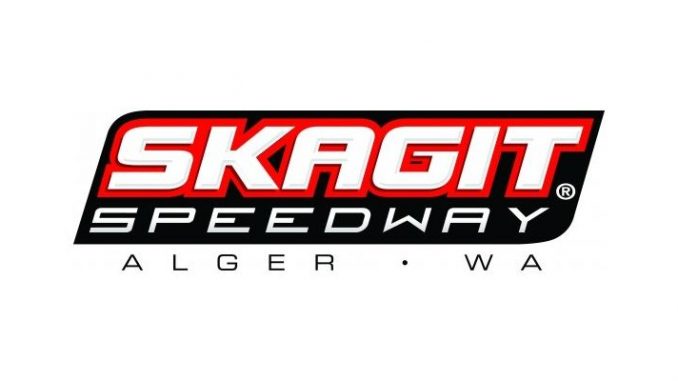 From Kaleb Hart
ALGER, Wa. (September 15, 2018) – Mother Nature tried to rob the race fans of a night of action at Skagit Speedway, but the drivers would have none of it as all four main events ran the entire distance before the weather could halt racing action on Saturday night. It was Scrap It – Stow It Championship night, and winners on the evening were Colton Heath, Kevin Smith, Kelsey Carpenter and Jon Gunderson.
The Budweiser 360 Sprints ran first on the night and track position was everything for their main. Colton Heath parlayed his outside front row starting spot to a wire to wire win, having to navigate his way through traffic with furious action for second behind him. Cam Smith ended up winning the war for runner up, with Robbie Price rolling from ninth to third. The top eight starters were locked in from owners points, with everyone timing in behind them. Price would be the fastest of those qualifiers. Eric Fisher won the driver's point championship with his eighth place finish.
Points were tight in the Skagit Aggregate Modified class, with Kevin Smith holding a small lead in driver points entering the night. Smith was running in the second spot when race long leader Craig Moore encountered trouble on the 13th circuit, giving Smith the lead. Kevin would move on to take the win ahead of his brother Rick to secure the driver point title, with Jeff Blanton filling the podium. Moore rebounded for an eighth place finish to secure the owner point title for Louis Nutter Sr.
Lapped traffic played a huge role in the outcome of the Cook Road Shell Sportsman Sprint main event. Trevor Cook had sewed up the driver and car owner point title but was looking to punctuate the title with a feature win as he entered traffic with last years champ Kelsey Carpenter in tow. Carpenter found a better way past the slower cars to take the lead on the 16th lap, then continually made the right moves over the final few circuits to secure the victory ahead of Cook and Jayme Barnes.
Jon Gunderson was dominant in the final feature of the year for the Outlaw Tuners. Gunderson led every lap of the 17 lap feature. Brian Michelson was second and won the season championship. Vance Hibbard came from last to take third.
Budweiser 360 Sprints
Fast Time – Robbie Price 11.491
Main – Colton Heath, Cam Smith, Robbie Price, Justin Youngquist, Steve James, Alex Lewis, Corbyn Fauver, Eric Fisher, Trevor Cook, Brock Lemley, Greg Hamilton, Michael Bollinger, Bud Ashe
Lap Leaders – Heath 1-25
Skagit Aggregates Modifieds
Main – Kevin Smith, Rick Smith, Jeff Blanton, Ben Gunderson, Lawrence O'Connor, Mel Decker, Mike Steltz, Craig Moore, Cliff Ballenger, Dan Butenschoen, Dany Boudreau, Branden Nutter, Adam Holtrop
Lap Leaders – Moore 1-12 K Smith 13-25
Cook Road Shell Sportsman Sprints
Fast Time – Malachi Gemmer 12.397
Main – Kelsey Carpenter, Trevor Cook, Jayme Barnes, Steve Parker, Ashleigh Johnson, Bailey Sucich, Malachi Gemmer, John Tharp, Bill Rude, JJ Hickle, Victoria McCabe, Eric Turner
Lap Leaders – Cook 1-15 Carpenter 16-26
Outlaw Tuners
Main – Jon Gunderson, Brian Michelson, Vance Hibbard, Matt Shaw, Brandon Jansen, Jack Desrosier, TJ Campbell, Rob Dozark, Kyle Hanson, Clint Meins, Matt Dunnigan
Lap Leaders – Gunderson 1-17
Season Champion: Brian Michelson