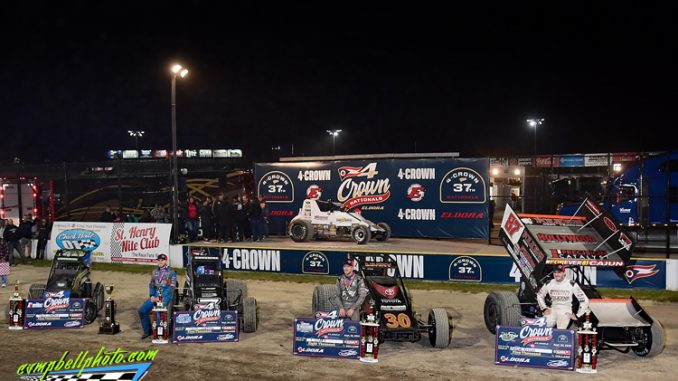 By T.J. Buffenabrger
Tyler Courtney was extremely impressive in two of the three USAC features at the 4-Crown on Saturday. On an Eldora track surface that was slick up to a small cushion up by the wall is not conditions the non-wing sprint car drivers see very often at Eldora. Courtney put his car up on the fence in the midget and sprint car with an old school type performance teasing Eldora's unforgiving concrete lap after lap was one of the most impressive drives of the season. Unfortunately, that rim riding style eventually bit Courtney during the Silver Crown event, getting upside down in turns one and two, but a spectacular performance never the less.
Far and away the best USAC Silver Crown feature I have seen at Eldora took place on Saturday with seven lead changes in a 50-lap event. The last portion of the race came down to C.J. Leary bouncing off the fence and Kevin Thomas Jr. running the middle of the track trading the lead back and forth. Late in the feature Thomas was able to capitalize on Leary pounding the wall in turn four just enough to slip by, but Leary got his momentum going on the top side again and took the lead back for good.
The Arctic Cat All Star Circuit of Champions point title will not be as close as expected going into the final event at Kokomo Speedway in a couple of weeks after second place Carson Macedo got upside down in turn four early in the event while point leader Aaron Reutzel won the feature. With Reutzel holding a point lead in the teens going into the event at Eldora he will now have a 64-point lead going to Kokomo.
After a tragic week in the sprint car world everyone held their breath for a moment when Spencer Bayston took a terrifying flip in turn one during the midget feature at Eldora. Bayston's car was severely twisted and bent, but emerged awake and alert. Bayston was transported to a local hospital for further evaluation. The ferocity of Bayston's crash was one of the worst midget crashes I've seen there since the mid-90's.
After four great main events concluded it reminded me that 4-Crown Nationals is still one of my favorite events of the year. Seeing the drivers going from division to division and the great racing made me miss being there in person due to some family things taking place early on Sunday morning (that I need sleep to function at). Hopefully a return in person is in the cards for 2019.