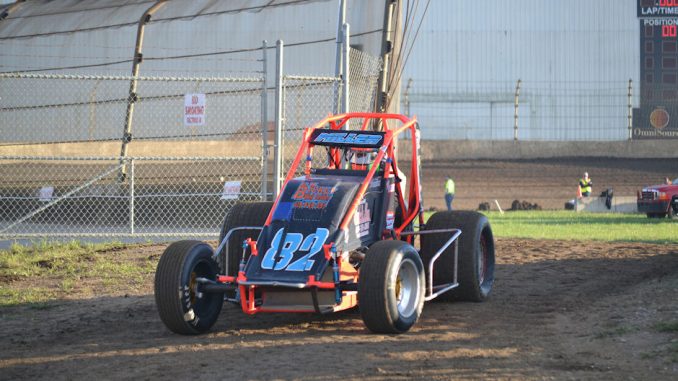 Kokomo,In Sept 27th 2018- Mike Miller passed race long leaded Michael Fischesser after a red flag with two laps remaining to capture the Buckeye Outlaw Sprint Series win at Kokomo Speedway as part of the 7th Sprint Car Smackdown.
Fischesser and Dustin Smith had a spirited battle early in the 25 lapper that lasted several laps. Behind the lead duo, Dallas Hewitt, Mike Miller, JJ Hughes and Jake Scott had a terrific battle with Miller moving into 3rd at the half way mark.
As the laps wore down Miller closed on leader Fischesser several times when lap 23 saw Paul Dues upside down on the front stretch. When the green flew again Miller made his move and took over the top spot and the win over Fischesser, Dustin Smith, Tyler Gunn, Jake Scott, Steve Irwin, Andrew Prather, Dallas Hewitt, Cole Ketchum and Bill Rose.
Heats for the 31 BOSS cars went to Dallas Hewitt, Jake Scott, Mike Miller and Josh Cunningham. B Main went to Cole Ketchum.