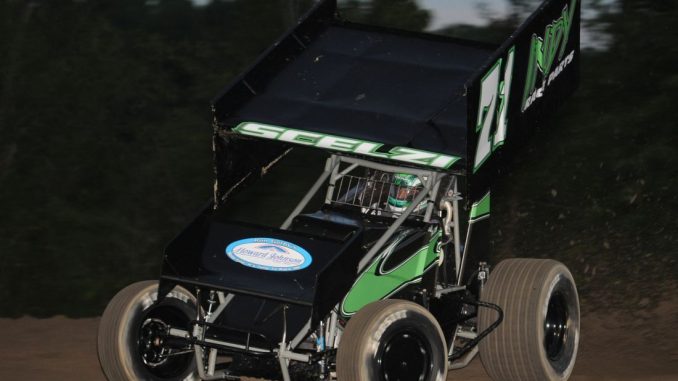 By T.J. Buffenbarger
MECHANICSBURG, Pa. (September 29, 2018) – 16-year-old drivers typically don't win World of Outlaws features at Williams Grove Speedway.
Gio Scelzi did not get the message.
Scelzi from Freso, California picked up his first career World of Outlaws victory during the opening night National Open at Williams Grove Speedway. Driving Bernie Steuben's car around David Gravel for the lead after a restart on lap 17 and held off Gravel in slower traffic over the final three laps secured Scelzi's first career World of Outlaws victory in his first 410 sprint car start at Williams Grove.
With the feature going 27-laps in honor of Greg Hodnett, who passed away in a sprint car accident last Thursday, Gravel drove to the lead with Scelzi and Logan Schuchart giving chase. Schuchart's feature ended early after losing power in turn three on lap five, bringing out the first caution flag of the event.
Gravel held off a challenge from Scelezi during the double file restart in turns one and two while Freddie Rahmer drove into third position. Gravel and Scelzi pulled away from Rahmer with Scelzi occasionally pulling up to Gravel on the inside of turns one and two, but Gravel would use the run off turn two and drive through turns three and four on the cushion to remain up front.
After a caution on lap 11 for a spin by Sheldon Haudenschild, Gravel maintained the lead while Sclezi held off a brief challenge by Rahmer for second. By lap 13 Scelzi started using the top of the track and closed in on Gravel.
The caution appeared again with 15 laps completed when Carson Macedo slowed in turn four with a broken nose wing. Macedo took the Jason Johnson Racing car to the work area but was unable to make repairs in time for the restart.
The lap 16 restart is where Scelzi made his move. Gravel chose the outside for the restart and maintained the lead through turn one with Scelzi under him. After slipping off turn two Gravel did not get run off the corner and allowed Scelzi to take the lead through turns three and four.
Scelzi pulled away until encountering slower traffic with four laps to go. Gravel closed back in on Scelzi and was able to make one more challenge on the final lap, but heavy traffic blocked Gravel's path as Scelzi drove away for the victory. Gravel held on for second with Lucas Wolfe, Rahmer, and Tim Shaffer rounding out the top five.
World of Outlaws Craftsman Sprint Car Series
Williams Grove Speedway
Mechanicsburg, PA
Friday September 28, 2018
Qualifying Group A:
1. 18 – Ian Madsen, 16.342
2. 49X – Tim Shaffer, 16.365
3. 21X – Brian Montieth, 16.404
4. 24 – Lucas Wolfe, 16.409
5. 55K – Robbie Kendall, 16.418
6. 5 – David Gravel, 16.424
7. 99 – Bud Kaeding, 16.449
8. 21 – Brian Brown, 16.458
9. 49 – Brad Sweet, 16.465
10. 9 – Daryn Pittman, 16.501
11. 41 – Carson Macedo, 16.501
12. 15 – Donny Schatz, 16.510
13. 4 – Brock Zearfoss, 16.536
14. 19 – Brent Marks, 16.563
15. 39 – Cory Haas, 16.563
16. 33 – Jared Esh, 16.656
17. 48 – Danny Dietrich, 16.666
18. 1W – Chase Dietz, 16.667
19. 39M – Anthony Macri, 16.721
20. 67 – Justin Whittall, 16.832
21. 91 – Kyle Reinhardt, 16.891
22. W20 – Greg Wilson, 16.901
23. 20 – Ryan Taylor, 16.978
24. 27S – Adrian Shaffer, 17.102
25. 75 – Nicole Bower, 17.298
Qualifying Group B:
1. 1S – Logan Schuchart, 16.306
2. 71 – Giovanni Scelzi, 16.410
3. 51 – Freddie Rahmer, 16.429
4. 44 – Trey Starks, 16.454
5. 1A – Jacob Allen, 16.458
6. 2 – Shane Stewart, 16.460
7. 11 – T.J. Stutts, 16.527
8. 69K – Lance Dewease, 16.547
9. O7 – Gerard McIntyre, 16.596
10. 27 – Paul McMahan, 16.597
11. 94 – Ryan Smith, 16.626
12. 7S – Jason Sides, 16.628
13. 1 – Logan Wagner, 16.656
14. 1X – Chad Trout, 16.694
15. 17 – Sheldon Haudenschild, 16.721
16. 58 – Jim Siegel, 16.757
17. 88 – Brandon Rahmer, 16.771
18. 17B – Steve Buckwalter, 16.897
19. 19M – Jac Haudenschild, 16.961
20. 11K – Kraig Kinser, 16.965
21. 99M – Kyle Moody, 17.001
22. 28F – Davie Franek, 17.096
23. 35 – Justin Henderson, 17.144
24. 15G – Jordan Givler, 17.368
25. 12W – Troy Fraker, 17.585
Heat Race #1:
1. 18 – Ian Madsen
2. 24 – Lucas Wolfe
3. 9 – Daryn Pittman
4. 4 – Brock Zearfoss
5. 39M – Anthony Macri
6. 99 – Bud Kaeding
7. W20 – Greg Wilson
8. 33 – Jared Esh
9. 75 – Nicole Bower
Heat Race #2:
1. 49X – Tim Shaffer
2. 21 – Brian Brown
3. 41 – Carson Macedo
4. 55K – Robbie Kendall
5. 19 – Brent Marks
6. 20 – Ryan Taylor
7. 67 – Justin Whittall
8. 48 – Danny Dietrich
Heat Race #3:
1. 21X – Brian Montieth
2. 5 – David Gravel
3. 49 – Brad Sweet
4. 15 – Donny Schatz
5. 39 – Cory Haas
6. 91 – Kyle Reinhardt
7. 1W – Chase Dietz
8. 27S – Adrian Shaffer
Heat Race #4:
1. 1S – Logan Schuchart
2. 44 – Trey Starks
3. 11 – T.J. Stutts
4. 27 – Paul McMahan
5. 19M – Jac Haudenschild
6. 1 – Logan Wagner
7. 58 – Jim Siegel
8. 12W – Troy Fraker
9. 28F – Davie Franek
Heat Race #5:
1. 71 – Giovanni Scelzi
2. 1A – Jacob Allen
3. 94 – Ryan Smith
4. 69K – Lance Dewease
5. 88 – Brandon Rahmer
6. 1X – Chad Trout
7. 35 – Justin Henderson
8. 11K – Kraig Kinser
Heat Race #6:
1. 51 – Freddie Rahmer
2. 2 – Shane Stewart
3. O7 – Gerard McIntyre
4. 7S – Jason Sides
5. 17B – Steve Buckwalter
6. 17 – Sheldon Haudenschild
7. 15G – Jordan Givler
8. 99M – Kyle Moody
Dash #1:
1. 5 – David Gravel
2. 21X – Brian Montieth
3. 24 – Lucas Wolfe
4. 21 – Brian Brown
5. 49X – Tim Shaffer
6. 18 – Ian Madsen
Dash #2:
1. 71 – Giovanni Scelzi
2. 1S – Logan Schuchart
3. 44 – Trey Starks
4. 51 – Freddie Rahmer
5. 1A – Jacob Allen
6. 2 – Shane Stewart
D-Main:
1. 91 – Kyle Reinhardt
2. W20 – Greg Wilson
3. 20 – Ryan Taylor
4. 28F – Davie Franek
5. 35 – Justin Henderson
6. 15G – Jordan Givler
7. 75 – Nicole Bower
8. 12W – Troy Fraker
9. 27S – Adrian Shaffer
10. 99M – Kyle Moody
C-Main:
1. 48 – Danny Dietrich
2. 1W – Chase Dietz
3. 39M – Anthony Macri
4. 58 – Jim Siegel
5. 17B – Steve Buckwalter
6. 11K – Kraig Kinser
7. 67 – Justin Whittall
8. W20 – Greg Wilson
9. 91 – Kyle Reinhardt
10. 33 – Jared Esh
11. 88 – Brandon Rahmer
12. 19M – Jac Haudenschild
B-Main:
1. 69K – Lance Dewease
2. 55K – Robbie Kendall
3. 27 – Paul McMahan
4. 15 – Donny Schatz
5. 19 – Brent Marks
6. 48 – Danny Dietrich
7. 17 – Sheldon Haudenschild
8. 99 – Bud Kaeding
9. 7S – Jason Sides
10. 1X – Chad Trout
11. 4 – Brock Zearfoss
12. 1W – Chase Dietz
13. 1 – Logan Wagner
14. 39 – Cory Haas
A-Main:
1. 71 – Giovanni Scelzi
2. 5 – David Gravel
3. 24 – Lucas Wolfe
4. 51 – Freddie Rahmer
5. 49X – Tim Shaffer
6. 2 – Shane Stewart
7. 44 – Trey Starks
8. 21X – Brian Montieth
9. 49 – Brad Sweet
10. 21 – Brian Brown
11. 15 – Donny Schatz
12. 9 – Daryn Pittman
13. 19 – Brent Marks
14. 18 – Ian Madsen
15. 69K – Lance Dewease
16. 27 – Paul McMahan
17. 17 – Sheldon Haudenschild
18. 11 – T.J. Stutts
19. 48 – Danny Dietrich
20. 1X – Chad Trout
21. 1A – Jacob Allen
22. O7 – Gerard McIntyre
23. 39 – Cory Haas
24. 55K – Robbie Kendall
25. 41 – Carson Macedo
26. 94 – Ryan Smith
27. 1S – Logan Schuchart