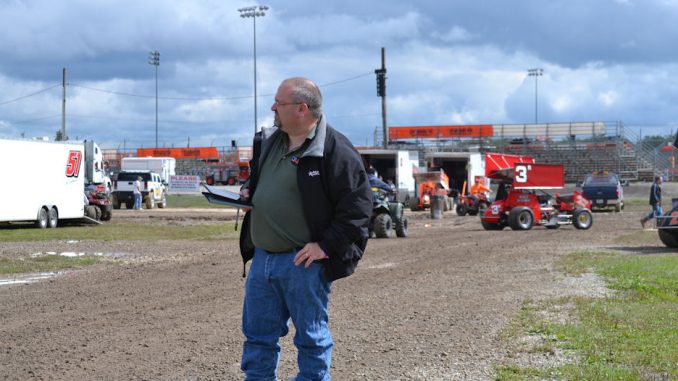 By T.J. Buffenbarger
Dear fictitious voters of the midget, sprint car, and silver crown racing community. I, T.J. Buffenbarger, am asking for your vote in the competition fictitious "Czar" of our racing community.
The great thing about this campaign is that sprint car racing is in a pretty good place right now. The on track product is great for non-wing and winged racing from the local level to the pros. The focus now needs to be continuous improvement at a pace that doesn't overbuild for low points in the future.
Some of my staff as czar of sprint car racing would include:
• Steve Beitler – Campaign manager.
• Jack Hewitt – Director of race officiating relations.
• Paul Sides – Banquet planning.
• Kevin Olson – Post race entertainment coordinator.
• Brian Dunlap – Head of MacGyver operations.
• Larry Boss – Head of race program efficiency
You may wonder what my platform is and stance on issues going into today's imaginary election. Here is what my campaign would be based on:
As short track open wheel racing czar I would….
• Limit all national touring racing to one support division. In addition all sprint car races shall have no more than three support divisions, otherwise all sprint car races need to be front loaded into the program for an exit at a reasonable time. If you don't care about people coming to the pit area after the races at a reasonable hour, then we can make an effort of some kind of a pre-race fan greeting and get us out of the track at a reasonable hour. Sprint car fans often travel great distances to see traveling shows, and should be given to option to stay through 5-8 classes of other cars and not forced to do so.
• I want to make winged pavement sprint car racing okay again. It's a long ways from great at the moment, but it can get there again. Forget about a national scope of unification. Keep series like the Auto Value Bumper to Bumper Super Sprints and Must See Racing serious in the Great Lakes Region and focus on the northwest and southeast growing on a regional basis. Rookie of the year programs need to be developed to entice teams to want to go pavement racing and teams that follow the entire schedule need to be rewarded more than those that support a handful of races. I would change the race format to match a typical dirt sprint car racing with one session of hot laps, 8 lap heat races, and 30-lap feature just like a dirt race. To make that work I would work with the tire company that could produce a tire that behaves the closest to a dirt sprint car tire when it comes to being able to use it more than one night and still have reasonable performance.
• Create a unique national television presence that would be a mix of LivePD and NFL Red Zone where there are look ins from live sprint car races across the country on a short delay basis. The difference is if people wanted to see the entire night of racing they would be directed to Dirtvision, Speedshift, or whatever ppv sevice is covering the race. The in studio hosts could break down the action while there is down time at each facility.
• We need better catch fences at a lot of facilities. Higher standards need to be developed for tracks to host sprint car races for fan and competitor safety. There are some really scary places to watch sprint car races at. Track safety is just as important as car/driver safety, and there are a lot of places that have the same fence in place as they did 20 years ago. These cars are much faster today, especially towards the back of the pack, and facilities need to be held to the same standard the race teams are.
Make sure that sometime in the next 365 days you get out to a race track in person. That is your way of "voting". Make sure to support tracks that put on great sprint car races and have pride in their facilities.