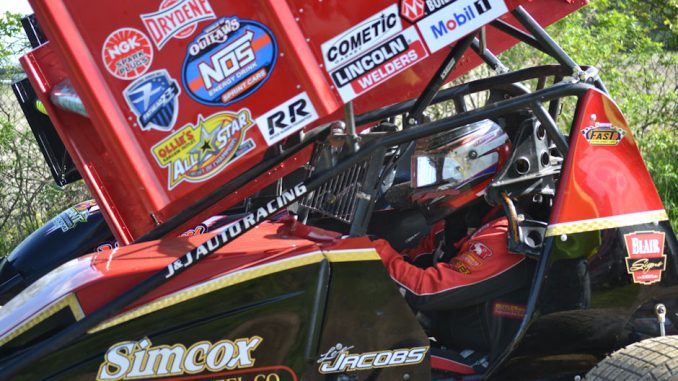 Bob Buffenbarger
Lake Odessa,Mi.-(5-26-19): I-96 Speedway saw 58 sprint cars pass through the pit gates Sunday evening with 28 of those FAST 410 cars and 30 Great Lakes Super Sprints. After the dust settled (which there wasn't much of), winners of the two features were Ohio veterans Lee Jacobs and Phil Gressman.
The FAST A main saw Lee Jacobs and Joey Saldana on the front row of the 25 lap event. Saldana took the lead at the green and was expanding his lead until Thomas Meseraull got over the cushion in turn four and turned over on lap four. When the action resumed it was Saldana, Jacobs, Dustin Daggett, Justin Peck and Tyler Gunn.
Daggett began putting pressure on Jacobs with seven laps in and things were getting interesting when on lap nine, Saldana slipped off the back stretch but was able to gather it up after losing a few positions but something was amiss with the front end and entering turn two, his #6 tangled with Cap Henry sending both flipping off the track. Both drivers were uninjured. When the red flag flew, the 83x of Nate Reeser sustained front end damage and was also done for the night.
When things got under way again it was Jacobs, Peck (from 8th), Cole Duncan, Daggett, Tyler Gunn and Zane Devault. As the laps wore on the top five cars were able to pick their way through traffic on a very fast track. Zane Devault who started 11th was able to get around Daggett late in the feature but Devault went off the back stretch. As the checkers were waving it was Jacobs, Peck, Duncan, Daggett and Tyler Gunn.
Heats were won by Cole Duncan, Brian Paulus and TMez. Chase Ridenour dominated the B main.
Next up was the GLSS 25 lap headliner. Phil Gressman sat on the pole with Brad Lamberson along side. As Gressman took the green Lamberson was chasing in the 2nd spot. As the first lap was complete, Jared Horstman pulled to the infield with mechanical troubles and Dustin Daggett was also struck with gremlins and pulled off early. Gressman was setting a fast pace but Lamberson wasn't letting the 7c out of his sights, with Jake Brown, Gregg Dalman, Andrew Scheid and Mitch Brown close behind.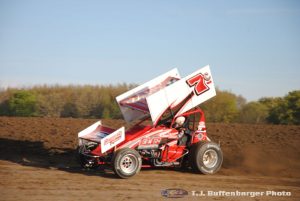 A scary incident on lap nine found Scheid spinning in heavy traffic at the start/finish line after contact with another car but everyone was able to avoid Scheid's #77. Scheid was done for the night.
Max Stambaugh driving the 17m team car of Horstman took it upon himself to make up for the bad luck of Horstman and began a charge from 9th and was bringing 10th starting Chase Ridenour with him. Meanwhile up front it was still Gressman leading the way with Lamberson still dogging him but now Stambaugh moved to 3rd on lap 16.
At the 20 lap mark Gressman still had control with Lamberson, Stambaugh closing fast on Lamberson, Jake Brown, Ridenour and Dalman. Brad Lamberson's nice run ended when he slid off the track in turn four bringing out the yellow on lap 23. This bunched up the field when the green appeared again with Stambaugh able to close some on Gressman but laps ran out and Gressman crossed the stripe ahead of Stambaugh, Jake Brown, Chase Ridenour and Gregg Dalman.
GLSS heats were won by Andrew Scheid, Jason Blonde, Brad Lamberson and Jake Brown. Jay Steinebach picked up the B main.
I-96 Speedway
Lake Odessa, MI
Sunday May 26, 2019
Complete Results
NAPA Auto Parts – Heat #1: 1. 22-Cole Duncan[2] ; 2. 85-Dustin Dagget[4] ; 3. 68G-Tyler Gunn[5] ; 4. 1A-Mark Aldrich[1] ; 5. 5QB-Quentin Blonde[6] ; 6. 10s-Jay Steinbach[8] ; 7. 41-Kent Gardner[9] ; 8. 8M-T.J. Michael[3] ; 9. 27B-Boston Mead[7] ; 10. 39-Tyler Rankan[DNS]
Ohio Logistics – Heat #2: 1. 28-Brian Paulus[4] ; 2. 81-Lee Jacobs[2] ; 3. 5x-Justin Peck[1] ; 4. 7-Zane Devault[3] ; 5. 71H-Ryan Ruhl[5] ; 6. 11R-Chase Ridenour[6] ; 7. 5B-Chad Blonde[8] ; 8. 21-Brinton Marvel[7] ; 9. 83-Adam Cruea[9]
Helms & Sons Construction – Heat #3: 1. 00-Thomas Meseraull[2] ; 2. 6-Joey Saldana[4] ; 3. 4-Cap Henry[3] ; 4. 18J-R.J. Jacobs[1] ; 5. 20B-Cody Bova[7] ; 6. 20I-Kelsey Ivy[6] ; 7. 83x-Nate Reeser[8] ; 8. 23-Max Stambaugh[5] ; 9. 27-Keith Sheffer[DNS]
B-Main: 1. 11R-Chase Ridenour[2] ; 2. 5B-Chad Blonde[5] ; 3. 83x-Nate Reeser[6] ; 4. 21-Brinton Marvel[7] ; 5. 20I-Kelsey Ivy[3] ; 6. 10s-Jay Steinbach[1] ; 7. 83-Adam Cruea[8] ; 8. 41-Kent Gardner[4] ; 9. 27B-Boston Mead[9] ; 10. T.J. Michael[DNS] ; 11. 23-Max Stambaugh[DNS] ; 12. 27-Keith Sheffer[DNS] ; 13. 39-Tyler Rankin[DNS]
25 Lap – A-Main: 1. 81-Lee Jacobs[1] ; 2. 5x-Justin Peck[8] ; 3. 22-Cole Duncan[3] ; 4. 85-Dustin Dagget[4] ; 5. 68G-Tyler Gunn[7] ; 6. 28-Brian Paulus[6] ; 7. 11R-Chase Ridenour[16] ; 8. 71H-Ryan Ruhl[14] ; 9. 5B-Chad Blonde[17] ; 10. 7-Zane Devault[11] ; 11. 21-Brinton Marvel[19] ; 12. 20I-Kelsey Ivy[20] ; 13. 18J-R.J. Jacobs[12] ; 14. 5QB-Quentin Blonde[13] ; 15. 20B-Cody Bova[15] ; 16. 83x-Nate Reeser[18] ; 17. 6-Joey Saldana[2] ; 18. 4-Cap Henry[9] ; 19. 1A-Mark Aldrich[10] ; 20. 00-Thomas Meseraull[5]
Lap Leaders: 6-Saldana (1-8), 81-Jacobs (9-25)
The Bridge Restaurant "Hard Charger": Chase Ridenour +9
Kear's Speed Shop "Hard Luck Award": Cap Henry
All Star Performance "Sweet Move": Justin Peck
3
Great Lakes Super Sprints
Feature:
1. 7C Phil Gressman
2. 17M Max Stambaugh
3. 110 Jake Brown
4. 11R Chase Ridenour
5. 49T Gregg Dalman
6. 16 Ryan Ruhl
7. 10 Mitch Brown
8. 16B Ricky Peterson
9. 24 Kobe Allison
10. 10S Jason Blonde
11. 27X Jared Lamberson
12. 84 Kyle Poortenga
13. 28M Conner Morrell
14. 27 Brad Lamberson
15. 18S Michael Summers
16. 10XS Jay Steinebach
17. 16C Zane DeVault
18. 49 Shawn Dancer
19. 77 Andrew Scheid
20. 19 Brett Mann
21. 16W Garrett Saunders
22. 85 Dustin Daggett
23. 17 Jared Horstman
24. 24D Danny Sams