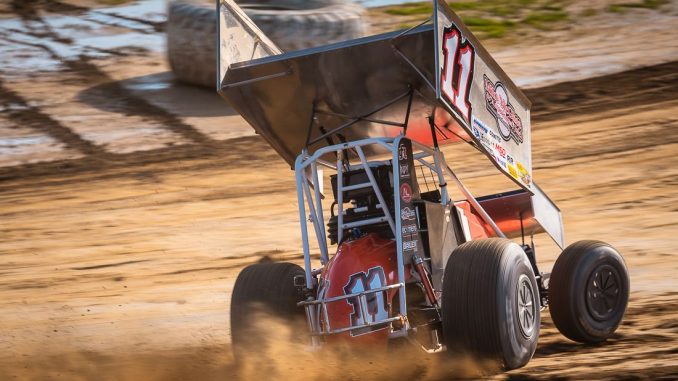 By Mike Leone
HARTFORD, Ohio (July 7, 2019) – Mother Nature tried to intervene like she's done so many times this season including washing out the prior two Ollie's Bargain Outlet All Star Circuit of Champions presented by Mobil 1 events, but on Saturday night Sharon Speedway stole one back. A hard mid-afternoon rain storm only temporarily dampened the spirits of race goers for the 11th annual "Lou Blaney Memorial" presented by Ollie's Bargain Outlet as all of the other storms stayed just south of the speedway allowing Dale Blaney to celebrate in the Hovis Auto & Truck Supply victory lane. The event once again benefitted the Alzheimer's Association. Rain did force the live auction to be postponed to an online version with a date and time TBA.
One year ago it was Dave Blaney becoming the first repeat winner of the "Lou Blaney Memorial" winning on year number 10. On Saturday night, brother Dale Blaney put on a dominating performance leading all 30 laps to win his first "Lou Blaney Memorial" on year number 11 ironically driving car #11. For Dale Blaney, the All Star Circuit of Champions victory was worth $6,000 as he became the event's 10th different winner in 11 years. Blaney also became the fourth different "410" Sprint Car winner in as many events in 2019 at Sharon with his 16th career "410" victory at the Hartford, Ohio oval.
"Before I was done I knew I had to win this race," acknowledged the 55-year-old Hartford, Ohio winner. "To win it back-to-back with Dave is really special. It's weird, I've started on the front row of this race before. I always wore my dad's retro uniform for this race and never did very good so I just went with the old Penske (Shocks uniform) and sure enough it worked. The 11th year of this race, we're number 11 this year- we got it done."
Blaney followed up his victory in dash number two by powering into the lead from his outside pole starting spot on the opening lap over Sye Lynch, Brock Zearfoss, Skylar Gee, and Cory Eliason. Seventh starting Jordan Ryan, was rolling around the bottom as he cracked the top five on lap two driving for Jim Chappel, who won the 2010 event with Mike Lutz driving.
Blaney was flying around the fast 3/8-mile as he caught lapped traffic on lap six with a straightaway lead. While Blaney was working traffic, Zearfoss began to put the pressure on Lynch, a two-time winner at Sharon, on lap eight. Gee was hitting his marks perfectly running the extreme high line as he closed in making it a three-car race for the runner-up spot on lap 10. Zearfoss finally worked around Lynch for second on lap 11, but Gee probably surprised Lynch and Zearfoss as he blew around both to take second at the start-finish line. Ryan's fine run ended when he clobbered the fence and brought out the caution with 15 laps scored, which erased a huge 5.135 second lead for Blaney.
Back under green, Eliason drove around Lynch for fourth on lap 17. It looked like Gee may have something for Blaney, but he got too high racing off turn two and got into the fence allowing Zearfoss to get by. Eliason then threw a big slider on Gee in turns three and four to take third on lap 20. Gee's night then would end as he got into the fence again, this time cutting down a tire and bringing out the event's second caution with 21 laps scored.
When racing resumed, Blaney took off over Zearfoss while a great battle ensued for third between Eliason, Cole Duncan, Lynch, and Aaron Reutzel. Duncan made the pass of Eliason for third before the final stoppage of the event occurred with 25 laps scored when Justin Peck suffered a flat tire. The caution would allow Blaney clean air for the final five circuits as he went unchallenged in the Sam McGhee Motorsports/Mike McGhee & Associates #11 for his third All Star win of the season and all-time leading 137th of his career.
"I was really good down on this end (turns one and two) and I felt like I was losing ground on the top so I cut the corner and drove across to it and felt like I carried more speed," explained Blaney. "Brock (Zearfoss) is a really good racer. I kept looking on the board for the 87 (Reutzel) because I knew he'd be coming up there. Sam and Mike (McGhee) have given me a great car. Last year was a tough year and I didn't get to race much, but I've felt like we've gained a lot on it lately and really looking forward to the rest of the year."
Zearfoss was able to fend off Duncan in the closing laps for his best career Sharon finish in runner-up. "This traveling series deal for the points is tough and you have to stay out of trouble and finish races," stated the Jonestown, Pa. racer. "We've definitely had speed, but I haven't been getting it done on my end and finishing races- same as last night; we drove up to third and spun out. That's on me as a driver and have to get better at it. If we're going to points race, we need to be in contention at the end and we were tonight. Shane and Tye came back and gave me a hell of a car again. I thought I might have a chance on that last restart. I stayed with Dale, but he was just pretty damn good tonight. Congrats to those guys."
Duncan, who has had a tough 2019 season, has been impressive nonetheless at Sharon with a FAST win on May 11, a runner-up in last Saturday's non-sanctioned "410" event to Dave Blaney, and a solid third with the All Stars on Saturday night.
"We needed this," expressed the 27-year-old Grove City, Ohio racer. "It's been a horrible year- I can't say it any other way. We did get a win here. It's mostly been my fault. We had fresh race cars to start the year. I crashed a couple cars and we had some motor issues that we got resolved. It feels good. I can't thank all of my guys enough and my sponsors that stick behind me. It has to be frustrating for them to watch us struggle when they help us so much. Thank you to you guys if you're watching tonight we really appreciate it. And thank you to this great crowd for coming out- it ended up being a great night. Congrats to Dale, Sammy, and Mike- they deserve this."
Eliason was fourth. Aaron Reutzel salvaged his night with a fifth place effort from the 13th starting spot. Reutzel had set fast time in his qualifying flight, but failed to scale which relegated him to the ninth starting spot of his heat race. Reutzel charged from the tail to finish third then advanced eight spots in the feature as the defending All Star champion was able to maintain his points lead.
For Blaney, the $6,000 Lou Blaney Memorial victory capped a two-race weekend that was complete with accomplishment, as well as perseverance, as the pilot of the McGhee Motorsports entry was forced to battle his way through Lernerville Speedway's B-main to transfer into Friday's main event, all before charging ahead from 22nd to finish 11th during the 30-lap, All Star feature.
Tony Stewart's All Star Circuit of Champions will continue the month of July with a three-race sweep through the Empire State, stretching their legs across much of southern New York before ending the long weekend in West Lebanon – just east of Albany. The weekend schedule will activate with a visit to Utica-Rome Speedway in Vernon on Friday, July 12, followed by a stop at the Orange County Fair Speedway in Middletown on Saturday, July 13. The three-day sweep will conclude with a Sunday night invasion of Lebanon Valley Speedway in West Lebanon on July 14.
Lou Blaney Memorial
Ollie's Bargain Outlet All Star Circuit of Champions
Sharon Speedway
Hartford, OH
Sunday July 6, 2019
Qualifying
1. 8-Jordan Ryan, 14.568[13]
2. 42-Sye Lynch, 14.585[1]
3. 07-Gerard McIntyre Jr, 14.702[4]
4. 26-Cory Eliason, 14.720[17]
5. 3C-Cale Conley, 14.769[16]
6. 22C-Cole Duncan, 14.902[8]
7. 23S-Russ Sansosti, 14.907[26]
8. 99-Skylar Gee, 14.913[18]
9. 11B-Carl Bowser, 14.944[2]
10. 4N-Jim Morris III, 15.006[7]
11. 97-Max Stambaugh, 15.025[19]
12. 11-Dale Blaney, 15.122[34]
13. 7K-Dan Shetler, 15.133[33]
14. K4-Chad Kemenah, 15.212[22]
15. 47-Brett Brunkenhoefer, 15.249[5]
16. 70-Brock Zearfoss, 15.254[36]
17. 40-George Hobaugh Jr., 15.265[15]
18. 13-Paul McMahan, 15.300[31]
19. W20-Greg Wilson, 15.337[35]
20. 13M-Brandon Matus, 15.349[9]
21. 08-Danny Kuriger, 15.350[29]
22. 23JR-Jack Sodeman Jr, 15.376[21]
23. 70X-Justin Peck, 15.403[28]
24. 23-Darren Pifer, 15.439[12]
25. 7N-Andy Priest, 15.485[3]
26. 22-Brandon Spithaler, 15.509[25]
27. 33-Brent Matus, 15.525[27]
28. 98H-Dave Blaney, 15.607[30]
29. 81-Lee Jacobs, 15.764[6]
30. 27K-Jeremy Kornbau, 15.804[14]
31. 22M-Dan McCarron, 15.814[10]
32. 35Z-Jared Zimbardi, 15.863[32]
33. 46-Michael Bauer, 15.876[24]
34. 1R-Gale Ruth Sr, 17.364[20]
35. 87-Aaron Reutzel, 59.998[11]
36. 21N-Frankie Nervo, 59.999[23]
Heat Race #1 (8 Laps)
1. 22C-Cole Duncan, [2]
2. 11B-Carl Bowser, [1]
3. 42-Sye Lynch, [4]
4. 07-Gerard McIntyre Jr, [3]
5. 4N-Jim Morris III, [5]
6. 13M-Brandon Matus, [7]
7. 81-Lee Jacobs, [9]
8. 47-Brett Brunkenhoefer, [6]
9. (DNF) 7N-Andy Priest, [8]
Heat Race #2 (8 Laps)
1. 99-Skylar Gee, [1]
2. 26-Cory Eliason, [3]
3. 87-Aaron Reutzel, [9]
4. 3C-Cale Conley, [2]
5. 8-Jordan Ryan, [4]
6. 23-Darren Pifer, [6]
7. 40-George Hobaugh Jr., [5]
8. 22M-Dan McCarron, [8]
9. 27K-Jeremy Kornbau, [7]
Heat Race #3 (8 Laps)
1. 23JR-Jack Sodeman Jr, [1]
2. K4-Chad Kemenah, [2]
3. 22-Brandon Spithaler, [5]
4. 97-Max Stambaugh, [3]
5. 23S-Russ Sansosti, [4]
6. 46-Michael Bauer, [7]
7. 1R-Gale Ruth Sr, [8]
8. (DNF) 33-Brent Matus, [6]
Heat Race #4 (8 Laps)
1. 70-Brock Zearfoss, [2]
2. 11-Dale Blaney, [4]
3. 13-Paul McMahan, [1]
4. 7K-Dan Shetler, [3]
5. W20-Greg Wilson, [5]
6. 08-Danny Kuriger, [6]
7. 70X-Justin Peck, [7]
8. 98H-Dave Blaney, [8]
9. 35Z-Jared Zimbardi, [9]
Dash #1 (4 Laps)
1. 42-Sye Lynch, [1]
2. 70-Brock Zearfoss, [2]
3. 22C-Cole Duncan, [3]
4. 8-Jordan Ryan, [4]
5. 23JR-Jack Sodeman Jr, [5]
Dash #2 (4 Laps)
1. 11-Dale Blaney, [1]
2. 99-Skylar Gee, [2]
3. 26-Cory Eliason, [4]
4. K4-Chad Kemenah, [5]
5. 11B-Carl Bowser, [3]
B-Main (12 Laps)
1. 40-George Hobaugh Jr., [2]
2. 08-Danny Kuriger, [4]
3. 70X-Justin Peck, [7]
4. 13M-Brandon Matus, [3]
5. 46-Michael Bauer, [6]
6. 98H-Dave Blaney, [11]
7. 81-Lee Jacobs, [8]
8. 23-Darren Pifer, [5]
9. 7N-Andy Priest, [13]
10. 35Z-Jared Zimbardi, [15]
11. 22M-Dan McCarron, [12]
12. 27K-Jeremy Kornbau, [14]
13. 47-Brett Brunkenhoefer, [1]
14. 1R-Gale Ruth Sr, [9]
15. 33-Brent Matus, [10]
A-Main (30 Laps)
1. 11-Dale Blaney, [2]
2. 70-Brock Zearfoss, [3]
3. 22C-Cole Duncan, [5]
4. 26-Cory Eliason, [6]
5. 87-Aaron Reutzel, [13]
6. 42-Sye Lynch, [1]
7. 13-Paul McMahan, [11]
8. K4-Chad Kemenah, [8]
9. W20-Greg Wilson, [20]
10. 07-Gerard McIntyre Jr, [14]
11. 23JR-Jack Sodeman Jr, [9]
12. 7K-Dan Shetler, [17]
13. 97-Max Stambaugh, [16]
14. 11B-Carl Bowser, [10]
15. 22-Brandon Spithaler, [12]
16. 3C-Cale Conley, [15]
17. 4N-Jim Morris III, [19]
18. 23S-Russ Sansosti, [18]
19. 08-Danny Kuriger, [22]
20. 40-George Hobaugh Jr., [21]
21. (DNF) 70X-Justin Peck, [23]
22. (DNF) 99-Skylar Gee, [4]
23. (DNF) 13M-Brandon Matus, [24]
24. (DNF) 8-Jordan Ryan, [7]