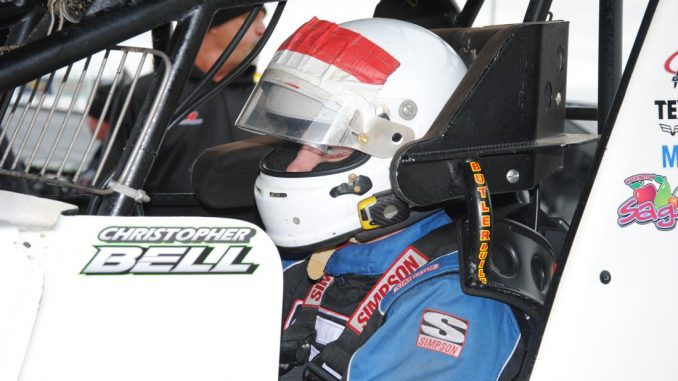 By Tommy Goudge
OHSWEKEN, Ont. (July 23, 2019) – The second night of Ohsweken Speedway's Northern Summer Nationals presented by Burger Barn, Arrow Express, Nitro 54 Variety and Bradshaw Brothers was another action-packed affair. 146 drivers signed in for action across four divisions, including another star-studded Kool Kidz-Corr/Pak 360 Sprint Car roster which featured Tony Stewart, Christopher Bell, Rico Abreu, and a host of regional racing standouts.
Christopher Bell and Scott Kreutter started on the front row for the 30-lap Kool Kidz-Corr/Pak 360 Sprint Car A-Feature. Bell saw his lead erased twice by yellow flags for Jim Huppunen, including a nearly three second advantage which he had built by lap 12.
Mark Smith gave Bell all he could handle after the restart, as the two exchanged a multitude of slide jobs with Smith leading laps 14 through 16 before Bell was able to slip away again. Dylan Westbrook began to reel in the leaders, but his bid for the win stalled in traffic as he fended off the advances of Jordan Poirier.
Bell drove nearly flawlessly for the remainder of the race to claim the win, while Smith took the runner-up spot followed by Westbrook, Jordan Poirier, and Jordan Thomas.
Christopher Bell, Joe Trenca, Dylan Westbrook, Cory Turner, and Jim Huppunen won qualifying heat races for the 45 car field, while Denny Peebles, Rico Abreu, and Dale Gosselin won B-Features. Jim Huppunen also won the Ackland Insurance Top Gun Award for accruing the most heat race passing points.
Johnny Miller and Jesse Costa brought the Action Sprint Tour Feature to the green flag, and Miller led the first lap before Costa drove around the outside to take the lead exiting turn four to complete lap two. The yellow flag then flew for DJ Christie who stopped on the track with suspension damage. The following lap saw Lucas Smith get pinched into the backstretch wall and retire with heavy damage.
Costa held the lead on the restart, but Matt Farnham reeled in the leader in traffic and stole the top spot on lap 13. Farnham made a daring move in traffic to open a gap on the rest of the field and cruised to the feature win. Costa settled for the runner-up spot, followed by Liam Martin, Hannah Ferrell, and Brad Herron.
Johnny Miller, Brad Herron, Liam Martin, Jordan Hill, and Jerry Hill won their qualifying heats, while Terry Baker, Brandon Murrell, and Baily Heard won B-Features. Hannah Ferrell won the Ackland Insurance Top Gun Award for accruing the most heat race passing points.
Northern Summer Nationals
Ohsweken Speedway
Ohsweken, ONT
Tuesday July 23, 2019
Heat Race #1:
1. 67x-Christopher Bell
2. 87-Jason Barney
3. 14-Tony Stewart
4. 17m-Max Stambaugh
5. 1-Holly Porter
6. 10-Jan-Jake Brown
7. 67-Pete Richardson
8. 11-Jamie Turner
9. 55-Mike Thorne
Heat Race #2:
1. 98-Joe Trenca
2. 79-Jordan Thomas
3. 91-Ryan Turner
4. 17x-Mack DeMan
5. 0j-Lynton Jeffery
6. 1-Kyle Fraser
7. 18-Josh Shantz
8. 9b-Scott Burk
9. 46-Kevin Pauls
Heat Race #3:
1. 13-Cory Turner
2. 28-Jordan Poirier
3. 10-Mitch Brown
4. 28f-Davie Franek
5. 3-Denny Peebles
6. 15-Dan Nanticoke
7. 121-Steve Glover
8. 18s-Michael Summers
9. 87x-Shone Evans
Heat Race #4:
1. 47x-Dylan Westbrook
2. 49k-Scott Kreutter
3. 27h-Tom Huppunen
4. 35-Jared Zimbardi
5. 24-Rico Abreu
6. 3g-Dale Gosselin
7. 16l-Roger Levesque
8. 79k-Clyde Knipp
DNS. 84-Tyler Rand
Heat Race #5:
1. 0-Jim Huppunen
2. 55m-Mark Smith
3. 28FM-Steve Poirier
4. 5d-Shane Ross
5. 77x-Alex Hill
6. 68-Aaron Turkey
7. 9-Steve Lyons
8. 46c-Ryan Coniam
B-Main #1:
1. 3-Denny Peebles
2. 68-Aaron Turkey
3. 79k-Clyde Knipp
4. 121-Steve Glover
5. 18s-Michael Summers
6. 15-Dan Nanticoke
7. 67-Pete Richardson
B-Main #2:
1. 24-Rico Abreu
2. 10-Jan-Jake Brown
3. 1-Holly Porter
4. 18-Josh Shantz
5. 9-Steve Lyons
6. 55-Mike Thorne
7. 9b-Scott Burk
B-Main #3:
1. 10c-Paulie Colagiovanni
1. 3g-Dale Gosselin
2. 11-Jamie Turner
3. 0j-Lynton Jeffery
4. 77x-Alex Hill
5. 46-Kevin Pauls
6. 16l-Roger Levesque
7. 1-Kyle Fraser
Feature:
1. 67x-Christopher Bell
2. 55m-Mark Smith
3. 47x-Dylan Westbrook
4. 28-Jordan Poirier
5. 79-Jordan Thomas
6. 17m-Max Stambaugh
7. 28FM-Steve Poirier
8. 91-Ryan Turner
9. 17x-Mack DeMan
10. 28f-Davie Franek
11. 0-Jim Huppunen
12. 49k-Scott Kreutter
13. 98-Joe Trenca
14. 24-Rico Abreu
15. 68-Aaron Turkey
16. 35-Jared Zimbardi
17. 10-Mitch Brown
18. 3-Denny Peebles
19. 87-Jason Barney
20. 3g-Dale Gosselin
21. 10-Jan-Jake Brown
22. 5d-Shane Ross
23. 14-Tony Stewart
24. 0j-Lynton Jeffery
25. 11-Jamie Turner
26. 27h-Tom Huppunen
27. 13-Cory Turner
Action Sprint Tour
Heat Race #1:
1. 20-Johnny Miller
2. 7ny-Matt Farnham
3. 5d-Jacob Dykstra
4. 26-John Verney
5. 8-Steven Beckett
6. 70mm-Dave McKnight Jr.
7. 4b-Ryan Litt
8. 14-Eric Gledhill
9. 69k-Jason Dixon
10. 5p-Cole Powell
Heat Race #2:
1. 12-Brad Herron
2. 74-Rob Neely
3. 88h-Josh Hansen
4. 9c-Brian Nanticoke
5. 29w-Tyler Ward
6. 26x-Terry Baker
7. 50LS-Adrian Stahle
8. 39-Shane Stickel
9. 1c-Davey Boughton
Heat Race #3:
1. 29-Liam Martin
2. 19d-Allan Downey
3. 5-DJ Christie
4. 1eh-Paul Klager
5. 45-Nick Sheridan
6. 14t-Noelle Teal
7. 55j-Brian Cloutier
8. 2-Travis Hofstetter
9. 56-Dereck Lemyre
Heat Race #4:
1. 28-Jordan Hill
2. 4-Hannah Ferrell
3. r52-Ryan Hunsinger
4. 5c-Conor Mahoney
5. 83-Spencer Davis
6. 70-Baily Heard
7. 69-Josh Hill
8. 22-Al Giletta Jr.
Heat Race #5:
1. 49h-Jerry Hill
2. 49L-Lucas Smith
3. 52-Jesse Costa
4. 3b-Blaine Barrow
5. 88-Jesse Mcdonald
6. 19-Brandon Murrell
7. 51-Trevor Young
8. 38-Derek Miller
9. 43-Darren Dryden
B-Main #1:
1. 26x-Terry Baker
2. 55j-Brian Cloutier
3. 56-Dereck Lemyre
4. 88-Jesse Mcdonald
5. 69-Josh Hill
6. 51-Trevor Young
7. 38-Derek Miller
8. 14t-Noelle Teal
9. 5p-Cole Powell
B-Main #2:
1. 19-Brandon Murrell
2. 45-Nick Sheridan
3. 8-Steven Beckett
4. 14-Eric Gledhill
5. 43-Darren Dryden
6. 39-Shane Stickel
7. 2-Travis Hofstetter
8. 70mm-Dave McKnight Jr.
B-Main #3:
1. 70-Baily Heard
2. 50LS-Adrian Stahle
3. 4b-Ryan Litt
4. 83-Spencer Davis
5. 1c-Davey Boughton
6. 29w-Tyler Ward
7. 69k-Jason Dixon
Feature:
1. 7ny-Matt Farnham
2. 52-Jesse Costa
3. 29-Liam Martin
4. 4-Hannah Ferrell
5. 12-Brad Herron
6. 88h-Josh Hansen
7. 5d-Jacob Dykstra
8. 20-Johnny Miller
9. 1eh-Paul klager
10. 26x-Terry Baker
11. 19-Brandon Murrell
12. 49h-Jerry Hill
13. 28-Jordan Hill
14. 9c-Brian Nanticoke
15. 19d-Allan Downey
16. 74-Rob Neely
17. 55j-Brian Cloutier
18. 45-Nick Sheridan
19. 3b-Blaine Barrow
20. r52-Ryan Hunsinger
21. 5c-Conor Mahoney
22. 50LS-Adrian Stahle
23. 26-John Verney
24. 70-Baily Heard
25. 49L-Lucas Smith
26. 5-DJ Christie