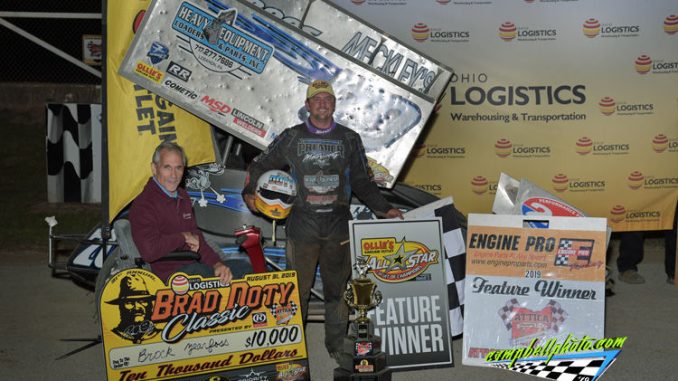 By Tyler Altmeyer/Brian Liskai
ATTICA, Ohio (August 31, 2019) – Taking into consideration his Friday night performance that resulted in a fourth place finish after starting 11th on the main event grid, it was apparent that Jonestown, Pennsylvania's Brock Zearfoss was going to be a major contender during Saturday's Ohio Logistics Brad Doty Classic presented by Racing Optics finale at Attica Raceway Park.
Fact of the matter is, Zearfoss was not a contender, but a winner, eventually leading the final 12 circuits to score the $10,000 top prize, the largest payday of his career, as well as the coveted Brad Doty Classic championship helmet.
The victory, accomplished over a pair of Friday night podium finishers consisting of Tim Shaffer and Buddy Kofoid, raised Zearfoss' Ollie's Bargain Outlet All Star Circuit of Champions presented by Mobil 1 victory count to three on the season; his first in Ohio and his first since mid-July at Lebanon Valley Speedway in West Lebanon, New York. The 'Steel City Outlaw' Tim Shaffer ended up chasing Zearfoss to the final checkers, followed by Penngrove, California's Buddy Kofoid.
Using his performance to reclaim the top spot in the All Star title chase, Hartford, Ohio's Dale Blaney finished fourth on Saturday night with Parker Price-Miller claiming the final spot in the top five.
"This is badass," Brock Zearfoss said in Attica Raceway Park victory lane, pilot of the Moose's LZ Bar & Grill/Heavy Equipment, Loaders & Parts Inc./BAPS Auto Paint & Supply/Meckley's Limestone Products/Berkebile Oil Company/No. 70 sprint car. "I've been telling Brad (Doty) that I've wanted to come out to his race for the last three or four years, but this year we finally had the chance to do it. I'm just thankful Tony Stewart and the All Stars were able to put this deal together with Brad's help. My guys, Shane and Tye, gave me an awesome race car the last two nights. What an honor to win this."
Despite escaping to a comfortable command during the final 12 circuits, the trip to the top of the podium was challenging for the 'Jonestown Jet,' forced to battle, as well as exchange the top spot, with defending All Star Circuit of Champions titleholder, Aaron Reutzel, on back-to-back occurrences during laps 26 and 27.
Zearfoss took charge over Reutzel for the first time on lap 26, utilizing a slick move through the center of turns three and four. Not willing to give up, Reutzel retaliated in a hurry, soon driving back by Zearfoss the following circuit. Unfortunately for Reutzel, caution flags waved two laps later at his expense, this time for an obvious mechanical issue, as the car slowed to a stop in turns one and two. Reutzel's misfortune proved to be a benefit for Zearfoss, now inheriting the top spot over Buddy Kofoid and Tim Shaffer.
Starting fourth on the 40-lap grid, Zearfoss battled within the top-five the entire distance, bouncing back and forth between third and fourth during the first 20 laps. Lap 23 served as the benchmark for Zearfoss' first, true challenge for the top spot, first driving under Kofoid through turns three and four to take second, all before the aforementioned lead change with Reutzel on lap 26.
"We were able to start a little bit closer to the front tonight and it all went our way," Brock Zearfoss continued. "Things got pretty tight there in traffic with Aaron (Reutzel) and we may have touched a little bit, but that's just racing sometimes. You have to go after it. I'm not sure what happened to him, but I saw that he slowed up. Like I said, things just went our way."
Labor Day weekend will continue for Tony Stewart's All Star Circuit of Champions on Sunday and Monday, September 1 & 2, with a two-day visit to 'Orrville's Historic Oval' – Wayne County Speedway in Orrville, Ohio. The annual Pete Jacobs Memorial will headline the two-race appearance on Sunday, September 1, awarding a $12,000 top prize; the Monday night, Labor Day weekend finale will award a $5,000 top prize.
Wayne County Speedway in Orrville, Ohio, will open pit gates at 3 p.m. on Sunday and Monday, September 1 & 2. A drivers meeting will take shape at 5:30 p.m. on Sunday, as well as at 4:30 p.m. on Monday. Hot laps are scheduled to hit the racing surface at 6 p.m. and 5 p.m., respectively. For more updates, please visit Wayne County Speedway online at www.waynecountyspeedway.com.
Contingency Awards/Results: Attica Raceway Park – August 31, 2019:
Event: Ohio Logistics Brad Doty Classic presented by Racing Optics
Entries: 37
C&R Racing All Star Warm-Ups: Aaron Reutzel – 12.785 seconds
Lincoln Electric Fast Qualifier: Cap Henry – 12.562 seconds
R&R Racewear Heat #1 presented by Ford Performance: Cory Eliason
R&R Racewear Heat #2 presented by All Pro Aluminum Cylinder Heads: Buddy Kofoid
R&R Racewear Heat #3 presented by Hunt Brothers Pizza: Parker Price-Miller
R&R Racewear Heat #4 presented by Mobil 1: Brock Zearfoss
Callies Dash #1 presented by JE Pistons: Tim Shaffer
Priority Aviation Dash #2 presented by Fatheadz Eyewear: Buddy Kofoid
JEGS B-Main presented Classic Ink USA Screenprinting Winner: Gio Scelzi
Ollie's Bargain Outlet A-Main Winner: Brock Zearfoss
MSD Performance Hard Charger Award: Greg Wilson (+8)
Cometic Gasket Most A-Main Laps Led: Brock Zearfoss (26, 29-40)
Rayce Rudeen Foundation First Non-Transfer: TJ Michael
(Lincoln Electric, MSD Performance, Fatheadz Eyewear, Rayce Rudeen Foundation, Cometic Gasket: Need decal to qualify for contingency award)
In the 305 feature, Elmore, Ohio's Alvin Roepke – ironically the 2002 Attica 410 track champion and 2002 Brad Doty Classic winner – took the lead with eight laps to go and drove to the $1,000 pay day. Roepke, who owns five career 410 wins at the track, now has three 305 victories.
"This is for the old guys. It's pretty cool to win this on the night of the Brad Doty Classic. To beat Paul Weaver…he's as good as they come in this sport so if you can beat him that's doing something. We kind of guessed and went with it. We thought we had a bar go bad and we changed it and it made a big difference.These things come few and far between…they don't just give them away," said Roepke beside his NAPA Auto Parts backed #99.
8/31/2019 at Attica Raceway Park
410 Sprints – Winged | All Star Circuit of Champions
A Feature (40 Laps): 1. 70-Brock Zearfoss, 26:43.013[3]; 2. G1-Tim Shaffer, 26:46.277[1]; 3. 11N-Buddy Kofoid, 26:46.380[2]; 4. 11-Dale Blaney, 26:47.065[8]; 5. 71P-Parker Price-Miller, 26:47.590[5]; 6. 26-Cory Eliason, 26:48.304[10]; 7. 09-Craig Mintz, 26:49.298[14]; 8. 4-Cap Henry, 26:49.923[6]; 9. 70X-Justin Peck, 26:50.463[9]; 10. 3-Jac Haudenschild, 26:51.749[15]; 11. 5R-Byron Reed, 26:52.259[17]; 12. 33W-Caleb Griffith, 26:52.668[13]; 13. 13-Paul McMahan, 26:52.908[11]; 14. W20-Greg Wilson, 26:53.201[22]; 15. 16-D.J. Foos, 26:53.409[23]; 16. 71-Giovanni Scelzi, 26:54.367[21]; 17. 07-Gerard McIntyre Jr, 26:55.073[24]; 18. 39-Hunter Schuerenberg, 26:55.849[12]; 19. K4-Chad Kemenah, 26:57.008[16]; 20. 1-Nate Dussel, 26:58.116[20]; 21. 19-Paige Polyak, 26:43.753[7]; 22. 99-Skylar Gee, 26:44.785[19]; 23. 87-Aaron Reutzel, 21:29.990[4]; 24. 5T-Travis Philo, 12:53.075[18]
B Feature (12 Laps): 1. 71-Giovanni Scelzi, 11:45.762[1]; 2. W20-Greg Wilson, 11:46.498[2]; 3. 16-D.J. Foos, 11:48.481[5]; 4. 07-Gerard McIntyre Jr, 11:51.192[4]; 5. 8M-T.J. Michael, 11:53.371[7]; 6. 22-Brandon Spithaler, 11:53.841[9]; 7. 81-Lee Jacobs, 11:54.238[3]; 8. 23-Carson Short, 11:55.391[6]; 9. 9Z-Duane Zablocki, 11:56.318[12]; 10. 18J-R.J. Jacobs, 11:58.230[13]; 11. (DNF) 57X-Andrew Palker, 10:00.891[10]; 12. (DNF) 20I-Kelsey Ivy, 03:28.755[8]; (DNS) 40-George Hobaugh Jr., 03:28.755
Dash 1 (4 Laps): 1. G1-Tim Shaffer, 02:54.840[2]; 2. 70-Brock Zearfoss, 02:56.403[1]; 3. 71P-Parker Price-Miller, 02:57.303[3]; 4. 19-Paige Polyak, 02:58.444[4]; 5. 70X-Justin Peck, 02:59.082[5]
Dash 2 (4 Laps): 1. 11N-Buddy Kofoid, 02:43.526[1]; 2. 87-Aaron Reutzel, 02:45.467[2]; 3. 4-Cap Henry, 02:46.761[3]; 4. 11-Dale Blaney, 02:48.105[4]; 5. 26-Cory Eliason, 02:49.208[5]
Heat 1 (10 Laps): 1. 26-Cory Eliason, 14:06.432[1]; 2. 19-Paige Polyak, 14:07.529[2]; 3. 13-Paul McMahan, 14:08.259[3]; 4. 70X-Justin Peck, 14:08.574[4]; 5. 5T-Travis Philo, 14:09.165[5]; 6. 16-D.J. Foos, 14:09.941[9]; 7. 23-Carson Short, 14:10.297[6]; 8. 40-George Hobaugh Jr., 14:10.989[10]; 9. (DNF) 22B-Ryan Broughton, 07:52.693[8]; 10. (DNF) 18J-R.J. Jacobs, 04:16.056[7]
Heat 2 (10 Laps): 1. 11N-Buddy Kofoid, 04:45.510[3]; 2. G1-Tim Shaffer, 04:46.222[2]; 3. 33W-Caleb Griffith, 04:48.237[1]; 4. 4-Cap Henry, 04:49.154[4]; 5. 1-Nate Dussel, 04:49.360[7]; 6. 81-Lee Jacobs, 04:52.399[6]; 7. W20-Greg Wilson, 04:52.701[5]; 8. 57X-Andrew Palker, 04:41.191[8]; (DNS) 1ST-Gary Taylor, 00:14.906
Heat 3 (10 Laps): 1. 71P-Parker Price-Miller, 08:52.559[1]; 2. 11-Dale Blaney, 08:53.508[2]; 3. 09-Craig Mintz, 08:55.105[3]; 4. K4-Chad Kemenah, 08:55.813[6]; 5. 5R-Byron Reed, 08:57.750[4]; 6. 07-Gerard McIntyre Jr, 08:58.376[7]; 7. 20I-Kelsey Ivy, 08:59.410[8]; 8. (DNF) 22-Brandon Spithaler, 03:03.024[5]; (DNS) 91-Cale Thomas, 03:03.024
Heat 4 (10 Laps): 1. 70-Brock Zearfoss, 29:48.190[1]; 2. 87-Aaron Reutzel, 29:48.545[7]; 3. 39-Hunter Schuerenberg, 29:50.528[3]; 4. 3-Jac Haudenschild, 29:51.774[6]; 5. 99-Skylar Gee, 29:52.288[5]; 6. 71-Giovanni Scelzi, 29:52.755[4]; 7. 8M-T.J. Michael, 29:54.217[9]; 8. (DNF) 17XL-Caleb Helms, 04:18.873[2]; 9. (DNF) 9Z-Duane Zablocki, 04:22.627[8]
Qualifying: 1. 4-Cap Henry, 00:12.562[19]; 2. 70X-Justin Peck, 00:12.568[6]; 3. 11N-Buddy Kofoid, 00:12.640[14]; 4. 13-Paul McMahan, 00:12.677[4]; 5. G1-Tim Shaffer, 00:12.704[16]; 6. 19-Paige Polyak, 00:12.724[9]; 7. 71-Giovanni Scelzi, 00:12.731[30]; 8. 39-Hunter Schuerenberg, 00:12.738[36]; 9. 5R-Byron Reed, 00:12.783[20]; 10. 26-Cory Eliason, 00:12.802[1]; 11. 33W-Caleb Griffith, 00:12.826[15]; 12. 17XL-Caleb Helms, 00:12.830[32]; 13. 5T-Travis Philo, 00:12.833[3]; 14. 09-Craig Mintz, 00:12.837[24]; 15. 11-Dale Blaney, 00:12.909[28]; 16. 70-Brock Zearfoss, 00:12.934[35]; 17. 71P-Parker Price-Miller, 00:12.935[25]; 18. W20-Greg Wilson, 00:12.945[13]; 19. 99-Skylar Gee, 00:12.948[33]; 20. 81-Lee Jacobs, 00:13.002[18]; 21. 22-Brandon Spithaler, 00:13.007[22]; 22. 3-Jac Haudenschild, 00:13.008[29]; 23. 87-Aaron Reutzel, 00:13.011[34]; 24. 1-Nate Dussel, 00:13.034[12]; 25. K4-Chad Kemenah, 00:13.044[27]; 26. 23-Carson Short, 00:13.110[7]; 27. 57X-Andrew Palker, 00:13.120[11]; 28. 07-Gerard McIntyre Jr, 00:13.151[26]; 29. 18J-R.J. Jacobs, 00:13.180[5]; 30. 1ST-Gary Taylor, 00:13.192[17]; 31. 22B-Ryan Broughton, 00:13.209[8]; 32. 16-D.J. Foos, 00:13.241[2]; 33. 9Z-Duane Zablocki, 00:13.354[37]; 34. 40-George Hobaugh Jr., 00:13.429[10]; 35. 8M-T.J. Michael, 00:13.458[31]; 36. 20I-Kelsey Ivy, 00:13.688[21]; 37. 91-Cale Thomas, 00:59.999[23]
305 Sprints – Fremont Fence
Heat 1 – (8 Laps, top 5 to A)
1. 1W-Paul Weaver[2] ; 2. 5JR-Jim McGrath [1] ; 3. 97-Kyle Peters[4] ; 4. 99-Alvin Roepke[3] ; 5. 7M-Brandon Moore[5] ; 6. 3X-Brandon Riehl[9] ; 7. 9-Logan Riehl[8] ; 8. 47-Matt Lucius[7] ; 9. 46AU-Stuart Williams[6]
Heat 2 – (8 Laps, top 5 to A)
1. 26-Jamie Miller[4] ; 2. 19R-Steve Rando[6] ; 3. 11G-Luke Griffith[5] ; 4. 09-Justin Adams[1] ; 5. 22-Justin Lusk[2] ; 6. X15-Kasey Ziebold[8] ; 7. 5M-Mike Moore[3] ; 8. 75-Jerry Dahms[7]
Heat 3 – (8 Laps, top 5 to A)
1. X-Mike Keegan[1] ; 2. 8-Bobby Clark[4] ; 3. 28-Tad Peck[2] ; 4. 3V-Chris Verda[6] ; 5. 7-Shawn Valenti[3] ; 6. 25-Jason Keckler[7] ; 7. 21-Larry Kingseed Jr[8] ; 8. 12-Kyle Capodice[5]
B-Main 1 – (10 Laps, top 5 to A)
1. 3X-Brandon Riehl[1] ; 2. 25-Jason Keckler[3] ; 3. X15-Kasey Ziebold[2] ; 4. 9-Logan Riehl[4] ; 5. 21-Larry Kingseed Jr[6] ; 6. 75-Jerry Dahms[8] ; 7. 46AU-Stuart Williams[10] ; 8. 5M-Mike Moore[5] ; 9. 47-Matt Lucius[7]
A-Main 1 – (25 Laps)
1. 99-Alvin Roepke[6] ; 2. 8-Bobby Clark[2] ; 3. 1W-Paul Weaver[9] ; 4. 19R-Steve Rando[8] ; 5. 5JR-Jim McGrath [12] ; 6. 26-Jamie Miller[4] ; 7. 11G-Luke Griffith[3] ; 8. 7M-Brandon Moore[13] ; 9. 97-Kyle Peters[11] ; 10. X-Mike Keegan[7] ; 11. 3V-Chris Verda[10] ; 12. 25-Jason Keckler[17] ; 13. 7-Shawn Valenti[15] ; 14. 21-Larry Kingseed Jr[20] ; 15. 22-Justin Lusk[14] ; 16. 9-Logan Riehl[19] ; 17. X15-Kasey Ziebold[18] ; 18. 3X-Brandon Riehl[16] ; 19. 09-Justin Adams[1] ; 20. 28-Tad Peck[5]
Hard Charger: 5JR-Jimmy McGrath +7