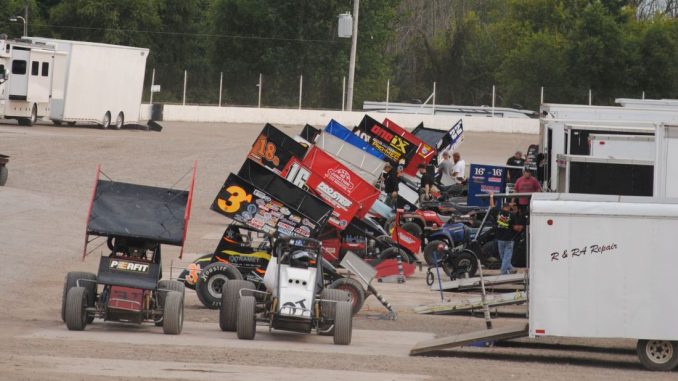 By T.J. Buffenbarger
(August 31, 2019) — After being on the sunset side of the state on Friday I ventured over to the sunrise side for the Great Lakes Fall Spectacular at Tri-City Motor Speedway in Auburn, Michigan. Here are my takeaways from my visit to the Tri-Cities area.
Making my second trip to Tri-City Motor Speedway on Saturday I wondered if the two hour and 45-minute drive would be worth it. When I walked in to seeing sprint cars hot lapping with "wings in the trunk" and a slick track top to bottom I had my doubts. Those doubts were dashed quickly with highly entertaining features from both sprint car classes on Saturday.

Tri-City races remarkably well when slick and has a surface where it can remain slick without taking rubber. Talking to race teams the track didn't seem to take any rubber until the very end of the winged sprint car feature, and according to drivers that have raced there the past several years was slicker than an average Friday program.

Tri-City is a very important new cog in the racing community in Michigan. If they decide they are happy with their highly successful weekly racing program every Friday night with some open wheel specials, we will have what is essentially Crystal Motor Speedway 2.0 on Fridays (which is a good thing). If Tri-City continues on the steady growth I've seen since my last visit several years ago I have to wonder if being positioned between Bay City, Saginaw, and Midland could be a sleeping giant for the All Stars or even the World of Outlaws visiting there once the facility has the capacity to handle it?

Tri-City promoters Steve and Erika Puvalowski should take a bow for doing what many thought could not be done in bringing their facility back to life as a dirt track. I can't help but dream someday I'm there seeing a major sprint car event with a full house.
Announcing and covering sprint car races over the past 23 years in the state of Michigan I've seen a majority of Dustin Daggett's 125+ victories during the span. Saturday at Tri-City might have been one of the better performances I've witnessed from the third-generation standout.

Taking the wing off his sprint car for the first time since 2012 and only the third time in his career Daggett looked right at home on what was a very technical racing surface that was slick top to bottom on Saturday at Tri-City. The MTS victory kept Daggett perfect in that series following a victory in his only start with the series several years ago at Crystal Motor Speedway.

Daggett admittedly had struggled through the first portion of the season to the point where whispers were starting about if he had slowed down with age as other stars were starting to emerge in the area. Over the two months those whispers have disappeared capped off by the three wins at Tri-City. Based on Daggett's reaction in victory lane it was one of the biggest weekends and wins of his career.
The Lane Automotive Michigan Traditional Sprints have evolved quietly into one of the best support divisions in the state. While MTS can hold the headline role, they are starting to find their way into a supporting role in some of the biggest sprint car programs in the state. Cheaper than some of the other stock car touring options some tracks use as the under card has given them a stage this year that has elevated the series. This was capped off putting on one of the best features I've seen in the state of Michigan this season with multiple lead changes, drivers blasting the top while some were creeping around the bottom of the slick surface, and a strong field of cars. Tri-City officials should note the MTS purse structure used for Saturday's show for next season as it was just enough to entice some BOSS and former Waynesfield Raceway Park regulars to make the relatively short drive up I-75.
I was on my way to Tri-City when I received the unfortunate news that only six cars showed up for the Sprints on Dirt event on Saturday at Crystal Motor Speedway, causing track and series officials to mutually agree to cancel the SOD portion of the event. Down the road GLSS had a $5,000 to win show with two fewer cars than they had for $2,500 to win on Friday and raced in front of a sparse crowd at Tri-City, holding a Saturday night program at a track that typically races on Friday.

On the long drive home, I wondered as a sprint car community what did we really accomplish on Saturday? One of the staunchest supporters of the sprint car community in Michigan who has given series a chance to get dates at his racetrack to gain a foothold was let down on one of their biggest weekends of the year. Meanwhile, GLSS ran a show for an increased purse with the same cars that likely would have shown up for a standard payout.

GLSS and SOD don't have to help each other, but they do need to have some consideration before booking dates against each other. Often when they are racing on the same night on opposite sides of Michigan or in a different state its not an issue, but when it comes to things like Labor Day weekend at a track like Crystal I think some common sense needs to be applied. I feel more damage was done than good and hopefully it doesn't linger into next season.