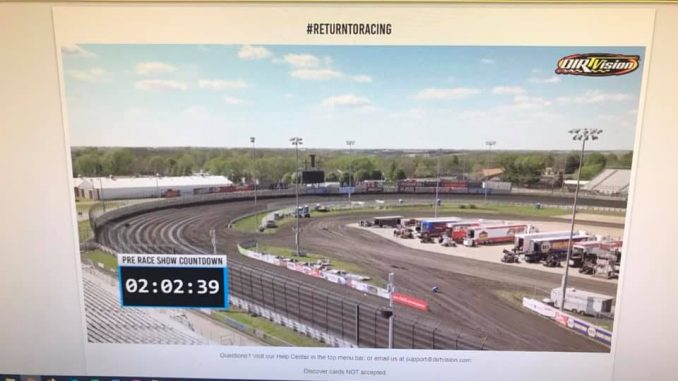 While I took in the race from my office in Michigan via DIRTvision it was evident how eerie the scene was Friday at Knoxville Raceway with a pit area full of race cars with little to no other people around other than essential safety, racing, and broadcast personnel.

Once the cars were going in circles though that did not matter anymore. In a time where everything seems unusual the World of Outlaws and Knoxville Raceway along with the race teams stepped up and provided an awesome diversion. For 30-laps I forgot about things like wearing a face mask to go to the grocery store this weekend and was engrossed in a thrilling 30-lap affair.

Thanks to the hard work of some dedicated people all of us got to escape for a few hours on Friday

.
At some point in my racing tenue I realized that mistakes by drivers often makes for great racing. From watching the World of Outlaws and Knoxville Raceway frequently on DIRTVision and from years of observation it was evident that most of the drivers were not in "race shape" from being out of the car, and it was glorious.

Often drivers at the World of Outlaws level are so good they do not make the mistakes that sometimes lead to the wild racing sprint cars are often known for at the lower levels. Friday at Knoxville David Gravel found lapped cars on the bottom where they often could not stay glued and were just enough of a nuisance to allow Ian Madsen to rail the top and almost come away with the victory. Madsen had two slips in turn four, where it seemed a lot of drivers were struggling throughout the night and allowed Gravel just enough room to secure the win.
I must commend the broadcast team at DIRTVision for doing a great job under some crazy circumstances. While there were some glitches in the program, I was amazed how well Tony Bokhoven and John Gibson could communicate considering Gibson was in the Charlotte office for World Racing Group and Bokhoven was at Knoxville Raceway. Dave Reiff also did a tremendous job battling through some glitches and unique interviewing situations with social distancing, giving us a great feel for how unusual the scene was at Knoxville without any fans.

Hopefully, this was the most challenging broadcast and DIRTvision history and we don't have to see very many of these without at least a handful of patrons on the grandstands.
With Park Jefferson and Knoxville in the rear-view mirror, what is next? The Pay Per View option only is not going to be viable for every track. For series like the World of Outlaws saturating the few states that can hold events right now is not a viable long-term solution either. For the next month if nothing changes for the worst, we have a handful of various races in a few states to enjoy. It will be interesting to see what races pop up as states open and how various series schedules are altered based on rules and regulations of each region.
Speaking of race shape, I'm far from it. Its just past Midnight as I write this and I'm exhausted writing about this race. I need a few more races under my belt to coherently string words together for all of you to read. As I'm "falling out of the seat", I'm glad to be back behind the keyboard writing about sprint car racing