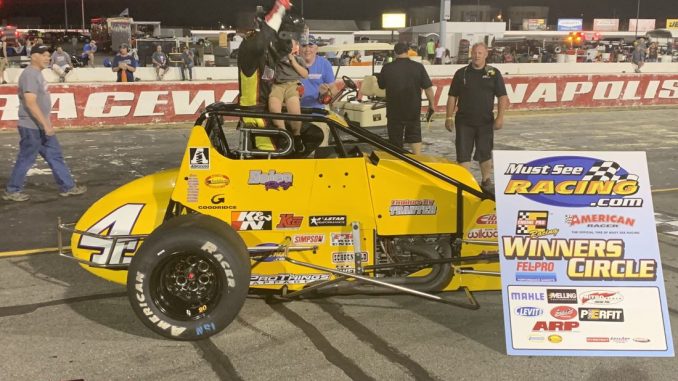 From Jacob Seelman
In perhaps one of the most thrilling battles in the history of the Must See Racing Sprint Car Series presented by Engine Pro, Kody Swanson outdueled Bobby Santos to win the inaugural Indy Summer Nationals on Saturday night at Lucas Oil Raceway.
The event was the first to be broadcast on MustSeeRacing.TV, part of the SPEED SPORT Network, and the first single-day non-winged event in series history. It did not pay points toward the championship.
Swanson and Santos put on a show from the drop of the green flag for the 30-lap feature, starting third and fourth but racing their way to the top-two spots within the first lap and a half.
Once they got there, it was a game of cat and mouse the rest of the way, as the two longtime rivals sized one another up and did whatever it took to try and outfox the other.
Swanson led the first 17 laps in succession, spending most of that time no more than two tenths of a second out in front. However, his Nolen Racing No. 4 finally started to pull away from Santos at halfway, and Swanson was nearly a second ahead when a game-changing yellow waved with 13 laps to go.
That caution, which was displayed for a spin by Nick Hamilton in turn two that saw Caleb Armstrong collected with nowhere to go, set up a double-file restart with Swanson electing the inside lane.
However, when the green flag returned the one drawback of Swanson's Tranter V6 engine was displayed, as it struggled to fire off as well as Santos' Speedway Chevy V8 did, allowing Santos to take control of the race from the top groove.
But Swanson dug his heels in and went back to work. He tried to pitch his car to Santos' inside in turn three coming to 10 to go, but Santos powered back around the outside and forced Swanson to reset for another go.
Swanson continued to chip away at Santos with the shorter groove, and finally found success working lap 24, when he got just clear of Santos in turn two and slid across the front nerf bar of the No. 22a for the top spot.
However, a spin by 10th-running Ronnie Wuerdeman before the lap could be completed negated the brilliant move, giving Santos the lead back and forcing Swanson to try yet again to pounce.
A subsequent caution on the restart, for the looped car of Bobby Komisarski on the backstretch, gave the feeling that the race was Santos' to lose, but Swanson had none of it when action resumed for the seven-lap dash to the checkered flag.
After falling into second when Santos got the launch off the top groove, Swanson pitched his Nolen Racing No. 4 to the inside of the second corner with five laps left and completed a sliding pass the likes of which any dirt sprint car driver would be proud of – powering to the lead and never looking back.
Swanson pulled away from there to win by 1.859 seconds at the twin checkers, earning his first Must See Racing win and becoming the 20th different driver to win a feature in series history.
Kody also joined his brother, Tanner Swanson, as a Must See Racing winner Saturday night. Tanner won his lone Must See Racing event at Five Flags Speedway in Pensacola, Fla., in March of 2012.
Once he got to victory lane, the emotion surrounding not only Swanson's victory – but the never-say-die manner in which he got the job done – was palpable. Tears of joy rolled down his face as he hugged every member of the Nolen Racing crew and cried, "We did it! We did it!" amid a mob of well-wishers.
The win was a perfect tribute to late Nolen Racing team owner Gene Nolen, who passed away on April 8 and stated in his last wishes that he wanted his eponymous race team to continue with Swanson driving.
Saturday night, that team – led by Swanson – banded together and did just that for their fallen leader.
"This win is for Gene," an emotional Swanson affirmed. "It's been a long offseason for everyone with this virus mess, and I hate that we're here without Gene, but we wanted to win for him so badly. I'm excited for Greg (Nolen, Gene's son), and everyone on this team. They've been a part of this family for a long time, and I've only been here for a little while, but I've sure been thankful to be a part of it.
"I love these V6s, even though I had a little doubt in the back of my mind (whether the smaller engine would have enough speed at the .686-mile Lucas Oil Raceway)," Swanson continued. "But these guys are like the little engine that could. They said, 'I think we can (win). And gosh dang it, we did. I sure wasn't going to lose it like that, on a late restart, and I've got to thank Bobby Santos for running me so clean. I know I ran him really hard, but I really wanted this one. I wasn't going to lose it like that, and we didn't."
Santos came home as the runner-up, and though disappointed, gave a nod of respect to Swanson and the whole Nolen Racing crew for the fierce battle between the two sides all race long.
"They were just handling a little better than we were at the end," noted Santos. "Honestly, I needed those yellows. The yellows and the short runs were our friend, but we've just gotta be better next time. You always want to have good, hard, clean racing and we know we're going to get that with those guys every time."
Kyle O'Gara filled out the podium, inheriting third place when Russ Gamester broke under caution at lap 17 and holding the position all the way to the finish. He was followed by Tyler Roahrig and Chris Neuenschwander.
Billy Wease, Jimmy McCune, Dakoda Armstrong, Justin Harper and Wuerdeman completed the top 10.
The Must See Racing Sprint Car Series point season begins July 13 at Ohio's Lorain County Speedway.
Indy Summer Nationals
Lucas Oil Raceway at Indianapolis
Brownsburg, IN
Saturday June 20, 2020
Must See Racing Non-Wing Sprint Cars
Feature:
1. 4-Kody Swanson
2. 22a-Bobby Santos III
3. 67-Kyle O'Gara
4. 56-Tyler Roahrig
5. 12n-Chris Nuenschwnder
6. 12w-Billy Wease
7. 88-Jimmy McCune
8. 7A-Dakota Armstrong
9. 53-Justin Harper
10. 32w-Ronnie Wuerdeman
11. 13-Joe Liguori
12. 81-Bobby Komasarski
13. 7-Tom Jewell
14. 75c-Jerry Caryer
15. 72s-Joe Speakman
16. 27T-Steve Thomas
17. 11g-Tom Geren
18. 71v-Brian Vaughn
19. 51G-Russ Gamester
20. 32H-Nick Hamilton
21. 7B-Caleb Armstrong
22. 71h-Luke Harbison
23. 34-Gary Dunkel
24. 85-Rick Holley
Midwest Supermodified Series
Feature:
1. 22-Mike McVetta
2. 19-Trent Stephens
3. 1-Bobby Santos III
4. 88-A J Lesiecki
5. 72s-Danny Shirey
6. 55-Rich Reid
7. 30-Talon Stephens
8. 64-Jim Paller
9. 0z-Cord Ehrhart
10. 7-Otto Sitterly
11. 92-Larry Lehnert