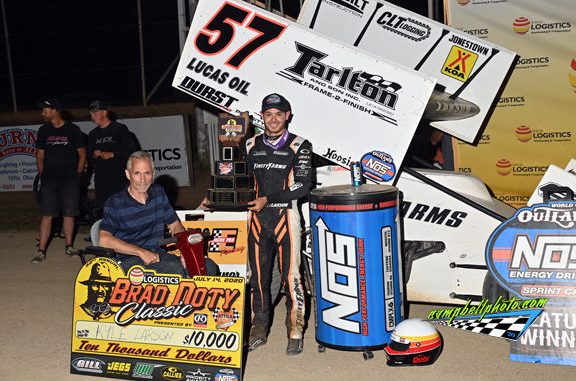 By Brian Liskai
ATTICA, Ohio – Sprint car fans are seeing something truly historic. Elk Grove, California's Kyle Larson completely dominated at Attica Raceway Park Tuesday, July 14, winning his first Ohio Logistics Brad Doty Classic Presented by Racing Optics for his 21st total victory of 2020 in just the last couple of months.
Larson's victory in the 32nd Annual Brad Doty Classic was his third ever win at Attica and his fourth career World of Outlaws NOS Energy Drink Sprint Car Series victory.
The only time in the 40-lap feature he faced any challenge was in lapped traffic with just nine laps to go when 10 time outlaw champion Donny Schatz closed to within .8 of a second. Larson made a fantastic move to split to lapped cars on lap 33 to pull away. Schatz got one more opportunity at Larson when the caution flew with four laps to go, but Larson was just too strong, pulling away for the victory.
"The car was really good. In the dash I could look back and see everyone half a track behind me. So I knew we had a good car. They watered it there before the feature and it took a little bit for it to get blown off to the top. I felt good still but when I got to within a straight away from lapped traffic I couldn't see the cushion and I'd start making mistakes and thought I could cheat the corner and slide myself and I didn't feel very good doing that. I saw Donny (Schatz) show his nose a couple of times there and I knew I was in trouble and I needed to get aggressive to get by those two lapped cars that were side by side. I was able to do that and get some good consistent laps together and get away from him. That's three outlaw wins in a row for us so that's really cool and special," said Larson beside his Finley Farms/Tarlton & Son/Glenn Styres Racing/Durst Inc./Lucas Oil Products backed #57.
"Thanks to Brad Doty for promoting this race. It's a race everyone looks forward to running. Brad's such a nice guy and has done so much for this sport. It's cool to get the opportunity to run his race. I've been close. I think I got beat by Donny last time we ran here for the Doty. Great to win in front of a packed house," added Larson.
Schatz, a four time Brad Doty Classic winner, ran second the entire race and coupled with another bad night for Brad Sweet, closed the point battle for the World of Outlaw NOS Energy Drink Sprint Car Series championship.
"In open race track he (Larson) was awful quick. We needed to stay in traffic. Towards end there we got in traffic and got close but then that caution. It was a solid night and my guys worked hard. I'm proud to drive this race car," said Schatz beside his Carquest/Ford Performance/Sage Fruit/Curb.com/Digital Ally backed #15.
Wooster, Ohio's Sheldon Haudenschild battled with his dad, Jac, throughout the feature and settled for third place.
"That was probably the most fun ever racing with Dad. It's cool to be doing it up front with the best I the world. Obviously we want to win these races but we'll take a podium and just keep working. Ripper, Nicholas and Drew have been working hard and it shows. We keep picking off these good races and our bad nights aren't so bad and the wins will come. It's cool to get back here and race. I grew up racing here and I have quite a few laps here. I want to get that Doty win," said Haudenschild beside his NOS/ZMax/West TN Expediting/Hunt Bros. Pizza/EZ Go backed #17.
Larson and Schatz brought the field to green for the feature with Larson pulling out to a commanding lead over Schatz, Sheldon Haudenschild, David Gravel, Jac Haudenschild and Daryn Pittman. A caution on lap four kept the field close but again when the green flew Larson quickly pulled away.
Larson's lead was two seconds when he caught the back of the pack on lap 10. Meanwhile Sheldon and Jac Haudenschild put on a show battling for third. Lapped traffic allowed Schatz to close with Jac Haudenschild also narrowing the gap. But a red on lap 17 gave Larson a clear track and on the restart he was able to pull away again.
Another red flag on lap 19 again put Schatz on Larson's rear bumper with Jac Haudenschild, Sheldon Haudenschild, Parker Price-Miller and Pittman in pursuit. Just three laps back under green and Larson's lead was over a second and a half. The battle for fifth was intense though involving Pittman, Parker Price-Miller and Logan Schuchart, up from 11th starting spot.
Another caution flew on lap 24 and again with clean air Larson built his lead to 1.5 seconds within three laps of green flag racing. However, Larson quickly found the back of the pack by lap 30 and his lead shrunk to .8 seconds as Schatz dove under the leader as they raced through traffic. Larson split the two lapped cars with seven laps to go and drove away. Only a caution on lap 36 slowed his march to the checkers.
Larson took the win by 1.2 seconds over Schatz, Sheldon Haudenschild, hard-charger Logan Schuchart and Jac Haudenschild.
It was announced the World of Outlaws will return to Attica Raceway Park on Friday, July 31. Advanced general admission tickets (there will be no reserved seating) are available on the World of Outlaws website.
Attica Raceway Park
Tuesday, July 14, 2020
Brad Doty Classic
World of Outlaws
NOS Energy Drink Feature (40 Laps) – 1. 57-Kyle Larson [1][$10,000]; 2. 15-Donny Schatz [2][$5,500]; 3. 17-Sheldon Haudenschild [3][$3,200]; 4. 1S-Logan Schuchart [11][$2,800]; 5. 3-Jac Haudenschild [6][$2,500]; 6. 83-Daryn Pittman [5][$2,300]; 7. 2-Carson Macedo [13][$2,200]; 8. 14-Parker Price-Miller [7][$2,100]; 9. 41-David Gravel [4][$2,050]; 10. O9-Craig Mintz [9][$2,000]; 11. 28-Tim Shaffer [10][$1,500]; 12. 11K-Kraig Kinser [16][$1,200]; 13. 1A-Jacob Allen [15][$1,100]; 14. 3Z-Brock Zearfoss [14][$1,050]; 15. 18-Ian Madsen [12][$1,000]; 16. W20-Greg Wilson [22][$900]; 17. 9-Kasey Kahne [17][$800]; 18. 7BC-Tyler Courtney [20][$800]; 19. 7S-Jason Sides [23][$800]; 20. 3J-Trey Jacobs [19][$800]; 21. 33M-Mason Daniel [25][$]; 22. 8M-TJ Michael [24][$800]; 23. 49-Brad Sweet [21][$800]; 24. 2M-Kerry Madsen [8][$800]; 25. 5-Byron Reed [18][$800]; Lap Leaders: Kyle Larson 1-40; KSE Hard Charger Award: 1S-Logan Schuchart[+7]
Qualifying Flight-A – 1. 2M-Kerry Madsen, 12.5; 2. 14-Parker Price-Miller, 12.588; 3. 17-Sheldon Haudenschild, 12.59; 4. 3-Jac Haudenschild, 12.626; 5. 2-Carson Macedo, 12.665; 6. 1A-Jacob Allen, 12.676; 7. 91-Cale Thomas, 12.826; 8. 3J-Trey Jacobs, 12.84; 9. 9-Kasey Kahne, 12.862; 10. 1S-Logan Schuchart, 12.869; 11. O9-Craig Mintz, 12.911; 12. 7S-Jason Sides, 12.988; 13. 27Z-Zane Devault, 13.011; 14. 5T-Travis Philo, 13.04; 15. 8M-TJ Michael, 13.074; 16. 15K-Chad Kemenah, 13.088; 17. 16-DJ Foos, 13.1; 18. 19R-Jordan Ryan, 13.126; 19. 68G-Tyler Gunn, 13.208; 20. 23-Cole Macedo, 13.263; 21. 6-Bill Rose, 13.284
Qualifying Flight-B – 1. 49-Brad Sweet, 12.709; 2. 57-Kyle Larson, 12.722; 3. 41-David Gravel, 12.796; 4. 15-Donny Schatz, 12.816; 5. 83-Daryn Pittman, 12.972; 6. 11K-Kraig Kinser, 13.027; 7. 28-Tim Shaffer, 13.068; 8. 18-Ian Madsen, 13.09; 9. 3Z-Brock Zearfoss, 13.144; 10. 4-Cap Henry, 13.157; 11. 33M-Mason Daniel, 13.159; 12. 1-Nate Dussel, 13.236; 13. 3C-Cale Conley, 13.247; 14. 7BC-Tyler Courtney, 13.28; 15. W20-Greg Wilson, 13.329; 16. 33W-Caleb Griffith, 13.331; 17. 5-Byron Reed, 13.348; 18. 21-Carson Short, 13.386; 19. 49D-Shawn Dancer, 13.41; 20. 2C-Wayne Johnson, 13.445; 21. 35-Stuart Brubaker, 13.55
DRYDENE Heat #1 – Flight (A) (10 Laps) – Top 5 Transfer – 1. 2M-Kerry Madsen [1]; 2. 17-Sheldon Haudenschild [2]; 3. O9-Craig Mintz [6]; 4. 2-Carson Macedo [3]; 5. 9-Kasey Kahne [5]; 6. 91-Cale Thomas [4]; 7. 8M-TJ Michael [8]; 8. 27Z-Zane Devault [7]; 9. 68G-Tyler Gunn [10]; 10. 16-DJ Foos [9]; 11. 6-Bill Rose [11]
DRYDENE Heat #2 – Flight (A) (10 Laps) – Top 5 Transfer – 1. 3-Jac Haudenschild [2]; 2. 14-Parker Price-Miller [1]; 3. 1S-Logan Schuchart [5]; 4. 1A-Jacob Allen [3]; 5. 3J-Trey Jacobs [4]; 6. 7S-Jason Sides [6]; 7. 5T-Travis Philo [7]; 8. 15K-Chad Kemenah [8]; 9. 19R-Jordan Ryan [9]; 10. 23-Cole Macedo [10]
DRYDENE Heat #3 – Flight (B) (10 Laps) – Top 5 Transfer – 1. 41-David Gravel [2]; 2. 83-Daryn Pittman [3]; 3. 28-Tim Shaffer [4]; 4. 3Z-Brock Zearfoss [5]; 5. 5-Byron Reed [9]; 6. W20-Greg Wilson [8]; 7. 33M-Mason Daniel [6]; 8. 35-Stuart Brubaker [11]; 9. 49D-Shawn Dancer [10]; 10. 3C-Cale Conley [7]; 11. 49-Brad Sweet [1]
DRYDENE Heat #4 – Flight (B) (10 Laps) – Top 5 Transfer – 1. 57-Kyle Larson [1]; 2. 15-Donny Schatz [2]; 3. 18-Ian Madsen [4]; 4. 11K-Kraig Kinser [3]; 5. 7BC-Tyler Courtney [7]; 6. 1-Nate Dussel [6]; 7. 33W-Caleb Griffith [8]; 8. 21-Carson Short [9]; 9. 4-Cap Henry [5]; 10. 2C-Wayne Johnson [10]
DIRTVision Fast Pass Dash (8 Laps) – 1. 57-Kyle Larson [1]; 2. 15-Donny Schatz [2]; 3. 17-Sheldon Haudenschild [3]; 4. 41-David Gravel [4]; 5. 83-Daryn Pittman [6]; 6. 3-Jac Haudenschild [8]; 7. 14-Parker Price-Miller [5]; 8. 2M-Kerry Madsen [7]
C-Main (10 Laps) – Top 2 Transfer – 1. 23-Cole Macedo [7][-]; 2. 68G-Tyler Gunn [1][-]; 3. 19R-Jordan Ryan [3][$150]; 4. 2C-Wayne Johnson [8][$150]; 5. 16-DJ Foos [5][$150]; 6. 6-Bill Rose [9][$125]; 7. 49D-Shawn Dancer [2][$125]; 8. 4-Cap Henry [4][$125]; 9. 3C-Cale Conley [6][$125]
Last Chance Showdown (12 Laps) – Top 4 Transfer – 1. 49-Brad Sweet [2][-]; 2. W20-Greg Wilson [4][-]; 3. 7S-Jason Sides [3][-]; 4. 8M-TJ Michael [5][-]; 5. 21-Carson Short [13][$300]; 6. 33M-Mason Daniel [8][$250]; 7. 15K-Chad Kemenah [11][$225]; 8. 27Z-Zane Devault [9][$200]; 9. 91-Cale Thomas [1][$200]; 10. 68G-Tyler Gunn [15][$200]; 11. 35-Stuart Brubaker [12][$200]; 12. 33W-Caleb Griffith [10][$200]; 13. 5T-Travis Philo [7][$200]; 14. 23-Cole Macedo [14][$200]; 15. 1-Nate Dussel [6][$200]