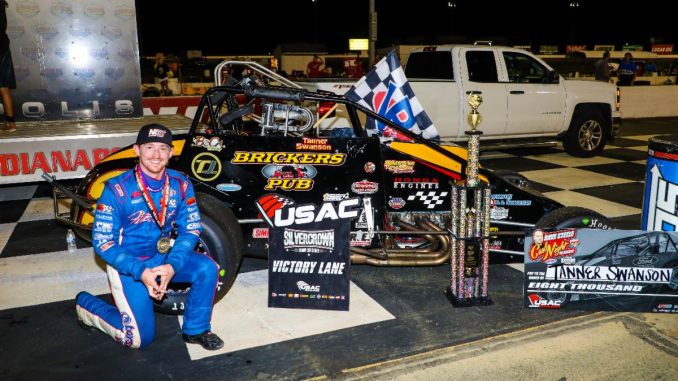 By Richie Murray
Brownsburg, Indiana (August 21, 2020)………After watching his brother, Kody, score the victory in his Indy Pro 2000 Series debut earlier in the evening, Tanner Swanson made Friday an all-Swanson night, leading the final 60 circuits of the 100-lap Dave Steele Carb Night Classic en route to becoming the winningest USAC Silver Crown driver at Brownsburg, Indiana's Lucas Oil Raceway with his sixth career triumph at the .686-mile paved oval.
Tanner's victory broke a three-way tie at the top for most USAC Silver Crown wins at LOR with his older sibling, Kody Swanson, and Mike Bliss. Tanner's second career Dave Steele Carb Night Classic victory, and first since 2016, marked his eighth career Silver Crown victory, tying him with Chris Windom for 14th all-time.
But this particular one was special during the 50th Silver Crown event held at LOR. It was Tanner's first win with the series in over four years aboard his Bowman Racing/Brickers Pub – T.J. Forge/Beast/Kistler Chevy, one that elevated him as the standard bearer at a track that has been the stage for most of his greatest achievements in the sport, and put him atop all the heroes he remembered watching when he was just beginning in the sport, many of whom he watched from afar and aspired to be, at venues such as LOR.
"It's awesome to see that record," Tanner said. "2004 was (Kody and I's) first time in sprint cars and midgets. We were walking through the pits looking at Tracy Hines, A.J. Fike, Bobby Santos and all these guys we watched on TV, and now we get to etch our names next to those types of guys. It's surreal to be able to race at this level with family."
It just so happened to be an all Swanson front row as well with Tanner occupying the outside and Kody the pole after earlier earning his record-extending 31st career Fatheadz Qualifying time with the series, while also earning a $1,000 bonus courtesy of Mac and Carol Steele, parents of the late 12-time LOR USAC winner, Dave Steele.
It was a tad different scenery for Tanner than what he'd become accustomed to over the past couple of years in the event. He took the back row challenge in the last two Carb Night Classics, driving from 22nd to 2nd in 2018 and 17th to 2nd in 2019. This time around, no such challenge was in play, so in essence, Tanner practically had a head start on the competition.
However, Kody shot out to the early advantage, and by lap 17, the top-three of Kody, Tanner and reigning Carb Night Classic winner, Kyle Hamilton, were nose-to-tail. Hamilton made a bid for second between turns one and two when he and Tanner made tire-to-tire contact – Hamilton's right rear to Tanner's left rear – igniting a brief shower of sparks and sending Hamilton into a spin while Tanner became sideways, but saved it and continued on.
"Early on, you can't afford to give anyone any extra space," Tanner explained. "He didn't get enough to clear me, so we ended up running into each other. I hate it for him that he ended up going to the back but, thankfully, all the tires stayed up and we were able to continue on."
Hamilton stopped in turn two but proceeded to drive back up through the field following the restart to finish an impressive third in the final rundown.
From thereon, Tanner took a brief peek under Kody in turn three but was unable to make up any substantial ground as Kody pulled back out to a roughly 10-car length advantage with more than a third of the race in arrears.
"Early on, I was trying to play with him," Tanner recalled of Kody. "I was watching his hands and seeing how much he was having to work for it. I tried to show him a wheel to see if I could get him to hustle a little bit, but his car was on rails."
However, on lap 40, a problem with the rear brake caliper surfaced for Kody, forcing him into an action rarely seen in auto racing, especially one who's your toughest competition, and also just so happens to be your brother.
"I saw he had a rear brake caliper fail and I saw sparks and things going bad," Tanner remembered. "He checked up and he actually waved me by down the back stretch. I appreciate that he gave us the opportunity like that, but that's Kody. He races you the way you want to be raced."
Tanner immediately pulled away from Kody, distancing himself from the competition until lap 56 when John Heydenreich spun exiting turn two and plowed into the inside wall on the back straightaway. Under yellow, Kody relented his second place running position to pit with his Nolen Racing crew instantaneously putting the car on jacks and going to work. Ultimately, Kody did return to the fray one lap down, soldiering on to finish 10th.
Tanner Swanson's victory broke a three-way tie at the top for most USAC Silver Crown wins at LOR with his older sibling, Kody Swanson, and Mike Bliss. Tanner's second career Dave Steele Carb Night Classic victory, and first since 2016, marked his eighth career Silver Crown victory, tying him with Chris Windom for 14th all-time after. (David Nearpass Photo)
Tanner, for all intents and purposes, wrote his own zip code during the second half of the race, cruising on his lonesome up front while a dice up for positions was occurring from second on back. Aaron Pierce slipped by Bobby Santos late for the second position, his best run since a similar runner-up finish on the dirt in the 2015 Hoosier Hundred at the Indiana State Fairgrounds, all while Hamilton slotted into third.
Navigating his way through traffic with ample ease, Tanner carried out his winning ambitions with a victory in his first racing start of any kind in 2020, dominating the final stages to earn the victory over Pierce, Hamilton and Santos with Justin Grant rounding out the top-five.
There are many roads that lead to success. Tanner and Bowman Racing have taken the road most often traveled, a pairing whose yearly schedule consists annually of only one track, one car, one driver and one team. A system which they have demonstrated they have down pat.
"This is the only time I sit in a racecar all year, so I don't develop any bad habits anywhere else," Tanner said with a laugh. "This is the only place I remember, same with the car. This is the only place these guys come run."
—————————————
USAC SILVER CROWN CHAMP CAR SERIES RACE RESULTS: August 21, 2020 – Lucas Oil Raceway – Brownsburg, Indiana – .686-Mile Paved Oval – Dave Steele Carb Night Classic
FATHEADZ EYEWEAR QUALIFYING: 1. Kody Swanson, 20, Nolen-20.732; 2. Tanner Swanson, 02, Bowman-20.977; 3. Justin Grant, 91, Hemelgarn-21.163; 4. Kyle Hamilton, 6, Klatt-21.185; 5. Bobby Santos, 22, DJ-21.193; 6. Eric Gordon, 78, Armstrong-21.251; 7. Aaron Pierce, 26, Pierce-21.363; 8. Russ Gamester, 51, Gamester-21.375; 9. John Heydenreich, 37, Bohanon/Felker-21.386; 10. Chris Windom, 17, Goodnight-21.387; 11. Derek Bischak, 131, Bischak-21.411; 12. Kyle O'Gara, 1, SFHR-21.489; 13. Shane Cottle, 81, Williams-21.541; 14. Austin Nemire, 16, Nemire/Lesko-21.613; 15. Matt Goodnight, 39, Goodnight-21.786; 16. Jim Anderson, 92, Kazmark-21.920; 17. Toni Breidinger, 80, Breidinger-21.959; 18. Travis Welpott, 18, Welpott-22.218; 19. Kyle Robbins, 7, KR-22.731; 20. Mike Haggenbottom, 24, Haggenbottom-22.764; 21. Patrick Lawson, 2, Lawson-NT; 22. Bryan Gossel, 06, Gossel-NT; 23. Brent Yarnal, 29, Yarnal-NT; 24. Dave Berkheimer, 31, Berkheimer-NT.
FEATURE: (100 laps, starting positions in parentheses) 1. Tanner Swanson (2), 2. Aaron Pierce (7), 3. Kyle Hamilton (4), 4. Bobby Santos (5), 5. Justin Grant (3), 6. Eric Gordon (6), 7. Patrick Lawson (21), 8. Russ Gamester (8), 9. Chris Windom (10), 10. Kody Swanson (1), 11. Shane Cottle (13), 12. Austin Nemire (14), 13. Matt Goodnight (15), 14. Travis Welpott (18), 15. Mike Haggenbottom (20), 16. Toni Breidinger (17), 17. Kyle Robbins (19), 18. Derek Bischak (11), 19. Kyle O'Gara (12), 20. John Heydenreich (9), 21. Bryan Gossel (22), 22. Jim Anderson (16), 23. Dave Berkheimer (24), 24. Brent Yarnal (23). NT
FEATURE LAP LEADERS: Laps 1-40 Kody Swanson, Laps 41-100 Tanner Swanson.
USAC SILVER CROWN CHAMP CAR SERIES POINTS: 1-Kody Swanson-160, 2-Justin Grant-150, 3-Kyle Robbins-142, 4-Aaron Pierce-131, 5-Bobby Santos-131, 6-Matt Goodnight-124, 7-Mike Haggenbottom-118, 8-Bryan Gossel-114, 9-Shane Cottle-111, 10-Travis Welpott-109.
OVERALL PROSOURCE PASSING MASTER POINTS: 1-Chris Windom-80, 2-Tanner Thorson-76, 3-Shane Cottle-61, 4-Logan Seavey-57, 5-Cannon McIntosh-57, 6-Justin Grant-52, 7-Kyle Cummins-48, 8-Daison Pursley-48, 9-Robert Ballou-45, 10-Andrew Layser-44.
NEXT USAC SILVER CROWN RACE: August 23, 2020 – Indiana State Fairgrounds – Indianapolis, Indiana – 1-Mile Dirt Oval – 65th Hoosier Hundred
CONTINGENCY AWARD WINNERS:
Fatheadz Eyewear Fast Qualifier: Kody Swanson
Mac & Carol Steele $1,000 Fast Qualifying Bonus: Kody Swanson
KSE Racing Products Hard Charger: Patrick Lawson (21st to 7th)
Wilwood Brakes 13th Place Finisher: Matt Goodnight
Jerry Medlin 16th Place Finisher in Memory of Jerry Nemire: Toni Breidinger