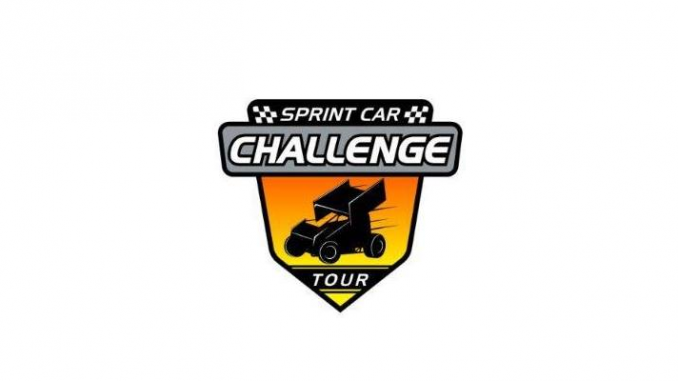 By Gary Thomas
Marysville, CA – May 30, 2021…Late race entertainment highlighted the Sprint Car Challenge Tour presented by Elk Grove Ford and Abreu Vineyards debut at Marysville Raceway on Sunday evening. In the end it was Auburn's Andy Forsberg who made the right moves to claim his fifth career Hall Memorial victory, taking home the $3,500 top prize.
It marked Forsberg's second career Sprint Car Challenge Tour triumph and came aboard the familiar Friends & Family Racing/ Bushey Financial Services/ Pit Stop USA X1 mount. The veteran hounded leader Colby Copeland early on before making the exhilarating move for the lead just prior to the finish.
"To win another Mel and Marlyn Hall Memorial is pretty special and to do it in exciting fashion like that couldn't have been better," commented the 44-year-old former Goat Farmer. "Things got a little hairy in lapped traffic and that certainly made it a new race towards the end. My family and the Halls go way back so it's always an honor just to run this race, let alone win it five different times. I want to thank this whole F&F X1 team and everyone that supports it."
The initial 14-laps of the feature clicked off fast and furious and saw Copeland jump out to the lead with Forsberg hanging right there every step of the way through traffic. The middle stages of the race bogged down with a few yellows and one red flag period for Bobby Butler, who luckily emerged okay after a scary flip down the front stretch. When green flag laps finally clicked off again all eyes were turned towards camping buddies Forsberg and Sean Becker, who had a torrid battle for the runner up spot.
While Forsberg and Becker fought for second it allowed Copeland to rocket away to a sizable lead as the race wound down. Forsberg eventually came out on top of the race with Becker for P2 and then set his sights on the leader, who was stuck behind lapped traffic. With Copeland boxed in "Mr. Excitement" made his move and charged hard after the top spot. Heading into turn three coming for the white flag Forsberg sliced to the inside and made the pass as the crowd came to their feet. Copeland made another run at it and looked to have a chance in the final corners, but Forsberg hung tough and crossed the stripe for victory.
Copeland's strong night ended in second, less than a car length from Forsberg at the finish. Despite not getting the win it was another stellar evening with SCCT for the Van Lare Steering Repair/ Bianchi Farms 5V machine. It was also Copeland's second straight runner up effort with the tour. Becker capped an exceptional night of competition as well by crossing the line in third aboard the Monhoff Racing/ M&M Structures 35 Sprinter. It was nice to see the "Shark" back on the podium for the second time this season with SCCT.
Fremont's Shane Golobic and Foresthill's Ryan Robinson completed the top-five in the 35-lapper. Rounding out the top-10 were Tyler Thompson, Justyn Cox, Brad Bumgarner, Justin Sanders and Dylan Bloomfield. Windsor's John Clark was the Pit Stop USA Hard Charger Award winner and went home with an extra $250 courtesy of Larry Antaya Motorsports.
The B-main went to Angelo Cornet, while the High Sierra Industries Dash was picked off by Colby Copeland, who earned an extra c-note from Roadside 24 Service. The four 10-lap heats were captured by Bobby Butler, Justyn Cox, Andy Forsberg and Sean Becker. Oregon traveler Tyler Thompson earned the $450 fast time award to start the night thanks to Bianchi Farms, in memory of Kyle Main Motorsports and Paul Olmsted Plastering.
Mel Hall Memorial
Sprint Car Challenge Tour
Marysville Raceway
Marysville, California
Sunday, May 30, 2021
Qualifying Flight #1:
1. 88-Brad Bumgarner, 13.320
2. 35M-Justin Sanders, 13.354
3. 57B-Bobby Butler, 13.419
4. 38B-Blake Carrick, 13.542
5. 21X-Shane Hopkins, 13.596
6. 88K-Koen Shaw, 13.948
7. 12J-John Clark, 14.069
8. 19-Tucker Lacaze, 14.153
Qualifying Flight #2:
1. 5V-Colby Copeland, 13.235
2. 2XM-Max Mittry, 13.399
3. 7C-Justyn Cox, 13.451
4. 21S-Drake Standley, 13.733
5. 1-Nick Larsen, 13.745
6. 43-Bradley Terrell, 13.758
7. 1-Billy Wallace, 13.799
8. 12P-Steel Powell, 14.039
Qualifying Flight #3:
1. 17W-Shane Golobic, 13.333
2. X1-Andy Forsberg, 13.343
3. 2X-Chase Majdic, 13.390
4. 83T-Tanner Carrick, 13.391
5. 83V-Kaleb Montgomery, 13.704
6. 5A-Angelo Cornet, 13.714
7. 15-Pat Harvey Jr., 14.049
Qualifying Flight #4:
1. 22X-Tyler Thompson, 13.171
2. 35-Sean Becker, 13.202
3. 83SA-Isaiah Vasquez, 13.331
4. 14W-Ryan Robinson, 13.455
5. 33-Dylan Bloomfield, 13.528
6. 8-Colby Wiesz, 13.543
7. 54-Carson Hall, 14.031
Heat Race #1:
1. 57B-Bobby Butler
2. 35M-Justin Sanders
3. 38B-Blake Carrick
4. 88-Brad Bumgarner
5. 21X-Shane Hopkins
6. 88K-Koen Shaw
7. 12J-John Clark
8. 19-Tucker Lacaze
Heat Race #2:
1. 7C-Justyn Cox
2. 5V-Colby Copeland
3. 43-Bradley Terrell
4. 01-Nick Larsen
5. 12P-Steel Powell
6. 21S-Drake Standley
7. 2XM-Max Mittry
8. 1-Billy Wallace
Heat Race #3:
1. X1-Andy Forsberg
2. 2X-Chase Majdic
3. 17W-Shane Golobic
4. 83T-Tanner Carrick
5. 83V-Kaleb Montgomery
6. 5A-Angelo Cornet
7. 15-Pat Harvey Jr.
1. 35-Sean Becker
2. 14W-Ryan Robinson
3. 83SA-Isaiah Vasquez
4. 22X-Tyler Thompson
5. 33-Dylan Bloomfield
6. 8-Colby Wiesz
7. 54-Carson Hall
B-Main:
1. 5A-Angelo Cornet
2. 8-Colby Wiesz
3. 88K-Koen Shaw
4. 12J-John Clark
5. 21S-Drake Standley
6. 1-Billy Wallace
7. 2XM-Max Mittry
8. 15-Pat Harvey Jr.
9. 54-Carson Hall
Dash:
1. 5V-Colby Copeland
2. 22X-Tyler Thompson
3. 17W-Shane Golobic
4. 57B-Bobby Butler
5. 7C-Justyn Cox
6. X1-Andy Forsberg
7. 88-Brad Bumgarner
8. 35-Sean Becker
A-Main:
1. X1-Andy Forsberg
2. 5V-Colby Copeland
3. 35-Sean Becker
4. 17W-Shane Golobic
5. 14W-Ryan Robinson
6. 22X-Tyler Thompson
7. 7C-Justyn Cox
8. 88-Brad Bumgarner
9. 35M-Justin Sanders
10. 33-Dylan Bloomfield
11. 83T-Tanner Carrick
12. 21X-Shane Hopkins
13. 2X-Chase Majdic
14. 83V-Kaleb Montgomery
15. 5A-Angelo Cornet
16. 12J-John Clark
17. 57B-Bobby Butler
18. 83SA-Isaiah Vasquez
19. 01-Nick Larsen
20. 43-Bradley Terrell
21. 12P-Steel Powell
22. 88K-Koen Shaw
23. 38B-Blake Carrick
24. 8-Colby Wiesz