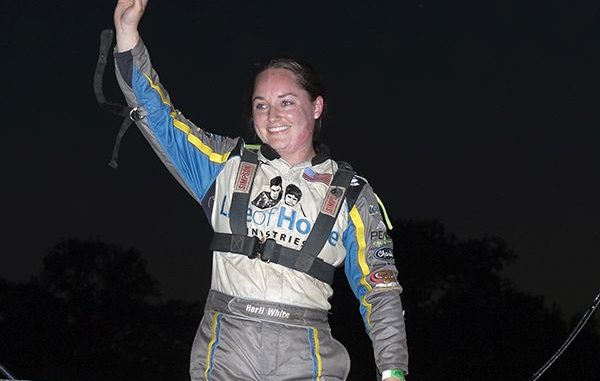 by Gerry Keysor
Limaland Motorsports Park swung open the gates under clear skies for the Anheuser Busch Sales of Lima Busch Clash, and the rescheduled Ron Kahle Jr. Memorial for the K&L Ready Mix NRA Sprint Invaders. Lindsay, Oklahoma's Harli White would pick up her 2nd win in 2021 in NRA Sprint Invader competition aboard Ed Neumeister's No. 11N in the $4000 to win Ron KAhle Jr. Memorial Feature. No. 74D Craig Dippman would win the Bud Thunderstock feature, and No. 65 Todd Sherman would bag his 52nd career victory at Limaland in the Northwest Physical Therapy UMP Modifieds.
Kicking off the night were the Bud Thunderstocks in their 15 lap A Main. No. 7C Jordan Conover and No. 82 Chris Douglas would lead the field to green with Conover grabbing the early race lead over Douglas. Multiple cautions kept the field close until a restart on lap 6 saw contact made between No. 74 Craig Dippman, and Conover. Conover would come to a stop in turns 3 and 4 with a flat left rear tire, bringing out the caution yet again. Conover would get the tire changed in time to rejoin the field from the tail, and would charge thru the field but run out of time as Dippman would grab the win over No. 57 Jeffrey Jessup, Douglas, No 22T Tony Anderson, and Conover.
Next up were the K&L Ready Mix NRA Sprint Invaders for their 25 lap A Main honoring the memory of Ron Kahle Jr. No. 17H Hud Horton, and No 22H Randy Hannagan would make up the front row, with Horton grabbing the early lead. No. 11N Harli White would begin making moves right away, charging to 4th position by lap 2. Hannagan began to close on Horton for the lead on lap 8, and finally made the pass on lap 11. On lap 14, No. 2P Ricky Peterson would begin to challenge Horton for 2nd, which would allow White to close in and grab the 2nd spot on lap 15. Hannagan held a 2.1 second lead and appeared to have the win in the bag, until 5 laps to go, as Harli White began closing rapidly on the leader. White found herself on the tail tank of Hannagan as they crossed under the flag stand on lap 23, with White going as low as she could go in turns 1 and 2, even clipping the infield tires and upsetting the car and losing ground to Hannagan's 22H. White would get the Chalkstix sponsored 11N back underneath her for one final charge, and on the final lap grab the win over Hannagan, Peterson, No. 18 Todd Heuerman, and No. 17 Jared Horstman.
Completing the night were the Northwest Physical Therapy UMP Modifieds. No. 34x Shane O'Connor, and No. 19B Brandon Ordway would bring the field to green in the 20 lap A Main. O'Connor would grab the early lead with Ordway and No. 22T Tony Anderson battling for 2nd. Ordway would clear Anderson and on lap 3, snatch the lead from O'Connor. By lap 5, Churubusco, Indiana's Todd Sherman had climbed to 3rd from his 8th place starting spot in the Sherman Enterprises, Ferris Commercial Mowers No. 65. The caution flag would wave on lap 6 for UNOH Racer Bryce Nichols spinning in the middle of turns 1 and 2 in the UNOH No. 01. On the restart, O'Connor would wash up the track exiting turn 2, allowing Sherman to squirt by and set his sights on race leader Ordway. Sherman would get by Ordway on lap 10, and never look back, en route to his 52nd career Limaland Northwest Physical Therapy UMP Modified victory. Ordway would be 2nd with No. 3W Dylan Woodling 3rd, No. 16 Jeff Koz 4th, and No. 36 Brandon Vaughan would complete the top 5.
Dont miss out next Friday June 18th as Limaland Motorsports Park is pleased to welcome Tony Stewart's FloRacing All Star Circuit of Champions Sprint Cars for leg 7 of the 39th Annual Cometic Gasket Ohio Sprint Speedweek presented by Ohio Logistics. Also in action will be the Northwest Physical Therapy UMP Modifieds. Pit Gates open at 4:30, Grandstand gates open at 5PM, Hot laps at 6:30PM, Racing at 7:30PM. General admission is $22 for ages 16 and older, ages 11-15 $11, and kids 10 and under admitted FREE. Don't forget to check out limaland.com or follow us on Facebook for more info on this and all the happenings at Limaland Motorports Park.
Limaland Motorsports Park – 6/11/2021
Anheuser Busch Sales of Lima presents
Busch Clash/Ron Kahle Jr Memorial
Bud Thunderstocks
Heat 1 – (8 Laps – Top 7 Transfer)
1. 82-Chris Douglas; 2. 57-Jeffery Jessup; 3. 89-Keith Shockency; 4. OOP-Dean Pitts; 5. 1W-Mark Wooten; 6. J2-Rob Trent; 7. 1V-Sean Verwys
Heat 2 – (8 Laps – Top 7 Transfer)
1. 7C-Jordan Conover; 2. 22T-Tony Anderson; 3. 27-Frank Paladino; 4. 87-Andy Welch; 5. OO-Randy Giroux; 6. 7W-Dan Wooten
Heat 3 – (8 Laps – Top 7 Transfer)
1. 74D-Craig Dippman; 2. 26-Justin Long; 3. 23-Casey Barr; 4. 17J-Jarrod Klay; 5. O1-Benjamin Anton; 6. 92-Brandon Mcdaries
A-Main – (15 Laps) [#]-Starting Position
1. 74D-Craig Dippman[3]; 2. 57-Jeffery Jessup[4]; 3. 82-Chris Douglas[2]; 4. 22T-Tony Anderson[5]; 5. 7C-Jordan Conover[1]; 6. J2-Rob Trent[16]; 7. 26-Justin Long[6]; 8. 87-Andy Welch[11]; 9. 27-Frank Paladino[8]; 10. 1V-Sean Verwys[19]; 11. OO-Randy Giroux[14]; 12. O1-Benjamin Anton[15]; 13. 1W-Mark Wooten[13]; 14. 17J-Jarrod Klay[12]; 15. 23-Casey Barr[9]; 16. 89-Keith Shockency[7]; 17. 92-Brandon Mcdaries[18]; 18. 7W-Dan Wooten[17]
K&L Ready Mix NRA Sprint Invaders
Qualifying –
1. 11W-Harli White, 11.88; 2. 17H-Hud Horton, 11.93; 3. 22H-Randy Hannagan, 11.98; 4. 22M-Dan Mccarron, 12.00; 5. 2S-Kyle Sauder, 12.01; 6. 17-Jared Horstman, 12.09; 7. 11-Tim Allison, 12.12; 8. 28M-Conner Morrell, 12.14; 9. 23-Devon Dobie, 12.15; 10. 18-Todd Heuerman, 12.15; 11. 49-Shawn Dancer, 12.23; 12. 2P-Ricky Peterson, 12.26; 13. 37-Noah Dunlap, 12.34; 14. 16B-Zane Devault, 12.38; 15. 49T-Gregg Dalman, 12.40; 16. 1-Steve Niese, 13.34; 17. 24-Kobe Allison, 100.00
Heat 1 – (8 Laps – Top 6 Transfer)
1. 18-Todd Heuerman; 2. 11W-Harli White; 3. 11-Tim Allison; 4. 22M-Dan Mccarron; 5. 37-Noah Dunlap; 6. 1-Steve Niese
Heat 2 – (8 Laps – Top 6 Transfer)
1. 28M-Conner Morrell; 2. 49-Shawn Dancer; 3. 17H-Hud Horton; 4. 16B-Zane Devault; 5. 2S-Kyle Sauder; 6. 24-Kobe Allison
Heat 3 – (8 Laps – Top 6 Transfer)
1. 2P-Ricky Peterson; 2. 23-Devon Dobie; 3. 17-Jared Horstman; 4. 22H-Randy Hannagan; 5. 49T-Gregg Dalman
A-Main – (25 Laps) [#]-Starting Position
1. 11W-Harli White[5]; 2. 22H-Randy Hannagan[2]; 3. 2P-Ricky Peterson[3]; 4. 18-Todd Heuerman[6]; 5. 17-Jared Horstman[10]; 6. 17H-Hud Horton[1]; 7. 28M-Conner Morrell[4]; 8. 22M-Dan Mccarron[11]; 9. 49T-Gregg Dalman[15]; 10. 16B-Zane Devault[12]; 11. 2S-Kyle Sauder[14]; 12. 23-Devon Dobie[8]; 13. 49-Shawn Dancer[7]; 14. 37-Noah Dunlap[13]; 15. 1-Steve Niese[16]; 16. 11-Tim Allison[9]