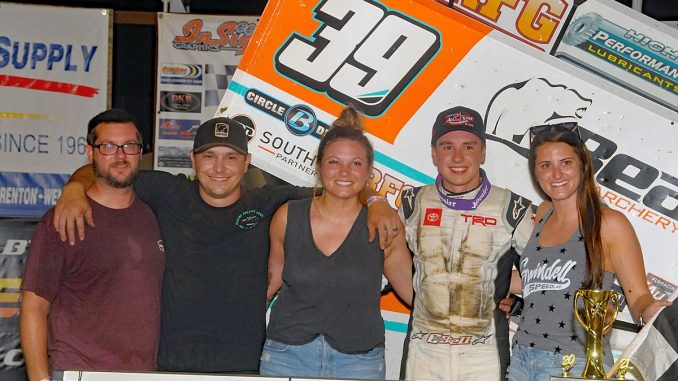 From Tyler Altmeyer
ELDON, Mo. (July 24, 2021) — For the first time in just over three years, Norman, Oklahoma's Christopher Bell is a FloRacing All Star Circuit of Champions presented by Mobil 1 main event winner, snapping his 37-month Series winless streak in Lake Ozark Speedway's inaugural Beach Brawl finale on Saturday, July 24. The victory, Bell's sixth-ever during All Star Circuit of Champions competition, earned the Swindell Speedlab ace a $10,000 payday, holding back a pair of All Star championship contenders in Cap Henry and Tyler Courtney. Bell led the majority of the 35-lap contest, leading the first circuit from the outside-pole position before losing the top spot to Fairland, Indiana's Cale Thomas, then regaining the lead on lap seven.
Cap Henry advanced seven positions to finish second in the Beach Brawl finale, followed by Tyler Courtney, Cory Eliason, and Gio Scelzi.
"This thing was really, really good tonight. I just can't thank Kevin and Jordan Swindell enough for giving me the opportunity to drive this car. It's been a while since I won a sprint car race, so it's really cool to be up here," Christopher Bell said, driver of the Swindell Speedlab, Bear Archery, John Christner Trucking, No. 39 sprint car. "It's been so hott and everyone has been working their tails off. It's hard work, but I'm glad we were able to come out here and have some fun."
Despite losing command to pole-sitter Cale Thomas on lap two, Bell maintained his momentum and never lost sight of the Sam McGhee Motorsports substitute, powering back by Thomas on lap seven with a move through the bottom of turns one and two.
Using slower traffic to his advantage, which made its first appearance just as Bell was able to recapture the race lead, fourth-starting Zeb Wise quickly threw his hat into the mix, using the curb in turns three and four to follow Bell around Thomas to gain the runner-up spot on lap eight. Despite a desperate attempt to chase down Bell in traffic, the pilot of the Swindell Speedlab entry proved to be too strong, eventually stretching his legs to a straightaway advantage by lap 17. Unfortunately for Wise, his luck would run short on lap 22, as a cut right-rear tire would force the Angola, Indiana-native to go pit-side.
Meanwhile, $8,000 Beach Brawl preliminary winner, Cap Henry, had no problems taking full advantage of the lap 22 restart and drove his way to second, trying his best to mimic his Friday night performance with a move around Tyler Courtney and Justin Peck. A caution on lap 27, and a final caution on lap 30, would keep the field bunched for Henry, but Bell never faltered, driving ahead to snag the five-figure payday.
Quickly adapting to a rapidly changing surface, Bell was able to master every inch of Lake Ozark Speedway, first utilizing the curb before switching his focus to the bottom groove in the final 15 circuits.
"The top was really good, but I kinda got stalled out in lapped traffic," Bell continued. "When I stalled out, I knew that I needed to move down. I felt like I was really OK down there. Hopefully I can keep running well on Sundays so I can come out here and keep doing this."
Series action will resume Sunday, July 25, at Humboldt Speedway in Humboldt, Kansas, where the All Star Circuit of Champions will hit center stage as the first-ever 410 sprint car program in the track's history. The first and only Series visit to Kansas in 2021, the All Star event will award a $6,000 top prize.
Floracing All Star Circuit of Champions presented by Mobil 1
Beach Brawl
Lake Ozark Speedway
Eldon, Missouri
Saturday, July 24, 2021
Dixie Vodka Qualifying
1. 13-Justin Peck, 12.238[8]
2. 5-Paul McMahan, 12.240[4]
3. 91-Kyle Reinhardt, 12.290[2]
4. 11-Cale Thomas, 12.328[25]
5. 39-Christopher Bell, 12.329[13]
6. 4-Cap Henry, 12.337[5]
7. 10-Zeb Wise, 12.346[16]
8. 7BC-Tyler Courtney, 12.358[12]
9. 1X-Jake Bubak, 12.415[3]
10. 15H-Sam Hafertepe Jr, 12.442[15]
11. 26-Cory Eliason, 12.485[20]
12. 18-Giovanni Scelzi, 12.515[24]
13. 3-Ayrton Gennetten, 12.543[19]
14. 21BP-Brinton Marvel, 12.578[17]
15. 21-Kameron Key, 12.591[10]
16. 20G-Noah Gass, 12.612[9]
17. 18T-Tanner Holmes, 12.671[6]
18. 9JR-Derek Hagar, 12.687[11]
19. 22S-Slater Helt, 12.690[1]
20. 31-Joe B Miller, 12.778[27]
21. 07-Skylar Gee, 12.807[23]
22. 27-Tucker Klaasmeyer, 12.811[14]
23. 47N-Marcus Dumesny, 12.862[18]
24. 7B-Ben Brown, 12.892[7]
25. 17B-Bill Balog, 12.958[26]
26. 50K-Kyle Bellm, 13.412[22]
27. (DQ) 55-Hunter Schuerenberg, 12.572[21]
Ford Performance Heat Race #1 (8 Laps)
1. 10-Zeb Wise[2]
2. 13-Justin Peck[4]
3. 11-Cale Thomas[3]
4. 3-Ayrton Gennetten[5]
5. 20G-Noah Gass[6]
6. 17B-Bill Balog[9]
7. 27-Tucker Klaasmeyer[8]
8. 22S-Slater Helt[7]
9. 15H-Sam Hafertepe Jr[1]
All Pro Aluminum Cylinder Heads Heat Race #2 (8 Laps)
1. 7BC-Tyler Courtney[2]
2. 26-Cory Eliason[1]
3. 39-Christopher Bell[3]
4. 5-Paul McMahan[4]
5. 47N-Marcus Dumesny[8]
6. 50K-Kyle Bellm[9]
7. 21BP-Brinton Marvel[5]
8. 18T-Tanner Holmes[6]
9. 31-Joe B Miller[7]
Hunt Brothers Pizza Heat Race #3 (8 Laps)
1. 18-Giovanni Scelzi[1]
2. 4-Cap Henry[3]
3. 1X-Jake Bubak[2]
4. 55-Hunter Schuerenberg[9]
5. 9JR-Derek Hagar[6]
6. 91-Kyle Reinhardt[4]
7. 07-Skylar Gee[7]
8. 21-Kameron Key[5]
9. 7B-Ben Brown[8]
Kears Speed Shop Dash (6 Laps)
1. 11-Cale Thomas[1]
2. 39-Christopher Bell[2]
3. 7BC-Tyler Courtney[4]
4. 10-Zeb Wise[5]
5. 5-Paul McMahan[7]
6. 13-Justin Peck[3]
7. 18-Giovanni Scelzi[6]
8. 91-Kyle Reinhardt[8]
Classic Ink USA B-Main (12 Laps)
1. 07-Skylar Gee[3]
2. 21-Kameron Key[5]
3. 21BP-Brinton Marvel[2]
4. 7B-Ben Brown[9]
5. 18T-Tanner Holmes[6]
6. 27-Tucker Klaasmeyer[4]
7. 31-Joe B Miller[8]
8. 22S-Slater Helt[7]
DNS: 15H-Sam Hafertepe Jr
FloRacing A-Main (35 Laps)
1. 39-Christopher Bell[2]
2. 4-Cap Henry[9]
3. 7BC-Tyler Courtney[3]
4. 26-Cory Eliason[10]
5. 18-Giovanni Scelzi[7]
6. 5-Paul McMahan[5]
7. 47N-Marcus Dumesny[16]
8. 3-Ayrton Gennetten[12]
9. 55-Hunter Schuerenberg[13]
10. 17B-Bill Balog[17]
11. 9JR-Derek Hagar[15]
12. 1X-Jake Bubak[11]
13. 07-Skylar Gee[19]
14. 13-Justin Peck[6]
15. 10-Zeb Wise[4]
16. 50K-Kyle Bellm[18]
17. 27-Tucker Klaasmeyer[24]
18. 18T-Tanner Holmes[23]
19. 21-Kameron Key[20]
20. 21BP-Brinton Marvel[21]
21. 7B-Ben Brown[22]
22. 20G-Noah Gass[14]
23. 11-Cale Thomas[1]
24. 91-Kyle Reinhardt[8]