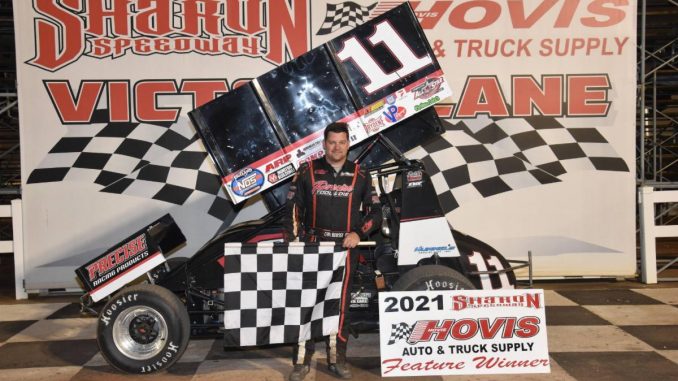 (Hartford, OH)…Despite thunderstorms all around Sharon Speedway for much of the afternoon and evening, the rain dodged the track outside of a few sprinkles allowing the third consecutive event to be completed on Saturday night. Celebrating wins in the Hovis Auto & Truck Supply victory lane were Carl Bowser-Hovis Auto & Truck Supply "410" Sprint Cars, Will Thomas III-Whelen Econo Mods "Ron Shargo Memorial" presented by Bala Management & Competition Products, Clayton Deems-HTMA/Precise Racing Products RUSH Sportsman Modifieds, and Luke Mulichak-Joe's Radiator Service/Waterstone Mortgage by Sara Cipriano/R Tumbleweed Transportation Sportsman Dwarf Cars. Ninety-seven cars were in the pit area for the four-division program part of the "Bill Kirila Memorial" presented by Kams Electric and Hovis Auto & Truck Supply.
Carl Bowser has had a lot of success racing "410" Sprint Cars over the past 17 years; however, had never been able to break into victory lane at Sharon. After leading 25 laps at the last event on July 24 only to drop to third at the finish, Bowser revered his fortunes charging from the seventh starting spot to pass George Hobaugh on lap 23 and led the remaining laps to become the ninth different winner in nine races this year! Six of those nine winners were career first Sharon victories!
It was a heartbreaking race for Darren Pifer. The 28-year-old has religiously made the two-hour two to Sharon for every Sprint Car show in recent years. Pifer has continued to get faster and faster at Sharon and it appeared Saturday may be his night. Pifer led the first 20 laps of the 30-lap Hovis Auto & Truck Supply feature, but on lap 18 caught the wall wrong causing suspension damage two laps before breaking the driveshaft.
Pifer's misfortune gave the lead to Hobaugh. Hobaugh was looking to become the first repeat winner of 2021, but Bowser wasn't about to let that happen. The 34-year-old Butler, Pa. driver squeezed past Hobaugh racing off turn two on lap 23 and went on to the $3,000 win by 1.619 seconds in the Turner's Premium Tea/Precise Tool & Die/Dirty Mouth Communications/Reeseman Body Shop/Krill Recycling-sponsored #11. Bowser became the 170th driver to win a "410" Sprint Car race in the history of Sharon.
Hobaugh was second over a great run by Darin Gallagher. Brandon Spithaler finished fourth over last week's Lernerville winner Dan Kuriger, who returned for the first time since June 26. Sprint Car rookie David Kalb, Jr. was sixth as Michael Bauer, Adam Kekich, Leyton Wagner, and Bob Felmlee completed the top 10. Kekich, who won his first career Sharon race on July 24, set fast time overall in qualifying with a lap of 14.642. Heat winners were Gallagher and Hobaugh.
Will Thomas III passed Jacob Eucker on the opening lap and went on to lead the entire distance in the 20-lap Whelen Econo Mod feature for his third consecutive win. Thomas earned $2,000 as he topped a record 39-car field in the inaugural "Ron Shargo Memorial" presented by Bala Management and Competition Products. The prior highest car count in the 12-year history of the division was 38 at the 2019 opener.
The 45-year-old Sharpsville, Pa. driver has now won four of the five Econo Mod races he's entered in 2021. Thomas' 23rd career Sharon win came in the Hallman Originals/Colonial Metal Products/Colonial Slitting Industries/Motorstate Distributing/955 Automotive-sponsored #9. Dustin DeMattia, the 2019 track champion, made his first Econo Mod start of the year and came from seventh to second trailing Thomas across the line by just 0.953 seconds. Eucker dropped to third. Ty Rhoades, who was fresh off a $1,000 UMP Mod win last Saturday night, went seventh to fourth in Tom Sok's #28. Jarrett Young was fifth.
Sixth through 10th were Scott Burk, Jr., Garrett Calvert in just his second start of 2021, Alan Dellinger aboard Todd Canter's #9T, Bob Vogt, Jr. in his 2021 season debut, and Kyle Layton. Burk, DeMattia, Jeremy Double, and Mitchell Wright won the heat races, while Jordan Simmons and Casey Harmon copped the last chance B mains.
On August 30, 2019, Clayton Deems won a RUSH Sportsman Modified non-winners race at Sharon Speedway; fast forward nearly two years and on Saturday night Deems led wire-to-wire in the 20-lap HTMA/Precise Racing Products feature for his first career win! Deems became the 20th different winner in the eight-year history of the division and second of the season joining Jacob Wolfe as career first winners.
The 26-year-old from Volant, Pa. racer drove a masterful race through lapped traffic holding off ninth starting divisional standout Chas Wolbert by 0.432 seconds in his unsponsored #55R. Clayton also joined his brother Josh as RUSH Sportsman Modified winners. Josh, who hasn't raced yet in 2021, has two career wins at the track. Wolbert, who leads both the Sharon and Pace Performance RUSH Weekly Series standings, stalked Deems for much of the event, but had to settle for second.
Fourteen-year-old rookie Ben Easler, who has a Raceway 7 victory this year, continues to impress with a third place finish. Wedge Motorsports "Route 7 Rumble" Series points leader Kole Holden was fourth ahead of 12th starting Wolfe. Completing the top 10 were Brandon Ritchey, Chelsie Kriegisch, Ayden Cipriano, J.C. Boyer, and Justin Shea. Wolbert, Shea, and Rob Kristyak won heat races over the 23-car field.
Twelve-year-old Luke Mulichak was able to fend off former RUSH Sportsman Modified racer Teddy Williams II to earn his first career win at Sharon in the 15-lap Sportsman Dwarf Car feature presented by Joe's Radiator Service, Waterstone Mortgage by Sara Cipriano, and R Tumbleweed Transportation. The Girard, Ohio driver became the 13th different winner in 24 races run all-time for the division. The Dwarfs will appear next on September 10.
Mulichak started seventh and took the Brian Mulichak-owned, Forget Me Not Horse Farm/Vasco Electrical Contractors/Cizmar Racing Supply-sponsored #55 to the win over sixth starting Williams, who has one career Dwarf Car win at Sharon. Jacob Eakin was third over Jerry Langley and Mark Suchan. Angie Grzelak, who won on June 12 for her second career Sharon win, was sixth. Heat winners were Williams and Eakin.
The "410" Sprint Cars will be back for their final August show next Saturday night (August 14) again racing for $3,000 to-win. The Terry Bowser Excavating RUSH Sprint Cars and Gibson Insurance Agency Pro Stocks will return. The HTMA/Precise Racing Products RUSH Sportsman Modifieds will complete the four-division program with racing at 7 p.m.
Hovis Auto & Truck Supply "410" Sprint Cars (30 laps, $3,000 to-win): 1. CARL BOWSER (11) 2. George Hobaugh (40) 3. Darin Gallagher (Peluso 12) 4. Brandon Spithaler (22) 5. Dan Kuriger (08) 6. David Kalb, Jr. (11J) 7. Michael Bauer (Pryde 29) 8. Adam Kekich (5K) 9. Leyton Wagner (38) 10. Bob Felmlee (6) 11. Russ Sansosti (23s) 12. Bob Lime (901) 13. Steve Bright (13B) 14. Cameron Nastasi (99) 15. Michael Lutz (86) 16. Darren Pifer (23) 17. Jared McFarland (250) 18. Kyle Colwell (80JR).
Whelen Econo Mods "Ron Shargo Memorial" presented by BALA Management & Competition Products (20 laps, $2,000 to-win): 1. WILL THOMAS III (9) 2. Dustin DeMattia (77D) 3. Jacob Eucker (64) 4. Ty Rhoades (Sok 28) 5. Jarrett Young (21) 6. Scott Burk, Jr. (2) 7. Garrett Calvert (7G) 8. Alan Dellinger (Canter 10T) 9. Bob Vogt, Jr. (Rogers 60) 10. Kyle Layton (99L) 11. Mitchell Wright (M1) 12. Travis Creech (75) 13. Junior Mechling (89) 14. Vinnie DePizzo (1) 15. Devin Henry (21*) 16. Joe DeWoody (3D) 17. Jordan Simmons (Smith 13) 18. William Pinckney (7C) 19. Andre Pisarchik (0) 20. Kyle Adkins (311) 21. Keith Felicetty (98) 22. Casey Harmon (09J) 23. Jeremy Double (83) 24. Drew Barnes (528). DNQ: Gary Olson (23), Rick Robinson (11H), Steve Simon (1s), Ryan Fraley (11B), Steve Dotson (5), Alex Siekkinen (20), Rick Wilson, Jr. (35), Troy Pinch (12P), Emily Stoyer (9JR), Brandon Porter (2P), Sonny Leek (8), Lane Reinwald (L5), Gary Robinson (44R), Jason Gracey (17), Michael Hudzik (31H).
HTMA/Precise Racing Products RUSH Sportsman Modifieds (20 laps): 1. CLAYTON DEEMS (55R) 2. Chas Wolbert (c3) 3. Ben Easler (02) 4. Kole Holden (2) 5. Jacob Wolfe (7) 6. Brandon Ritchey (1R) 7. Chelsie Kriegisch (10) 8. Ayden Cipriano (5c) 9. J.C. Boyer (12) 10. Justin Shea (14s) 11. Rob Kristyak (00) 12. Amelia Clay (16c) 13. Dalton Gabriel (333G) 14. Cole Edwards (29) 15. Greg Porter (25) 16. Kyle Martell (8) 17. Gary Haupt (16) 18. Cameron McFadden (Pinckney 83) 19. Steve Burns, Jr. (70B) 20. Dave Price (111) 21. Tony Tatgenhorst (63T). DNS: Lucas Canon (2LC), Brandon Albert (30).
Joe's Radiator Service/Waterstone Mortgage by Sara Cipriano/R Tumbleweed Transportation Sportsman Dwarf Cars (15 laps, $500 to-win): 1. 55-LUKE MULICHAK [7]; 2. 818-Teddy Williams II [6]; 3. 14-Jacob Eakin [5]; 4. 23L-Jerry Langley [8]; 5. 66-Mark Suchan [11]; 6. 57-Angie Grzelak [4]; 7. 58-Tiffany Williams [1]; 8. 808-Drey Hannay [12]; 9. 9R-Tyler Yoho [9]; 10. 99B-Michael Heverly [17]; 11. 22-Taylor Suchan [14]; 12. 888-Joe Grzelak [3]; 13. 421-Jim Haefke [16]; 14. 33X-Bobby Kutsch, Jr. [10]; 15. 25-Jared Thompson [15]; 16. 34-Gregory Davis [13]; 17. 13-Brandon Smith [2].
Sharon Speedway is owned by the Blaney, Weller, and Kirila Families and is a 3/8-mile dirt track located on Custer-Orangeville Road in Hartford, Ohio near the intersection of Routes 7 & 305. For more information, check out the website at www.sharonspeedway.com or call 330-772-5481. Become a fan of Sharon Speedway on Facebook at www.facebook.com/sharonspeedway and follow us on Twitter at www.twitter.com/sharonspdwy.