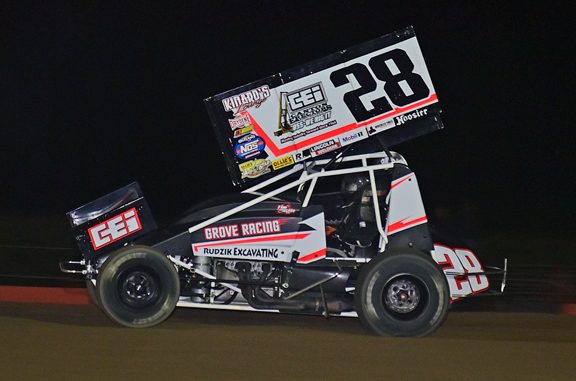 MINERAL WELLS, W.V. (August 7, 2021) — Tim Shaffer scored the feature victory during the $20,000 to win SERVPRO World Race of Champions Saturday at West Virginia Motor Speedway. On Saturday, with several additional entries, the Ti22 Performance series cars were split into 3 groups for ARP Fasteners Qualifying. Brandon Wimmer and Sean Rayhall turned identical 19.605 laps to best group one with official fast time to Wimmer by virtue of having the fastest "secondary lap" at 19.765 over Rayhall's 20.033. Group 2 was quick timed by Shaffer with overall quick time and fastest in group 3, Anthony Macri at 18.644. Ten lap heat races were won by Cale Conley, Shaffer and Macri.
The 25 lap Servpro "Race of Champions" main event was delayed nearly one hour after a brief rain shower hit the speedway. Promoter Cody Watson and his crew did a great job getting the track back in shape for the stars and cars of the Ti22 Performance FAST series drivers. Tim Shaffer would start from the pole with Lee Jacobs alongside. Macri and Conley lined up in row 2 with Polyak and Wimmer in row 3.
At the drop of the green flag, Shaffer grabbed the early lead. The rainfall from the delay made the track incredibly fast and the leader hit lapped traffic just after the completion of lap 3. The event would be slowed by one yellow and one red flag. The yellow flew on lap 12 when Wayne McPeek coasted to a stop entering turn 3. Just 6 laps later, the only red came out when Travis Philo flipped in turn 3.
With an 8 lap dash to the finish, Shaffer led to the restart with Macri locked on his tail. As they reached the restart zone, Shaffer accelerated immediately putting just enough distance between the lead duo to hold on for the feature victory, despite encountering heavy lapped traffic for a third time. Macri clung to second with Conley again completing the podium. Paige Polyak ran a great race to finish 4th with Lee Jacobs fifth. The balance of the top 10 were Wimmer, Rayhall, Jordan Ryan, Jack Sodeman and Kory Crabtree.
The Ti22 Performance FAST on Dirt tour would like to thank all the teams and fans for supporting this event. In addition, a BIG thank you to Cody Watson and the staff at West Virginia Motor Speedway for putting on the race and for treating our staff and teams with the greatest respect! Next up for FAST is Saturday, August 14th at Fremont Speedway in a show combined with the BOSS tour. Just one week later, another BOSS/FAST doubleheader is on tap for Waynesfield Raceway Park on August 21st.
FAST 410 Sprint Car Series
SERVPRO World Race of Champions
West Virginia Motor Speedway
Mineral Wells, West Virginia
Saturday, August 7, 2021
ARP Fasteners Qualifying
Group 1: 1. A79-Brandon Wimmer 19.605 ; 2. 14-Sean Rayhall 19.605 ; 3. 25r-Jordan Ryan 19.640 ; 4. 3c-Cale Conley 19.695 ; 5. 49H-Bradley Howard 19.781 ; 6. 13-Brandon Matus 20.182 ; 7. 7-Dylan Kingan 20.425 ; 8. 23x-Eric Martin 21.584
Group 2: 1. 28-Tim Shaffer 18.886 ; 2. 19p-Paige Polyak 19.328 ; 3. 60-Kory Crabtree 19.698 ; 4. 23jr-Jack Sodeman 19.756 ; 5. 5T-Travis Philo 20.002 ; 6. 33-Brent Matus 20.424 ; 7. 83x-Nate Reeser 20.599 ; 8. 23-Jordan Harble DNQ
Group 3: 1. 39m-Anthony Macri 18.644 ; 2. 81-Lee Jacobs 19.609 ; 3. 1mc-Wayne McPeek 20.084 ; 4. 21n-Frankie Nervo 20.144 ; 5. 1B-Keith Baxter 20.158 ; 6. 19-Trey Jacobs 20.276 ; 7. 001-Greg Mitchell 21.101 ; 8. 4x-Bradley Ashford 21.461
NAPA of Fremont – Heat #1: 1. 3c-Conley[1] ; 2. 14-Rayhall[3] ; 3. 25r-Ryan[2] ; 4. 49H-Howard[5] ; 5. A79-Wimmer[4] ; 6. 13-Matus[6] ; 7. 23x-Martin[8] ; 8. 7-Kingan[7]
Helms Construction – Heat 2: 1. 28-Shaffer[4] ; 2. 60-Crabtree[2] ; 3. 19p-Polyak[3] ; 4. 5T-Philo[5] ; 5. 23jr-Sodeman[1] ; 6. 83x-Reeser[7] ; 7. 33-Matus[6] ; 8. 23-Harble[DNS]
Hoosier Tire – Heat 3: 1. 39m-Macri[4] ; 2. 21n-Nervo[1] ; 3. 81-Jacobs[3] ; 4. 19-Jacobs[6] ; 5. 1mc-McPeek[2] ; 6. 1B-Baxter[5] ; 7. 001-Mitchell[7] ; 8. 4x-Ashford[8]
Ti22 Performance – A Main: 1. 28-Shaffer[1] ; 2. 39m-Macri[3] ; 3. 3c-Conley[4] ; 4. 19p-Polyak[5] ; 5. 81-Jacobs[2] ; 6. A79-Wimmer[6] ; 7. 14-Rayhall[7] ; 8. 25r-Ryan[10] ; 9. 23jr-Sodeman[14] ; 10. 60-Crabtree[8] ; 11. 49H-Howard[11] ; 12. 21n-Nervo[9] ; 13. 1B-Baxter[18] ; 14. 83x-Reeser[17] ; 15. 4x-Ashford[23] ; 16. 13-Matus[16] ; 17. 001-Mitchell[21] ; 18. 19-Jacobs[13] ; 19. 5T-Philo[12] ; 20. 1mc-McPeek[15] ; 21. 33-Matus[20] ; 22. 23x-Martin[19] ; 23. 7-Kingan[22] ; 24. 23-Harble[24]
Kear's Speed Shop – Hard Luck: 5T-Philo
The Bridge @ Sidney – Hard Charger: 4x-Ashford
All Star Performance – Sweet Move: 14-Rayhall