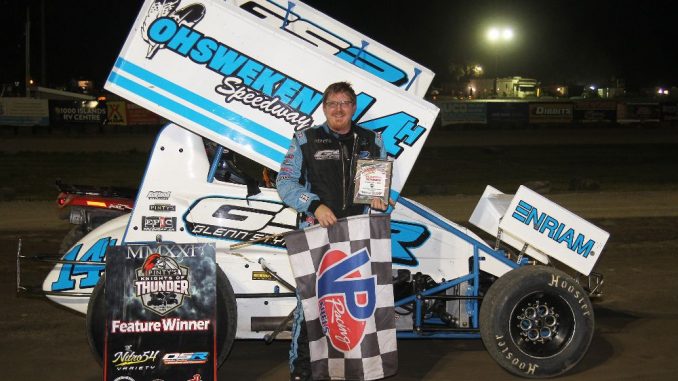 By Tommy Goudge
BRIGHTON, Ont. (August 21, 2021) – Jim Huppunen took his first Pinty's Knights of Thunder 360 Sprint Car series win on Saturday night, and the victory was also his first at the Brighton Speedway.
Huppunen started on the pole and led the entire race with Ryan Turner close behind and sometimes side-by-side. Several incidents slowed the 25 lap A-Main, and four drivers were unable to finish; the most serious of the incidents came when Paul Pekkonen's car ended up on its side exiting turn four.
Josh Hansen, KoT points leader Jordan Poirier, and DJ Christie also ran into trouble at different times, but recovered to finish third, fifth, and seventh respectively. Huppunen's margin of victory over Turner was just 0.102 seconds, while Aaron Turkey moved up from 11th on the grid to finish fourth. Heat race wins were claimed by Tyler Rand and Travis Cunningham.
The Pinty's Knights of Thunder series will next be in action on Saturday, September 4 and Sunday, September 5 at Brighton Speedway. Visit www.knightsofthunder.com and www.brightonspeedway.ca for more information.
Knights of Thunder 360 Sprint Car Series
Brighton Speedway
Brighton, Ontario
Saturday, August 21, 2021
Heat Race #1 (8 Laps)
1. 84-Tyler Rand[1]
2. 14H-Jim Huppunen[4]
3. 11-Jamie Turner[3]
4. 91-Ryan Turner[6]
5. 68-Aaron Turkey[5]
6. 1-Holly Porter[8]
7. 98-Paul Pekkonen[7]
8. 70-Baily Heard[2]
Heat Race #2 (8 Laps)
1. 90-Travis Cunningham[1]
2. 5-DJ Christie[3]
3. 28-Jordan Poirier[5]
4. 88H-Josh Hansen[6]
5. 9-Liam Martin[7]
6. 15-Dan Nanticoke[4]
7. 46-Kevin Pauls[2]
8. 13-Nathan Jackson[8]
A-Main (25 Laps)
1. 14H-Jim Huppunen[1]
2. 91-Ryan Turner[4]
3. 88H-Josh Hansen[3]
4. 68-Aaron Turkey[11]
5. 28-Jordan Poirier[6]
6. 1-Holly Porter[10]
7. 5-DJ Christie[2]
8. 70-Baily Heard[15]
9. 15-Dan Nanticoke[12]
10. 46-Kevin Pauls[14]
11. 13-Nathan Jackson[16]
12. 9-Liam Martin[9]
13. 98-Paul Pekkonen[13]
14. 90-Travis Cunningham[7]
15. 11-Jamie Turner[8]
DNS: 84-Tyler Rand