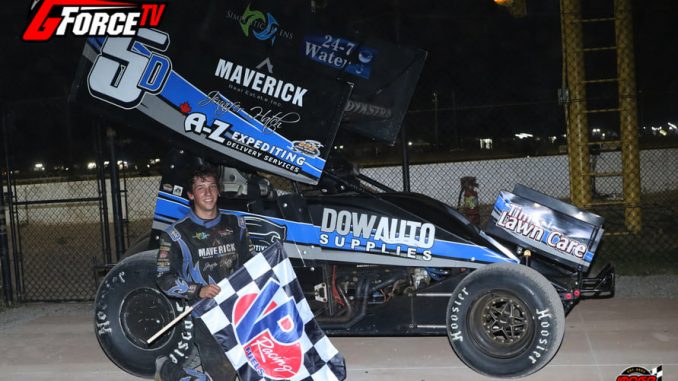 By Tommy Goudge with files from Martin Bélanger
LONG SAULT, Ont. (August 22, 2021) – Jacob Dykstra continued his dominance of the Action Sprint Tour fueled by Pinty's Crate Sprint Car series with a win in the tour's first ever visit to Cornwall Motor Speedway on Sunday night. The win was also worth an extra $1,000 for Dykstra thanks to Lafrance Performance.
Dykstra started on the outside of the front row for the 25 lap A-Main and quickly took the lead, followed by Nick Sheridan and polesitter Jesse Costa. Traffic was already looming for Dykstra when Steven Roy flipped in turn four to bring out a red flag. Roy was not injured in the crash, and Dykstra held the lead on the restart with Sheridan in tow, while Jeffrey Weare moved up to third. The leaders began to race through heavy traffic and Sheridan slipped from second to sixth on lap 13, with Weare and Eric Gledhill moving into second and third, respectively, followed by Costa and Lucas Smith.
Dykstra stayed up front while Gledhill chased Weare through traffic, and Costa faded through the field during the second half of the race. Gledhill was able to slip past Weare on lap 21, but couldn't chase the leader down as Dykstra took his fifth AST win of the season by nearly four seconds. Gledhill came home second for his best career AST finish, followed by Weare, and Sheridan. Allan Downey came back to finish fifth after falling as far back as 11th earlier in the race. Lucas Smith, Ryan Poole, Lee Ladouceur, row ten starter Bryan Cloutier, and Costa rounded out the top ten. Sheridan, Costa, and Smith claimed heat race wins, while Brockville Ontario Speedway points leader Matt Billings won the B-Main.
Ten drivers made their first AST appearances of the season on Sunday, including Ryan Poole, Tristan Draper, Marwan Robidoux, Yan Laflamme, Steven Roy, Lee Ladouceur, Jeffrey Weare, Tyler Rand, Bryan Cloutier, and Eric Giguere.
The Action Sprint Tour will next be in competition on Saturday, September 4 and Sunday, September 5 at Brighton Speedway. Visit www.actionsprinttour.com and www.brightonspeedway.ca for more information.
Action Sprint Tour
Cornwall Speedway
Cornwall, Ontario
Sunday, August 22, 2021
Heat Race #1 (8 Laps)
1. 45-Nick Sheridan[4]
2. 5D-Jacob Dykstra[5]
3. 9C-Brian Nanticoke[1]
4. BS39-Brett Stratford[6]
5. 4B-Darrell Pelletier[2]
6. 84-Tyler Rand[8]
7. 41-Steven Roy[7]
8. 99-Eric Giguere[3]
DNS: 77T-Tyeller Powless
Heat Race #2 (8 Laps)
1. 4-Jesse Costa[1]
2. 51-Lee Ladouceur[9]
3. 74-Rob Neely[2]
4. 70MM-Dave McKnight Jr[4]
5. 00-Ryan Poole[8]
6. 14-Larry Gledhill[7]
7. 20-Johnny Miller[6]
8. 24-Marwan Robidoux[3]
DNS: 12DD-Darren Dryden
Heat Race #3 (8 Laps)
1. 49L-Lucas Smith[3]
2. 7-Eric Gledhill[4]
3. 55-Jeffrey Weare[6]
4. 14T-Noelle Teal[2]
5. 19D-Allan Downey[9]
6. 38-Yan Laflamme[1]
7. 52-Matt Billings[8]
8. 93-Bryan Cloutier[7]
9. 18-Tristan Draper[5]
B-Main (12 Laps)
1. 52-Matt Billings[1]
2. 93-Bryan Cloutier[4]
3. 20-Johnny Miller[3]
4. 18-Tristan Draper[7]
5. 12DD-Darren Dryden[8]
6. 41-Steven Roy[2]
7. 77T-Tyeller Powless[9]
8. 24-Marwan Robidoux[6]
9. 99-Eric Giguere[5]
A-Main (25 Laps)
1. 5D-Jacob Dykstra[2]
2. 7-Eric Gledhill[3]
3. 55-Jeffrey Weare[5]
4. 45-Nick Sheridan[4]
5. 19D-Allan Downey[8]
6. 49L-Lucas Smith[6]
7. 51-Lee Ladouceur[7]
8. 00-Ryan Poole[10]
9. 93-Bryan Cloutier[20]
10. 4-Jesse Costa[1]
11. 84-Tyler Rand[15]
12. 52-Matt Billings[19]
13. 74-Rob Neely[11]
14. 70MM-Dave McKnight Jr[13]
15. 14-Larry Gledhill[16]
16. 38-Yan Laflamme[18]
17. 9C-Brian Nanticoke[12]
18. 20-Johnny Miller[21]
19. 12DD-Darren Dryden[23]
20. BS39-Brett Stratford[9]
21. 18-Tristan Draper[22]
22. 14T-Noelle Teal[14]
23. 4B-Darrell Pelletier[17]
24. 41-Steven Roy[24]