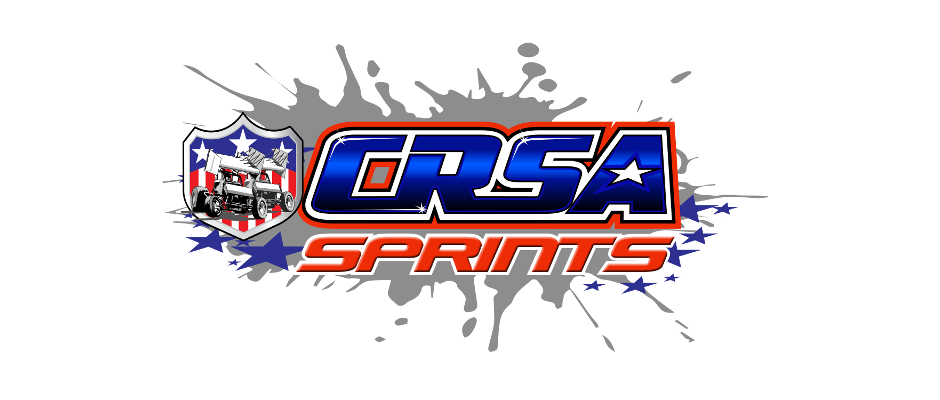 By Steven Ovens
(AFTON, NY) – The 2021 finale event for the Super Gen Products with Champion Power Equipment CRSA Sprints was once again held at the Afton Motorsports Park. The 305 Sprinters joined Brett Deyo's Short Track Supernationals event on the Friday night portion of the two-day bonanza.
Jeff Trombley hasn't had a lot of flashes in 2021 on the CRSA tour, but he and Warren Alexson's combination have been the model for consistency this season. Friday night's performance in capturing the checkered flag not only put the exclamation point on their fourth series title, it included two things they had never done before- win the season finale and win a race at Afton Motorsports Park.
Check and check.
Joe Kriss threw the green flag for CRSA's 30-lap A-Main with rookie sensation Jordan Hutton and John Cunningham on the front row. Hutton set the pace early on with Cunningham and Trombley in tow.
The race was slowed to a stop on Lap 11 as Mike VanPelt lost his right rear tire in Turn 3, sending VanPelt and his No. 112 into a flop onto the side wing. VanPelt climbed from the MVP Lawncare uninjured, but his night was done.
Round 15 "King of the Can" winner Kevin Nagy from Gilbert, PA once again made the tow North to Afton and initially fell back from his eighth starting position outside the Top 10. But just as he did at Penn Can, Nagy found the outside groove and started picking his way through the pack.
Nagy was joined by 2014 Afton winner Mike Kiser to make it a four-car battle for the runner up spot, a full straightaway behind Hutton. With Lap 12 on the board, Nagy dove outside in Turns three and four to try and make a two-for-one sweep around Dana Wagner and Trombley. Unfortunately, the tight confines of the transition from Turn 4 to the fronstretch bit Nagy as his No. 45 would climb the wall and collect Wagner, Kiser and Cunningham in a four-car pileup.
Nagy's flat tire and no guaranteed time/work area ended his run to the front. Kiser and Cunningham continued, however for Wagner it was another broken front end that put a cap on a season he'd like to forget about.
During the Lap 16 red flag, Hutton's father was giving tips to his driver about the progress Nagy had made prior to the accident. Trombley heard the advice from the No. 66's four wheeler and had felt the contact before Nagy did the wall ride. Trombley knew it was time to migrate to the top.
It took three laps time, but Trombley finally got the power off Turn 4 to take the race lead from Hutton at the line on Lap 19. From that point Trombley took off and hid as he would close out his fourth CRSA series title with a victory at a track he hadn't yet won at in a sprint car.
Hutton would hang on for second in a breakout season for the rookie in 2021. They finished the year with a win in September at Fonda, with a tired motor that has 75+ races on it. Plans for Hutton next season call for a full assault on the CRSA Series, weekly racing at Land of Legends Raceway, they will dabble in some 360 races with a new powerplant and start grooming his brother Jacob who we will likely see some of in 2022 and weekly in 2023.
The feelgood story of the night was Ronnie Greek who knocked down a podium finish at the track now closest to his racing headquarters. They logged their first heat wins in 2021, then a Top 5 and now a podium finish. Nobody, even Trombley, was as happy as the driver out of Oneonta after 30 laps Friday night.
Thomas Radivoy capitalized on some of the Top 5 cars having problems mid-race to finish fourth in his fourth series start of the season. Kiser completed the Top 5 after passing the most cars on the night- once from the sixth starting position and then again after having to go to the back of the field after the Lap 16 accident.
Trombley was ecstatic about getting a win on a short track with their "big track" car.
"This was our long track car and I wanted to try this on the short tracks (to see what it could do). We used it the last two weeks and it got going really really good," said Trombley.
Hutton was surely disappointed but knows his team can now hang with the best on tour.
"There's nothing wrong with second, especially losing it to someone like Jeff Trombley," said a confident Hutton.
Greek was ecstatic and ended the season with a big smile.
"It felt really good, it's been a long season as we started off pretty slow. We just kept working on it and working on it. I've got to give Mike and Debbie VanDusen a thank you for giving me a chance to drive their car. It feels good to end the season with a podium."
The Powdertech Powdercoating, Lane's Yamaha and Rich Yahn Hard Charger Bonus went to newcomer and 14-year-old driver Tyler Emmons, who gained six spots from 16th starting position to a finish of 10th.
Mike Kiser's charge from the back on Lap 16 to a fifth place finish earned him the "Maguire Family of Dealerships Magnificent Move of the Race."
Part-time CRSA racer Link Pettit just had an off night on the Big Dog's Hot Rods No. 3P. A 17th place finish earned him the "Midstate Basement Authorities Out of the Basement" award.
Checkered Flag Maple Syrup offered up $50 cash for the race's hard luck award recipient. Mike VanPelt earned this award after losing a wheel and getting turned on his side.
With the 2021 season now over, options are being evaluated to gather our CRSA family for a year-end banquet to celebrate our drivers' accomplishments. More news will be forthcoming over the offseason.
A heartfelt thank you is sent out to all our drivers, teams, race promoters and sponsors for making 2021 an incredible bounce-back year that saw 15 of the 16 scheduled races run to completion. A far cry from the four-race season that was held in 2020 due to COVID-19 restrictions.
Capital Region Sprintcar Agency
Afton Speedway
Afton, New York
Friday, October 8, 2021
Heat Race #1 (8 Laps)
1. 1Q-Thomas Radivoy[1]
2. 99-Mike Kiser[6]
3. J27-John Cunningham[4]
4. 28-Ron Greek[5]
5. 13T-Trevor Years[7]
6. 4T-Ray Preston[2]
7. 25H-Tyler Emmons[3]
8. 22M-Aaron Shelton[8]
9. 14-James Layton[9]
Heat Race #2 (8 Laps)
1. 45-Kevin Nagy[4]
2. 3A-Jeff Trombley[6]
3. 112-Mike VanPelt[2]
4. 66-Jordan Hutton[3]
5. 29-Dalton Herrick[5]
6. 25W-Dana Wagner[7]
7. 41-Tanner Emmons[8]
8. 3P-Link Pettit[1]
Dash #1 (4 Laps)
1. 13T-Trevor Years[1]
2. 29-Dalton Herrick[2]
3. 25W-Dana Wagner[3]
4. 41-Tanner Emmons[4]
DNS: 25H-Tyler Emmons
DNS: 4T-Ray Preston
A-Main (30 Laps)
1. 3A-Jeff Trombley[4]
2. 66-Jordan Hutton[1]
3. 28-Ron Greek[3]
4. 1Q-Thomas Radivoy[7]
5. 99-Mike Kiser[6]
6. 29-Dalton Herrick[10]
7. 13T-Trevor Years[9]
8. J27-John Cunningham[2]
9. 41-Tanner Emmons[12]
10. 25H-Tyler Emmons[14]
11. 22M-Aaron Shelton[15]
12. 14-James Layton[17]
13. 4T-Ray Preston[13]
14. 45-Kevin Nagy[8]
15. 25W-Dana Wagner[11]
16. 112-Mike VanPelt[5]
17. 3P-Link Pettit[16]