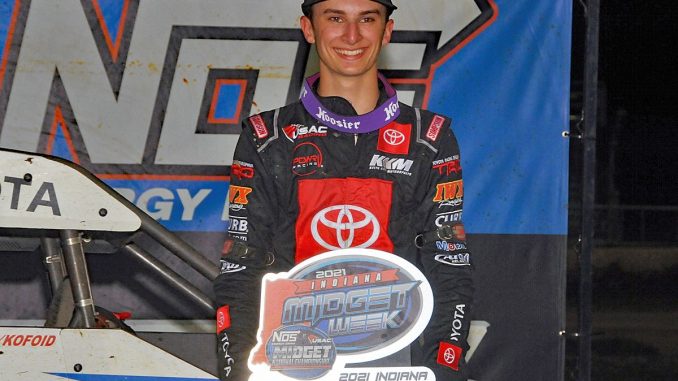 By Aaron Fry
Muskingum County Speedway, located just outside of Zanesville, Ohio, played host to its first ever Ti22 Performance FAST On Dirt main event last night. A very diverse field of drivers representing six different states signed in to battle on the lightning fast 3/8 mile oval and in the end, it was California native Michael "Buddy" Kofoid in victory lane picking up his first career series win worth $3,000.
Beautiful skies and perfect race day temperatures greeted a very large crowd on hand as twenty-two winged 410 sprint cars registered for competition. In ARP Fasteners qualifying, the three heat race groups were paced by Kofoid, Nathan Skaggs and Zeth Sabo. Preliminary heats were next up and the NAPA of Fremont heat race number one was worth the price of admission alone as Nate Dussell prevailed, but not without a torrid battle from Cale Thomas and Jake Hesson. Brave Breeds Rescue heat number two was won by Ricky Peterson in the McClure 9 with Jack Sodeman Jr rolling to win TheCushion.com heat race three.
The race track for the main event was widened out, but had grip top to bottom, providing the FAST winged beasts to put on a thrilling, wheel-standing show for the 30 lap main event. Nathan Skaggs and Kofoid brought the field to the starter's green flag with Kofoid wasting no time taking command. Fourth starting Nate Dussell was quickly into the runner-up spot and appeared to be the first challenger to the leader.
The first yellow flag would fly on lap 10 for Jordan Harble who coasted to a stop on the back straight. Back under green, it was still Kofoid in the lead with Dussell second and a battle developing between Zeth Sabo and a charging Jake Hesson who had started 10th. But on lap 15, a serious double flip took place when Mitch Harble had engine trouble and slowed off turn two. Jack Sodeman Jr had no time to react and no place to go, running over the left rear of the Harble Motorsports 15, sending both cars for a wild tumble down the back straight. Both men emerged unhurt.
With half the race still to run, Kofoid went back to work with a clear track. Back in the pack, it was Hesson still on the move, now up to third with 21st starting Lee Jacobs also flying up through the field. A late race caution would slow the action a final time for a spun car. While setting the line-up for the restart, Hesson pulled the 5J machine to the infield after losing oil pressure, ending a fine run.
In the closing dash to the checkers, Kofoid flexed his muscle in the new Crouch Motorsports number 11 and raced to the win as Zeth Sabo got by Nate Dussell late to finish second. Following the podium trio, Cale Thomas and Nathan Skaggs completed the top 5. Ricky Peterson finished 6th with hard charger of the night, Lee Jacobs all the way up to seventh. Sean Rayhall, Danny Smith and Wayne McPeek rounded out the top 10.
In victory lane, Kofoid was quick to thank the Crouch team and Indy Race Parts' Bernie Steubgen for getting him to the win! Race track owners and promoters, Donnie and Tristan Moran shared victory lane and were quick to hint at more FAST on Dirt shows coming to Muskingum County Speedway! The FAST tour wishes to thank the large crowd who attended the event along with the race teams and the staff at Muskingum for a stellar night. Next up for FAST is Friday, May 13th, another "first time ever" stop for the tour, this time at the Ohio Valley Speedway near Lubeck, West Virginia, then on to the palace of speed, the West Virginia Motor Speedway in Mineral Wells for a $5,000 to win main event Saturday, May 14th.
FAST 410 Sprint Car Series
Muskingum County Speedway
Dresden, Ohio
Saturday, April 30, 2022
Qualifying
1. 11-Buddy Kofoid[5]
2. 1-Nate Dussel[1]
3. 101-Cale Thomas[2]
4. 00-Thomas Messamer[3]
5. 5J-Jake Hesson[8]
6. 19-Justin Clark[6]
7. 4X-Bradley Ashford[7]
8. 24-Lee Haskins[4]
Qualifying 2
1. 2-Nathan Skaggs[6]
2. 59-Bryan Nuckles[3]
3. 1MC-Wayne McPeek[7]
4. 9-Ricky Peterson[5]
5. 5-Jordan Harble[2]
6. 9G-Cody Gardner[1]
7. 81-Lee Jacobs[4]
Qualifying 3
1. 29-Seth Sabo[6]
2. 15-Mitch Harble[5]
3. 14-Sean Rayhall[4]
4. 23JR-Jack Sodeman Jr[3]
5. 1B-Keith Baxter[1]
6. 4-Danny Smith[7]
7. 55-Matt Sherlock[2]
Heat Race #1 (8 Laps)
1. 1-Nate Dussel[3]
2. 101-Cale Thomas[2]
3. 5J-Jake Hesson[5]
4. 11-Buddy Kofoid[4]
5. 19-Justin Clark[6]
6. 4X-Bradley Ashford[7]
7. 24-Lee Haskins[8]
8. 00-Thomas Messamer[1]
Heat Race #2 (8 Laps)
1. 9-Ricky Peterson[1]
2. 1MC-Wayne McPeek[2]
3. 2-Nathan Skaggs[4]
4. 59-Bryan Nuckles[3]
5. 9G-Cody Gardner[6]
6. 5-Jordan Harble[5]
DNS: 81-Lee Jacobs
Heat Race #3 (8 Laps)
1. 23JR-Jack Sodeman Jr[1]
2. 15-Mitch Harble[3]
3. 29-Seth Sabo[4]
4. 14-Sean Rayhall[2]
5. 4-Danny Smith[6]
6. 1B-Keith Baxter[5]
7. 55-Matt Sherlock[7]
A-Main (30 Laps)
1. 11-Michael Kofoid[2]
2. 29-Seth Sabo[3]
3. 1-Nate Dussel[4]
4. 101-Cale Thomas[7]
5. 2-Nathan Skaggs[1]
6. 9-Ricky Peterson[6]
7. 14-Sean Rayhall[12]
8. 81-Lee Jacobs[22]
9. 4-Danny Smith[15]
10. 1MC-Wayne McPeek[8]
11. 1B-Keith Baxter[18]
12. 9G-Cody Gardner[14]
13. 19-Justin Clark[13]
14. 4X-Bradley Ashford[16]
15. 59-Bryan Nuckles[11]
16. 55-Matt Sherlock[20]
17. 5J-Jake Hesson[10]
18. 5-Jordan Harble[17]
19. 15-Mitch Harble[9]
20. 23JR-Jack Sodeman Jr[5]
21. 24-Lee Haskins[19]
DNS: 00-Thomas Messamer