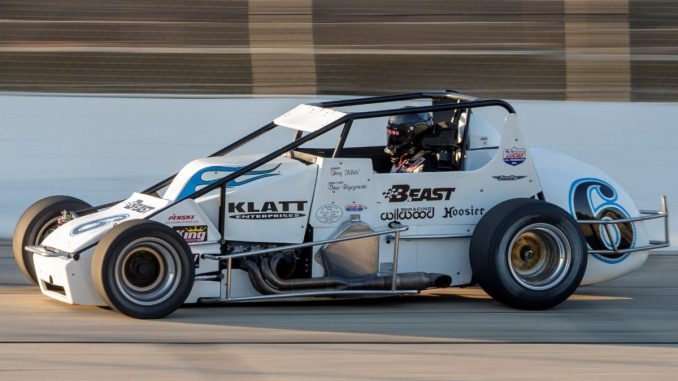 By Richie Murray
Oregon, Wisconsin (June 24, 2022)………It had been quite some time since C.J. Leary could lay claim to a victory on a racetrack with a pavement surface.
He'd won feature events on the asphalt behind the wheel of TQ Midgets and go karts in the early stages of his career. Yet, simply put, nothing could compare to the performance the Greenfield, Ind. native displayed throughout Friday night's USAC Silver Crown Bytec Dairyland 100 at Wisconsin's Madison International Speedway.
From start to finish, Leary was picture perfect. He was the fastest in Dirt Draft Hot Laps. He was the fastest in Fatheadz Qualifying. He was first in the feature and, in doing so, led all 100 laps while piloting the Klatt Enterprises/Wilwood Disc Brakes – Lucas Oil – Brown & Miller Racing Solutions/Beast/Ford.
Known as a "dirt guy" first and foremost, Leary looked the part of a pavement master at Madison, extending his lead to nearly a half-lap in the waning stages, then padlocked the gate with a race-clinching green-white-checkered restart to defeat one of this generation's ultimate pavement Silver Crown kings, Bobby Santos.
He may not be a "pavement guy" by definition, but his performances on the hardtop thus far have pushed him to the top of the overall USAC Silver Crown standings this summer for the first time since early in the 2016 season.
Concentrating for many years solely on the dirt, Leary made brief dabbles on the pavement side of the equation intermittently in 2014 and 2015 in a car he and his dad operated on, then returned to pavement once again at the beginning of the 2019 season while driving a machine for Gene Nolen.
With two career Silver Crown victories on dirt entering Madison, he made sure to add one more, this time on the pavement, one in which he didn't really expect to see as soon as he did, or if ever.
"I never thought I'd win a pavement Silver Crown race," Leary admitted. "We've been trying for a long time."
Leary started up front and remained their throughout the entire distance after recording his eighth fast qualifying time of the year in what was his 17th appearance in a USAC national event in 2022.
Side-by-side, wheel-to-wheel went Leary on the bottom and Santos on the outside for the lead during the opening three laps which all resulted in photo finish opportunities between the two, the second of which separated the two by a 0.001 second margin at the stripe, marking the third time in four 2022 Silver Crown races in which Leary led the opening laps.
While that certainly is a noble and noteworthy achievement, it wasn't exactly great omen for Leary as he ultimately fell out of the lead in those previous two races that he led at Terre Haute
and Port Royal.
Leary ultimately branched away from Santos and, while crossing the halfway point of the 50-lapper, it became a top-two breakaway with Leary leading the charge through lapped traffic with Santos just a half-second behind as third-running Swanson ran a full straightaway behind Santos in third.
Leary hammered down with 40 to go as he blitzed by top-10 combatants Travis Welpott, Nathan Byrd, Taylor Ferns and Eric Gordon, putting all a lap down in the process as he set a wickedly, torrid pace, rising his interval over Santos to 2.3 on lap 60 to four seconds by lap 70 as he tracked down series point leader Logan Seavey to put him down a lap for the second time tonight.
While the race up front was practically put to rest in the final quarter of the event, Brian Tyler ripped past Davey Hamilton Jr. for 5th on lap 76 and then dove to the inside of Justin Grant for 4th on lap 80.
Aptly illustrating Leary's force in the latter stages was the fact that while third-running Swanson was getting into turn one with 15 laps remaining, Leary was lurking behind in turn four, on the same straightaway with Swanson in his line of sight. By that point in time, Leary was posting a 7.5 second lead over Santos with 15 laps to go and showed no signs of mercy.
"(Car builder) Bob (East) was on me after the Little 500 about being a little too cautious in lapped traffic," Leary explained. "I just attacked tonight, and I knew with the good company behind me, if I didn't make those moves fast, they'd be breathing down my neck. I'm really tuckered out; that was an intense 100 laps. I race dirt all the time and I don't really have a problem, but this was really demanding tonight."
If anything was going to hinder Leary's path, it was going to be lapped traffic, which ran two-wide just ahead of him with 13 to go. He promptly blew by Welpott on the outside in turn two, then dove to the edge of the grass on the bottom of turn three to get by Ferns, clipping the infield grass with his left side tires along the way for good measure.
Meanwhile, Brian Tyler turned it up yet another notch, gliding underneath Swanson for the third
position on lap 92 in turn one. At the same time, Leary wasn't too far behind as he had raced back up through the field to put the fifth place car of Justin Grant a lap down with six laps remaining.
After going clean and green for 76 straight laps, since a debris caution on lap 20, the yellow fell for the second time on lap 96 for 7th running Eric Gordon who stopped at the top of turn four with a broken shock. That deleted Leary's near nine-second lead and set up a daunting two-lap dash which put all of Leary's racelong work in jeopardy.
"I actually had no idea exactly what the lead was," Leary acknowledged. "Tyler Kramer was up there spotting for me – he's been spotting for me for a long time. We've been having some radio troubles, but tonight they worked flawlessly. It just seemed like I kind of got zoned out there toward the end of the race."
Making all of Leary's previous work practically for naught, Leary paced Santos around the half-mile paved oval for the final two laps as Santos clung tightly to Leary for the first time in the entire second half of the event. However, Leary was too quick and too strong to be rattled and finished off a dominant performance by 0.317 seconds over Santos, Tyler, Swanson and Grant.
"To beat Bobby on that restart, it means a lot to beat the best," Leary beamed. "I knew he was going to give it all he had. I was told he was moving around and trying different lines. It got so slick there off turn two that I felt like I was struggling, but I felt like if I glued it to the bottom, he couldn't pass me. We had a really good car in practice, a really good car in qualifying and a really good car in the feature."
Bobby Santos (Franklin, Mass.) followed up his victory in May at Indianapolis Raceway Park with a fine 2nd place finish in his DJ Racing/Brown & Miller Racing Solutions – Simpson Race Products/Beast/Speedway Chevy. It's Santos' third consecutive top-four finish at Madison after earning a 2nd in 2018 and a 4th in 2019.
"Overall, it was a good night; we had a good run," a proud Santos stated. "I feel like we're getting our car better and better each and every week. Obviously, the race was over until that restart. I thought maybe we could steal one at the end, but it didn't quite work that way."
Brian Tyler (Parma, Mich.) last competed in a USAC event at Madison in 1997. His 8th place finish that night in a sprint car a quarter century ago was trumped by his 3rd place result in Friday night's USAC Silver Crown 100-lapper. Tyler also earned hard charger honors, advancing from 9th to 3rd in his BCR Group/Flint Trucking – Duncan Oil – QS Components/Beast/Kercher Chevy.
"I had a pretty decent car, and I was trying not to use too much stuff early in the race," Tyler explained. "The later it went, the more I decided that I just had to go for it."
USAC SILVER CROWN NATIONAL CHAMPIONSHIP RACE RESULTS: June 24, 2022 – Madison International Speedway – Oregon, Wisconsin – 1/2-Mile Paved Oval – Bytec Dairyland 100 – CarIQ Wisconsin Jump Around
FATHEADZ EYEWEAR QUALIFYING: 1. C.J. Leary, 6, Klatt-17.115; 2. Bobby Santos, 22, DJ-17.130; 3. Kody Swanson, 1, Doran/Dyson-17.203; 4. Justin Grant, 91, Hemelgarn-17.308; 5. Derek Bischak, 131, Bischak-17.386; 6. Eric Gordon, 99, Armstrong-17.397; 7. Travis Welpott, 18, Welpott-17.486; 8. Mike McVetta, 94, Ram-17.522; 9. Brian Tyler, 81, BCR-17.535; 10. Taylor Ferns, 55, Ferns-17.552; 11. Logan Seavey, 222, Rice-17.598; 12. Davey Hamilton Jr., 14, Hamilton/Puglio-17.635; 13. Bryan Gossel, 06, Gossel-17.700; 14. Gregg Cory, 32, Williams-17.700; 15. Nathan Byrd, 11, Hamilton/Byrd-17.811; 16. Austin Nemire, 16, Nemire/Lesko-18.807; 17. Tom Paterson, 111, Paterson-19.197; 18. Jake Day, 42, Day-NT; 19. Dave Berkheimer, 31, Berkheimer-NT.
FEATURE: (100 laps, starting positions in parentheses) 1. C.J. Leary (1), 2. Bobby Santos (2), 3. Brian Tyler (9), 4. Kody Swanson (3), 5. Justin Grant (4), 6. Davey Hamilton Jr. (12), 7. Taylor Ferns (10), 8. Logan Seavey (11), 9. Bryan Gossel (13), 10. Nathan Byrd (15), 11. Gregg Cory (14), 12. Travis Welpott (7), 13. Eric Gordon (6), 14. Derek Bischak (5), 15. Mike McVetta (8), 16. Tom Paterson (16), 17. Dave Berkheimer (17), 18. Austin Nemire (18). 36:50.805
FEATURE LAP LEADERS: Laps 1-100 C.J. Leary.
USAC SILVER CROWN NATIONAL CHAMPIONSHIP POINTS: 1-C.J. Leary-244, 2-Logan Seavey-238, 3-Kody Swanson-232, 4-Justin Grant-186, 5-Brian Tyler-181, 6-Bobby Santos-143, 7-Travis Welpott-130, 8-Brady Bacon-128, 9-Austin Nemire-119, 10-Taylor Ferns-116.
OVERALL PROSOURCE PASSING MASTER POINTS: 1-Thomas Meseraull-51, 2-Robert Ballou-47, 3-Alex Bright-46, 4-Buddy Kofoid-45, 5-Justin Grant-43, 6-Brady Bacon-43, 7-Logan Seavey-39, 8-Jadon Rogers-35, 9-Brenham Crouch-32, 10-Chase Stockon-31.
NEXT USAC SILVER CROWN NATIONAL CHAMPIONSHIP RACE: June 30, 2022 – Lucas Oil Indianapolis Raceway Park – Brownsburg, Indiana – .686-Mile Paved Oval – Thursday Night Thunder Homecoming – Non-Points Special Event