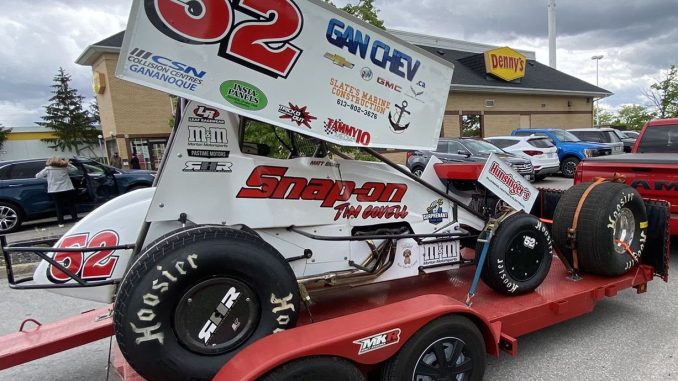 If Saturday night's program featuring the All Star Circuit of Champions and 360 sprint cars at Knoxville Raceway didn't get you excited for the upcoming 360 and 410 Knoxville Nationals, then I don't know what will.

98 sprint cars checked in for competition on Saturday at Knoxville with Clint Garner winning a good 360 sprint car feature before the 410 sprint cars had a "hold my beer" moment with a wild three car race for the lead in the closing stages of the main event between Kerry Madsen, Tyler Courtney, and eventual winner Rico Abreu that saw Abreu bounce off the fence and give Madsen an opportunity to challenge for the win on the final lap.

One of the reasons back in the late 90's and early 2000's I never made it to a Historical Big One after High School events were no longer an issue was to attend the regular Saturday night program before the Knoxville Nationals for a couple of years. At that time, it was a nice preview of what was to come with a stout field of cars.

Now the 360 Knoxville Nationals are taking place the weekend before the 410 Nationals and the Capitani Classic are great lead ins, but the All Star Circuit of Champions event the Saturday before the Nationals has the feel of what the Saturday before the Nationals used to be like.

While the World of Outlaws are occupied elsewhere the All Star program gives use a chance to see a stout field of cars in both the 410 and 360 classes leading into the start of Southern Iowa Speedweek the following weekend.

If I wasn't ready for the Nationals coming up in two weeks, the race for the final transfer spot in the 410 sprint car B-Main between Austin McCarl, Matt Juhl, and Shane Golobic fired me up enough to pack up the car and head to Marion County tomorrow. McCarl and Juhl ended up transferring while Golobic ended up on the outside looking in during a wild exchange during the final laps of the event.

Saturday also showed continued progress with Rico Abreu and his race team with Ricky Warner spinning the wrenches. Abreu has regained some of the confidence on track we have seen in years past, steadily improving all year to the point where Saturday's victory was reminiscent of other late race heroics I've seen from Abreu over the years.

After two features that upped the ante even more, I almost hopped in the car to head west right after the checkered flag dropped.
During my career of covering short track races the most unpopular judgement call is when a car spins off the racing surface and is deemed far enough out of harm to bring out a caution flag. That appears to be what happened Saturday night to Sheldon Haudenschild after contact racing with Larry Wight sent his car spinning into the infield without a caution flag. After showing his displeasure to officials in the tower walking in the infield, Haudenschild then showed his displeasure by throwing his helmet onto the racing surface with three laps to go to bring out the caution flag.

I can understand Haudenschild's frustration and feel as often as we do throw the caution flag in modern sprint car racing for cars slowing or having tire issues on track rather than pulling off that how the situation of a car spinning safely into the infield are are dealt with probably needs to be looked into sprint car racing as a whole. As someone that occasionally works out of the infield, I can see where this could lead to a driver trying to stay under power in some of those areas to get closer to the racing surface to bring out a caution flag and create some potentially dangerous situations.

Even with my feelings on the way that caution is or is not called, Haudenschild's reaction of throwing the helmet onto the racetrack was not the way to handle that. The caution erased a sizeable lead for David Gravel and could have impacted the potential race for the win. I think once cooler heads prevail, I imagine Haudenschild will reflect and think about how he would have felt if someone had done that while he was leading.

Saturday's situation was consistent with how I've seen the car spinning into the infield and being determined to be out of harm's way, but with the way we handle the work area should we be penalizing someone who is lucky enough to spin and stay near the racing surface versus into the infield? Also, if we change how that is called how those cautions impact event length, fuel stops, and other issues need to be considered as well.

It's a situation that makes my head hurt, and thankfully I'm not the one having to make that call in the moment.
Ending on a good note is something that was almost the best story of the weekend with two northeast teams making some noise during the World of Outlaws weekend at Weedsport.

Paulie Colagiovanni drew a lot of attention in 2021 when he ran second to Aaron Reutzel during at World of Outlaws event at Ransomville Speedway. Colagiovanni proved that finish was not a fluke as he defended another piece of his home state turf against the Outlaw invaders with a third-place finish on Saturday at Weedsport Speedway.

With another night of racing for the Outlaws at Weedsport this weekend, don't sleep on Colagiovanni having another run near the front of the pack on Sunday. Colagiovanni has veteran crew chief Kevin Loveys spinning wrenches on his family-owned entry. I've seen a multitude of very talented drivers excel under Loveys tutelage over the years, and gets a slick as we see at Rasomville that is right in their wheelhouse.

The other standout local performance went under the radar but was noticed when I sat down in my office to watch the World of Outlaws B-Main event. That's when the #52 car of Matt Billings caught my eye racing for a transfer spot.

Billings drives a crate sprint car for former sprint car driver Ryan Hunsinger, who was a standout in the 360 and crate sprint classes at Ohsweken Speedway. Billings and Hunsinger packed up their open trailer with their crate sprint car to compete on Weedsport Speedway's super slick racing surface.

Billings was one spot from transferring to a World of Outlaws main event utilizing a GM 602 crate sprint car engine and two used tires picked up at the track for $40.00 each. Low budget teams are not a new story by any means but having that level of crate engine nearly making a main event in the biggest sprint car series in the world was remarkable.