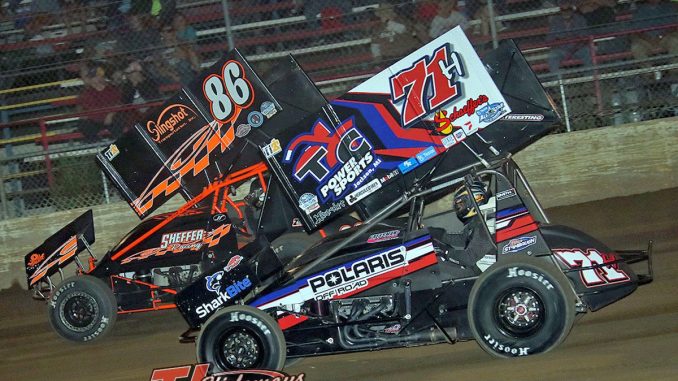 By T.J. Buffenbarger
(August 19, 2022) — After a busy night of racing Friday at I-96 Speedway featuring the Great Lakes Super Sprints and Great Lakes Traditional Sprints, here are my takeaways from this solid doubleheader of sprint car racing.
You will be hard pressed to find a more popular winner this year than Brad Lamberson after his victory at I-96 Speedway on Friday. Lamberson is one of the most personable drivers in the pit area that has seen his on-track skills steadily improve throughout his career. I saw multiple drivers come over to congratulate Lamberson before his winner's interview. Lamberson was so popular in victory lane the photos took and extended amount of time due to the number of well wishers intent congratulating him.

One thing that stood out while Lamberson was in route to victory on Friday is his handling of slower traffic. Lamberson has not been in position with a large lead encountering slower cars racing two and three-wide for position as often as the two gentleman that were attempting to chase him down last night in Max Stambaugh and Dustin Daggett.

Lamberson was up for the challenge though as he was aggressive when needed, yet patient enough to not put himself in bad positions. While his lead did shrink in traffic, once Stambaugh had to overtake the same traffic Lamberson managed to open his lead again to almost the same distance he held before overtaking slower cars.

It will be interesting to see if Lamberson and his team can build on this success as they head to his home track on Saturday at Butler Motor Speedway.
If Keith Sheffer II was racing in Indiana, he would likely be on a few more radars in the non-wing sprint car world. Due to his location in Michigan and much of his success coming up here, Sheffer has not obtained as much regional or national attention as some other young drivers.

Fresh out of high school, Sheffer is having a breakout season. With a pair of victories Sheffer has shown speed with GLTS in and outside the state this season. Sheffer is one of the most talented young drivers I feel is flying under the radar now, but performances like Friday should help alleviate that issue.

Sheffer was ripping the top at I-96 Speedway like a pro and is at the point in his career where he's still getting faster with every outing. Sheffer is also starting to figure out the winged sprint car world as well, making him a double threat on any given night in the area.

When I was younger there was another driver from southern Michigan that was adept at winged and non-wing sprint car racing that eventually ended up as a USAC National Sprint Car Champion in Brian Tyler. Sheffer is already ahead of Tyler on the learning curve at this point in his career and in better equipment, but much like Tyler faces the challenge of getting noticed to get funding or a ride to branch his racing career further. Hopefully that opportunity comes eventually so we can witness what becomes of it.
I hate to sound repetitive, but the Great Lakes Super Sprints are one of the most compelling series in all of sprint car racing this season. Late in the season the series draws a strong field of 27 cars to I-96 Speedway during a time of year where many local and regional series start seeing their car counts taper off as teams gasp to reach the end of the season.

Unlike past years where maybe there were two or three potential winners, it is a real mystery on who may win a GLSS feature night in and night out. Add in the fact that three teams are fighting for ever point possible in a very tight race for the 2022 GLSS point championship that by all indications is going to come down to the wire at the season finale in two weeks at Attica Raceway Park.

The series has some strong owners involved with more showing up with the season winding down (more on this in my Great Lakes edition at the start of next week). I am as optimistic about the future of the 360 sprint car division in the state of Michigan as I've been probably since the early 2000's.

With GLSS leadership taking over the National Racing Alliance for the 2023 season, GLSS is carrying as much momentum into the off season as any local/regional sprint car series in the nation. The series is getting to the point where the hard work really begins to maintain the success they have managed to achieve.