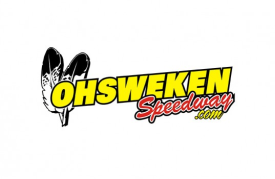 OHSWEKEN, Ont. (August 26, 2022) — Liam Martin won the sprint car feature Friday night at Ohsweken Speedway. Martin charged from fifth starting position for the victory over Josh Hansen, Nick Sheridan, Mitch Brown, and Dylan Westbrook.
Josh Hansen and Jake Brown led the 24 car field to green to start the 20 lap 360 Sprint Car A-Main. Aaron Turkey went for a wild ride during the first lap as he flipped his car multiple times after clipping Jacob Dykstra; Turkey got out of his car under his own power and appeared well, but was done for the night. Hansen took the lead after the restart, holding off the two Brown brothers – Mitch and Jake. Nick Sheridan bided his time in the fourth position, while point leader Cory Turner struggled to gain ground from his starting position in row eight.
Ryan Turner briefly appeared in the top three, showing a glimmer of hope of getting his championship run back on track, however he faded a few laps later. Liam Martin made the winning pass on polesitter Hansen with two laps left to go, picking up his third win of the season. Rounding out the top five was Hansen in second, Sheridan third, Mitch Brown fourth, and Dylan Westbrook fifth. With one more full points race left in the season, Cory Turner left the night with a 33 point lead over Martin for the championship.
Ohsweken Speedway
Ohsweken, Ontario
Friday, August 26, 2022
Winged 360 Sprint Cars
Heat Race #1 (8 Laps)
1. 9-Liam Martin[4]
2. 1 10-Jake Brown[2]
3. 88H-Josh Hansen[5]
4. 7NY-Matt Farnham[6]
5. 77T-Tyeller Powless[1]
6. 17X-Mack DeMan[3]
7. 90-Travis Cunningham[8]
8. 46-Kevin Pauls[7]
Heat Race #2 (8 Laps)
1. 10-Mitch Brown[3]
2. 5D-Jacob Dykstra[2]
3. 45H-Chuck Hebing[4]
4. 45-Nick Sheridan[7]
5. 13-Cory Turner[1]
6. 68-Aaron Turkey[6]
7. 14H-Jim Huppunen[8]
8. 94X-Scott Hall[5]
Heat Race #3 (8 Laps)
1. 1-Holly Porter[2]
2. 47X-Dylan Westbrook[4]
3. 15-Ryan Turner[8]
4. 5-DJ Christie[1]
5. 0-Glenn Styres[6]
6. 70-Baily Heard[5]
7. 11-Jamie Turner[3]
8. 87X-Shone Evans[7]
A-Main (20 Laps)
1. 9-Liam Martin[5]
2. 88H-Josh Hansen[1]
3. 45-Nick Sheridan[4]
4. 10-Mitch Brown[3]
5. 47X-Dylan Westbrook[6]
6. 15-Ryan Turner[8]
7. 45H-Chuck Hebing[10]
8. 5D-Jacob Dykstra[9]
9. 7NY-Matt Farnham[11]
10. 1 10-Jake Brown[2]
11. 13-Cory Turner[15]
12. 14H-Jim Huppunen[19]
13. 1-Holly Porter[7]
14. 0-Glenn Styres[12]
15. 70-Baily Heard[17]
16. 5-DJ Christie[13]
17. 17X-Mack DeMan[20]
18. 94X-Scott Hall[24]
19. 87X-Shone Evans[23]
20. 46-Kevin Pauls[22]
21. 77T-Tyeller Powless[14]
22. 11-Jamie Turner[21]
23. 90-Travis Cunningham[18]
24. 68-Aaron Turkey[16]