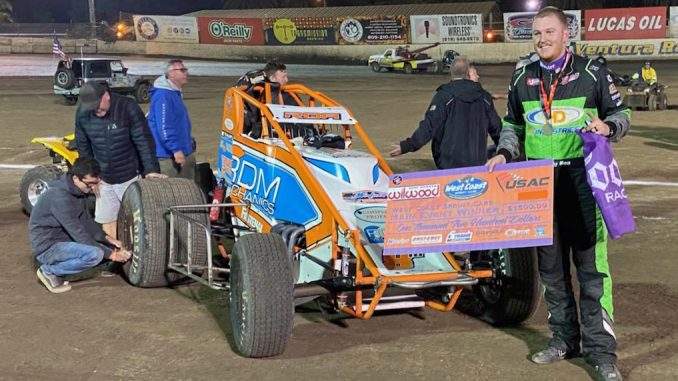 By Lance Jennings
VENTURA, CALIFORNIA – AUGUST 28, 2022… After taking command from point leader Trent Carter on lap seven, "The Pride of Garden Grove" Brody Roa (Garden Grove, California) held off all challengers and earned last Saturday's win at Ventura Raceway. Racing the May Motorsports' #8M RDM Mechanics / Fastenal entry, Roa scored his first $1,500 USAC West Coast Sprint Car victory of the campaign. USAC Western States Midget winner Chase Johnson, Kyle Edwards, Troy Rutherford, and Carter followed the 2016 Champion to the checkered flags.
Starting on the pole position, Trent Carter led the opening six laps at the Ventura County Fairgrounds. With drivers searching for different lines to run at the seaside oval, Brody Roa took command on lap seven after starting third. As the laps counted down and the curfew loomed over the event, Carter, Rutherford, and Johnson had a fierce battle for second as Roa maintained the top spot.
Using a Ford engine, Rutherford broke through and took advantage of a late restart to grab the lead from Roa. A caution erased the lead change and on the restart, Rutherford managed to retake the lead. Unfortunately for the former track champion, another caution handed the lead back to Roa. On the next restart, Roa changed his line to the bottom of the 1/5-mile oval and emerged victorious at Ventura Raceway.
Before earning the eighth series win of his career, Brody Roa qualified fourth overall and placed third in his heat race. After winning his first start of the year, Roa is now tied with Tristan Guardino, Peter Murphy, Troy Rutherford, and Jace Vander Weerd for seventh on the win list and has climbed to twenty-second in the point chase.
Kyle Edwards (Fountain Valley, California) opened the night by winning the "Lucky Pill Draw" presented by High Tech Performance and five gallons of fuel. Driving the family owned #39 Safehouse Security / Van Dyne Engineering entry, the second generation driver was fifth quick in time trials, won the 10-lap Competition Suspension Incorporated / Vahlco Wheels Second Heat Race, and finished third in the main event. Edwards heads to the September 10th Bakersfield show ranked second in points.
Ricky Lewis (Oxnard, California) returned from the Midwest and earned his second Woodland Auto Display Fast Time Award of the season. The pilot of the #41 Physical Medical Consultant / Stensland Racing DRC posted a time of 12.854 seconds over the 22-car roster, placed fourth in his heat race, and ran ninth in the feature after a tangle.
Making his first USAC West Coast start, Dale Curran (Bowmanville, Ontario, Canada) raced to victory in the 10-lap Extreme Mufflers First Heat Race. Driving the Kruseman Motorsports' #21K Kruseman Sprint Car and Midget Driving School / FK Rod Ends entry, Curran was thirteenth in qualifying and scored eighteenth in the 30-lap main event. Dale left the Ventura County Fairgrounds ranked thirty-third in the point standings.
Cody Majors (Simi Valley, California) topped the 10-lap Rod End Supply / Saldana Racing Products Third Heat Race. Racing the family owned #54 Rovers Elite / Next Auto Body Spike, Majors qualified ninth overall and scored fifteenth in the main event after a flip ended his night. Cody walked away and sits thirteenth in points.
After earning hard charger honors in the companion USAC Western States Midget feature, Nathan Byrd (Goodyear, Arizona) earned the night's Rod End Supply Hard Charger Award with a seventh place run from seventeenth. Driving the Kruseman Motorsports' #7K Kruseman Sprint Car and Midget Driving School / Lucas Oil machine, Byrd was seventeenth in qualifications and ran sixth in his heat race. For his efforts, Byrd also earned copies of Caged Heat, a sprint car racing photo book, courtesy of Steve Lafond. After his first career start, Nathan is ranked twenty-seventh in championship points.
By virtue of her thirteenth place finish, Camie Bell (Bakersfield, California) earned her second Wilwood Disc Brakes "Lucky 13 Award" of the season. Racing the family owned #29C American Fabrication / Hydraulic Controls TCR, Bell qualified twenty-first overall and finished sixth in her heat race. The rookie contender left Ventura Raceway sitting eleventh in the point chase.
The USAC West Coast 360 Sprint Cars will head to Bakersfield Speedway (Bakersfield, California) on September 10th. For more event information on the sixth point race, visit bakersfieldspeedway.com.
The USAC West Coast Sprint Car Series thanks AMSOIL, Competition Suspension Incorporated, Extreme Mufflers, FloRacing.com, High Tech Performance, Hoosier Racing Tire, Rod End Supply, ROW Signs and Graphics, Saldana Racing Products, Vahlco Wheels, Wilwood Disc Brakes, and Woodland Auto Display for their support.
For more information on the series, visit usacracing.com and the social media for USAC Racing. You can also find exclusive content on the series Facebook, Twitter, and Instagram pages.
USAC WEST COAST SPRINT CAR SERIES RACE RESULTS: August 27, 2022 – Ventura Raceway – Ventura, California
WOODLAND AUTO DISPLAY QUALIFICATIONS: 1. Ricky Lewis, 41, Lewis-12.854; 2. Troy Rutherford, 11, Rutherford-12.914; 3. Chase Johnson, 73, Ford-12.916; 4. Brody Roa, 8M, May-13.008; 5. Kyle Edwards, 39, Edwards-13.124; 6. Trent Carter, 13, Carter-13.145; 7. Rick Hendrix, 15, Hendrix-13.216; 8. Tanner Boul, 99T, Boul-13.228; 9. Cody Majors, 54, Majors-13.262; 10. Logan Calderwood, 6, Calderwood-13.458; 11. Steve Hix, 57, Hix-13.474; 12. Jonas Reynolds, 0, Reynolds-13.588; 13. Dale Curran, 21K, Kruseman-13.589; 14. Tyler Hatzikian, 27, Hatzikian-13.611; 15. Bryan Whitney, 22, Whitley-13.829; 16. Joey Bishop, 45, Bishop-13.935; 17. Nathan Byrd, 7K, Kruseman-14.142; 18. Hannah Mayhew, 43, Mayhew-14.147; 19. Brent Yarnal, 29, Yarnal-14.223; 20. Elexa Herrera, 16J, Herrera-14.722; 21. Camie Bell, 29C, Bell-15.110; 22. James Herrera, 5E, Herrera-NT.
EXTREME MUFFLERS FIRST HEAT: (10 laps) 1. Curran, 2. Calderwood, 3. Roa, 4. Lewis, 5. Yarnal, 6. Hendrix, 7. Bishop, 8. J.Herrera. NT.
COMPETITION SUSPENSION INCORPORATED / VAHLCO WHEELS SECOND HEAT: (10 laps) 1. Edwards, 2. Hix, 3. Rutherford, 4. Boul, 5. Hatzikian, 6. Byrd, 7. E.Herrera. NT.
ROD END SUPPLY / SALDANA RACING PRODUCTS THIRD HEAT: (10 laps) 1. Majors, 2. Johnson, 3. Carter, 4. Whitley, 5. Reynolds, 6. Bell, 7. Mayhew. NT.
FEATURE: (30 laps, With Starting Positions) 1. Brody Roa (3), 2. Chase Johnson (4), 3. Kyle Edwards (2), 4. Troy Rutherford (5), 5. Trent Carter (1), 6. Logan Calderwood (11), 7. Nathan Byrd (17), 8. Joey Bishop (16), 9. Ricky Lewis (6), 10. Bryan Whitley (15), 11. Rick Hendrix (9), 12. Tyler Hatzikian (14), 13. Camie Bell (21), 14. Hannah Mayhew (18), 15. Cody Majors (7), 16. Jonas Reynolds (13), 17. Steve Hix (12), 18. James Herrera (22), 19. Dale Curran (8), 20. Tanner Boul (10), 21. Elexa Herrera (20), 22. Brent Yarnal (19). NT.
—————————-
**Boul flipped on lap 14 of the feature. Majors flipped on lap 26 of the feature.
FEATURE LAP LEADERS: Laps 1-6 Carter, Laps 7-30 Roa.
BR MOTORSPORTS / ROD END SUPPLY HARD CHARGER: Nathan Byrd (17th to 7th)
WILWOOD DISC BRAKES LUCKY 13 AWARD: Camie Bell
HIGH TECH PERFORMANCE LUCKY PILL DRAW: Kyle Edwards
NEW USAC WEST COAST SPRINT CAR POINTS: 1-Trent Carter-330, 2-Kyle Edwards-317, 3-Troy Rutherford-304, 4-Ricky Lewis-290, 5-Joey Bishop-252, 6-Tyler Hatzikian-236, 7-Hannah Mayhew-234, 8-Tanner Boul-231, 9-Steve Hix-224, 10-Brent Yarnal-223.