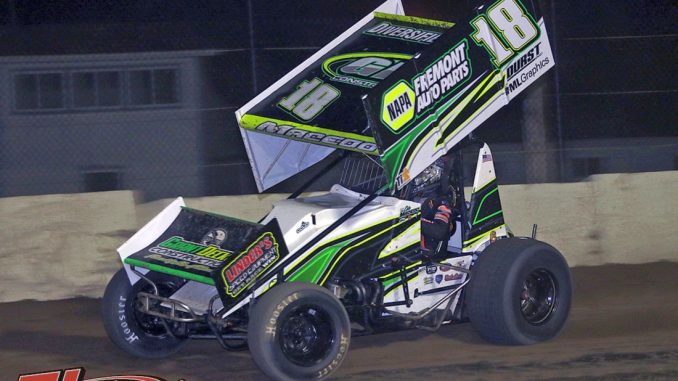 ORRVILLE, Ohio (September 17, 2022) — Cole Macedo is amid the best season of his young career, and the budding sprint car star put the exclamation point on it Saturday evening at the O'Reilly Auto Parts Wayne County Speedway near Orrville.
The Lemoore, California ace led all 35 laps of the $15,000-to-win Pete Jacobs Memorial, banking his largest payday in the process and his 12th overall victory of 2022 and second at WCS. Macedo's triumph came aboard the Ray Brooks Racing-owned, Steve and Matt Linder-wrenched 18 in the rescheduled event that was originally slated for Labor Day weekend.
In the companion 305 sprint car program, Sandusky's Brian Sebetto wired the field in claiming the $1,100-to-win 25-lap main event featuring many of the Attica-Fremont Speedway's regulars. Sebetto's winning ride came aboard Rich Farmer's familiar black and blue 29.
Although Macedo entered the event as one of the heavy favorites, it was anything but easy for the transplanted west coast driver who calls Fremont home during the summer months. Sprint Car Hall of Famer and 2018 Pete Jacobs winner Tim Shaffer dogged Macedo's Gill Construction-sponsored mount the entire distance before claiming the $6,000 second place payday while local favorite Trey Jacobs thrilled his hometown crowd by charging to third from his 24th starting slot.
Tyler Street recorded his ninth top-four finish of the season by claiming fourth, with "Lady Lightning" Paige Polyak rounding out the top five. Street also took home the $400 bonus by setting fast time courtesy of Jeff and Shannon Andrews of Integrity Auto and Truck Sales of Bucyrus.
Shaffer stayed glued to Macedo's bumper during the early stages of the event, before a red for Stuart Brubaker halted action on lap three. WCS regular Chris Myers, western Pennsylvania up-and-comer Leyton Wagner, and newly crowned track champion Henry Malcuit diced it up behind the front row starters until Wagner jumped the cushion in turn 2 and exited the ballpark on lap 11. Both Brubaker and Wagner escaped injury.
Malcuit retired to the pit area a few laps later while challenging Shaffer for third, with local favorite Danny Mumaw doing likewise while running sixth. Shaffer closed to within two car lengths while Macedo negotiated lapped traffic during laps 18-25 before clean air vaulted his advantage before Shaffer once again closed the gap to a car length before another yellow slowed the field on lap 32.
"I wasn't making good laps at all during traffic, and even though l didn't know how close, l knew Tim had to have been right there," said Macedo. "I think that yellow (lap 32) actually helped me because the brackets on our front wing actually broke and we were much better in clean air."
Just after Macedo and the leaders took the white flag, however, a major mishap occurred in turn 1 as Myers, while losing power, was clipped and spun sideways with Ricky Peterson tagging the yellow 38 and flipping. Caleb Griffith also got upside down while trying to avoid the mayhem, with all three escaping uninjured but done for the night.
A white and green flag one-lap shootout followed with Macedo cruising home to victory with Shaffer a close second.
"We gave this thing all it had, but just wasn't quite enough," said Shaffer beside his Trevor Baker No. 45 tribute car in honor of the fallen former WCS competitor. "We closed on Cole in traffic, but he was better on restarts and an open track."
Sebetto's victory was less dramatic, but every bit as impressive. The former 410 track champion at Attica and Fremont rode the high side to a dominating victory, leading by nearly a half of lap on two different occasions.
"This track suits my style of running on the rail, and it seemed like no one else was riding the high line," said Sebetto. "Rich (Farmer) has great equipment, and my crew deserves all the credit. We don't race much, but tonight was a lot of fun and the track was just awesome."
Tyler Shullick rode home second with Jimmy McGrath, Tyler Gunn, and Haldon Miller completing the top 5. Kasey Jedrzejek, while running third, catapulted over the guardrail between turns 3 and 4 on lap three to bring out the red. The winner of the recent Fremont Speedway annual Fair race escaped uninjured. Jeremy Lusk took home the $100 fast time award bonus from Integrity Auto and Truck Sales.
The next event on the WCS schedule is Sheldon Haudenschild's High Limit Sprint Car Series Buckeye Brawl on Tuesday Sept. 27.
Pete Jacobs Memorial
Wayne County Speedway
Orrville, Ohio
Saturday, September 17, 2022
Winged 410 Sprint Cars
Qualifying
1.4*-Tyler Street, 14.215; 2.18-Cole Macedo, 14.439; 3.38K-Chris Myers, 14.482; 4.45-Tim Shaffer, 14.524; 5.16-Danny Mumaw, 14.578; 6.35-Stuart Brubaker, 14.616; 7.9-Ricky Peterson, 14.687; 8.70-Henry Malcuit, 14.692; 9.3J-Trey Jacobs, 14.766; 10.38-Leyton Wagner, 14.775; 11.23-Bryan Sebetto, 14.831; 12.8-Zach Ames, 14.961; 13.21-Andre Layfield, 15.053; 14.97-Greg Wilson, 15.073; 15.1M-Jamie Myers, 15.086; 16.19-Paige Polyak, 15.218; 17.22-Ryan Broughton, 15.332; 18.11-Shawn Hubler, 15.449; 19.20-Danial Burkhart, 15.486; 20.D12-Jason Dolick, 15.538; 21.33W-Caleb Griffith, 15.608; 22.7DK-Dylan Kingan, 15.620; 23.14Z-Wyatt Zimmerman, 15.850; 24.6J-Jonah Aumend, 16.206;
Heat 1 – (8 Laps)
1. 38-Leyton Wagner[1] ; 2. 45-Tim Shaffer[3] ; 3. 4*-Tyler Street[4] ; 4. 9-Ricky Peterson[2] ; 5. 19-Paige Polyak[6] ; 6. 21-Andre Layfield[5] ; 7. 7DK-Dylan Kingan[8] ; 8. 20-Danial Burkhart[7]
Heat 2 – (8 Laps)
1. 70-Henry Malcuit[2] ; 2. 18-Cole Macedo[4] ; 3. 16-Danny Mumaw[3] ; 4. 23-Bryan Sebetto[1] ; 5. 97-Greg Wilson[5] ; 6. 22-Ryan Broughton[6] ; 7. D12-Jason Dolick[7] ; 8. 14Z-Wyatt Zimmerman[8]
Heat 3 – (8 Laps)
1. 38K-Chris Myers[4] ; 2. 35-Stuart Brubaker[3] ; 3. 1M-Jamie Myers[5] ; 4. 8-Zach Ames[1] ; 5. 33W-Caleb Griffith[7] ; 6. 11-Shawn Hubler[6] ; 7. 6J-Jonah Aumend[8] ; 8. 3J-Trey Jacobs[2]
Dash – (6 Laps)
1. 18-Cole Macedo[2] ; 2. 45-Tim Shaffer[1] ; 3. 38K-Chris Myers[3] ; 4. 38-Leyton Wagner[4] ; 5. 70-Henry Malcuit[5] ; 6. 35-Stuart Brubaker[6]
Feature:
1. 18-Cole Macedo
2. 45-Tim Shaffer
3. 3J-Trey Jacobs
4. 4* Tyler Street
5. 19-Paige Polyak
6. 97-Greg Wilson
7. 1M-Jamie Myers
8. 38K-Chris Myers
9. 9-Ricky Peterson Jr.
10. 8-Zach Ames
11. 22-Ryan Broughton
12. 7DK-Dylan Kingan
13. 33W-Caleb Griffith
14. 14Z-Wyatt Zimmerman
15. 20-Danial Burkhart
16. 70-Henry Malcuit
17. 16-Danny Mumaw
18. 11-Shawn Hubler
19. 21-Andre Layfield
20. D12-Jason Dolick
21. 38-Leyton Wagner
22. 23-Bryan Sebetto
23. 6J-Jonah Aumend
24. 35-Stuart Brubaker
Winged 305 Sprint Cars
Feature:
1. 29-Bryan Sebetto
2. 10TS-Tyler Gunn
3. 51M-Haldon Miller
4. 13-Jeremy Duposki
5. 61-Tyler Shullick
6. 5JR-Jimmy McGrath Jr.
7. 5M-Mike Moore
8. 63-Randy Ruble
9. 22-Justin Lusk
10. 9R-Logan Riehl
11. X-Mike Keegan
12. 23-Ron Hamlin
13. O-Shawn Wolford
14. 86-Kasey Jedrzejek
15. 9-Matt Warner