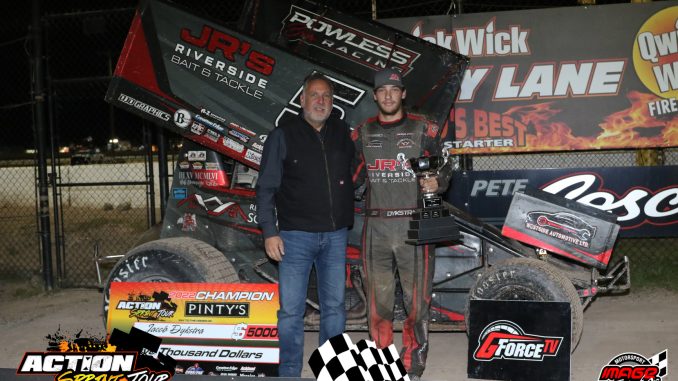 By Tommy Goudge
PORT COLBORNE, Ont. (October 1, 2022) – Mike Bowman put an exclamation point on his first season of Crate Sprint Car racing on Saturday night at Humberstone Speedway; Bowman dominated the Action Sprint Tour fueled by Pinty's A-Main for his eighth win of the season, while Jacob Dykstra clinched his second consecutive series championship.
Mathieu Bardier and Jonah Mutton drew front row starting spots for the 25 lap A-Main, and Bardier took the lead while Mutton dropped back due to mechanical problems. Bowman methodically moved forward and took over from Bardier shortly after the halfway point. Bowman cruised to victory in the nonstop race which went green-to-checkered in approximately seven and a half minutes. Bardier settled for the runner-up spot, followed by Dale Curran, Brett Stratford, and Dykstra.
Dykstra started the race in row six and needed to finish 12th or higher to clinch his second AST title. Dykstra charged forward and eventually took a fifth place finish. Dykstra finished 28 points ahead of Darren Dryden in the final championship standings, earning $5,000 for the title along with a Pinty's VIP package for the 2023 Bristol Dirt Race. The top ten drivers in points earned at least $1,000 from the 2022 points fund, including Dykstra, Dryden, Mathieu Bardier, Jonah Mutton, Johnny Miller, Tyeller Powless, Allan Downey, Mike Bowman, Ashton VanEvery, and Brian Nanticoke.
Series officials wish to sincerely thank all drivers, teams, officials, track operators, sponsors, and fans for their support of the 2022 Action Sprint Tour fueled by Pinty's Crate Sprint Car season. A total of 59 drivers participated in at least one AST event in 2022, with four drivers – Mike Bowman (8), Jacob Dykstra (7), Mathieu Bardier (1), Dale Curran (1) – claiming an A-Main victory.
Make sure to visit the official website and social media pages of the Action Sprint Tour fueled by Pinty's for news and updates on the 2023 season!
the Fall Classic
Action Sprint Tour
Humberstone Speedway
Port Colborne, Ontario
Saturday, October 1, 2022
Heat Race #1 (8 Laps)
1. 31-Dale Curran[1]
2. 71-Mike Bowman[6]
3. 39-Jonah Mutton[4]
4. 77E-Ashton VanEvery[2]
5. 77T-Tyeller Powless[3]
6. 16X-Keegan Baker[5]
7. 17-Marc Suprenant[7]
Heat Race #2 (8 Laps)
1. 12DD-Darren Dryden[3]
2. 19-Mathieu Bardier[5]
3. 9C-Brian Nanticoke[2]
4. 71C-John Cadman[6]
5. 88-Lance Erskine[4]
6. 28-Cameron Thomson[7]
7. 85C-Cam MacKinnon[1]
Heat Race #3 (8 Laps)
1. 4B-Darrell Pelletier[1]
2. 20-Johnny Miller[2]
3. BS39-Brett Stratford[4]
4. 5D-Jacob Dykstra[3]
5. 08-Steven Beckett[6]
6. 19D-Allan Downey[5]
A-Main (25 Laps)
1. 71-Mike Bowman[5]
2. 19-Mathieu Bardier[1]
3. 31-Dale Curran[4]
4. BS39-Brett Stratford[6]
5. 5D-Jacob Dykstra[11]
6. 12DD-Darren Dryden[8]
7. 71C-John Cadman[9]
8. 39-Jonah Mutton[2]
9. 4B-Darrell Pelletier[3]
10. 20-Johnny Miller[7]
11. 77E-Ashton VanEvery[13]
12. 88-Lance Erskine[14]
13. 08-Steven Beckett[12]
14. 28-Cameron Thomson[19]
15. 16X-Keegan Baker[16]
16. 77T-Tyeller Powless[15]
17. 9C-Brian Nanticoke[10]
18. 85C-Cam MacKinnon[18]
19. 17-Marc Suprenant[20]
20. 19D-Allan Downey[17]