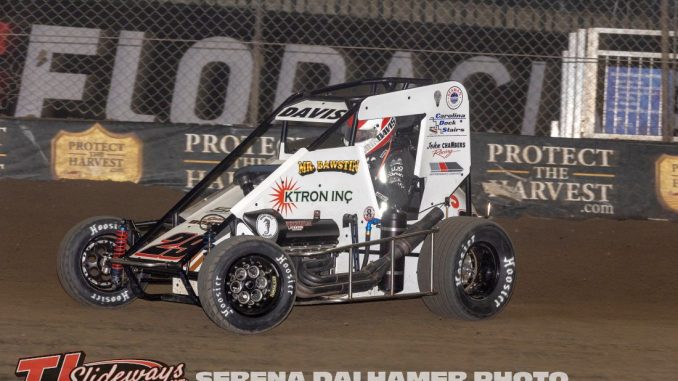 By T.J. Buffenbarger
• While Hank Davis pulled into the Chili Bowl Nationals victory lane most of the focus was on his upset victory in front of his hometown crowd. The race team Davis drives for though is very familiar with winner's circles throughout the country.
Matt Seymour is the latest in his family that has a long legacy in racing. "Boston" Louie Seymour fielded race cars in various USAC divisions for decades with drivers such as Billy Cassella, Ken Schrader, Bentley Warren, and others. Bobby Seymour was an accomplished driver I witnessed come to Plymouth, Indiana for a big pavement midget show and wax some of the best drivers in the country along with a plethora of success racing in the Northeast.
The Seymour family has a leading role in midget racing in the Northeast with NEMA and Seymour Performance. Matt seems to be swinging at the fences fielding cars in NEMA, pavement sprint cars,
I never thought we would see a NEMA team in victory lane at the Chili Bowl, but Tuesday that is exactly what happened. Even with the Seymour's team steady improvement at Tulsa that has gone from having fun with a lightweight VW powered car with the late Mike Streicher to making the main last year with Tim Buckwalter, but the Seymour family proved again that with all the top-notch equipment in the Tulsa Expo it's not wise to bet against teams that race midgets all season long.
Seeing the "Spirit of Boston" pull into victory lane Tuesday at the Chili Bowl was something long time open wheel fans can appreciate.
• Tuesday's preliminary night was as much about who will have to race through the alphabet soup on Saturday as it was about the upset victory by Davis.
2022 preliminary feature winner Buddy Kofoid, multiple time New Zealand champion Michael Pickens, and Alex Bowman will now have to start his Saturday in Tulsa during the E-Main.
Kofoid was one of the favorites to win the main event on Tuesday before crashed race cars impeded Buddy's path. Pickens was a victim of aggressive racing between himself and Davis for position ending up flipping while racing for the second and final locked in position.
Bowman started his night out on a high note making nice runs through his heat race and qualifier to be in prime position for a potential A-Main lock in that ended on the second lap of his preliminary feature being collected in a spin by Daison Pursley.
The biggest winner in all of this are onlookers like myself that will get to see this top notch talent attempt to alphabet their way into Saturday's finale. Saturday at the Chili Bowl is always more interesting with top talent in some of the higher alphabet mains and based on what we saw on Tuesday I the trio of drivers mentioned above should have plenty of company.
• The group of women competing in the Chili Bowl Nationals this year are among the most entertaining young drivers to watch in the entire building. I am excited about Jade Avedisian making history as the highest finishing female on Tuesday, Kaylee Bryson continuing to impress in Tulsa scoring a sixth-place finish in her preliminary main one year after making the finale.
Later in the week we have a mix of the up-and-coming drivers like Taylor Reimer mixed in with young veterans like Taylor Ferns.
These young ladies don't impress me because they are female, they impress me because they are excellent race car drivers. The car doesn't know if it's a man or woman behind the wheel, but for a young woman sitting in the grandstands seeing someone like you succeeding in what is still mostly a male dominated sport a lasting impact. Having this many women competing at such a high level at the moment is awesome for the entire sport is a win for all of us, and I think within the next three years we see a female feature winner at the Chili Bowl.