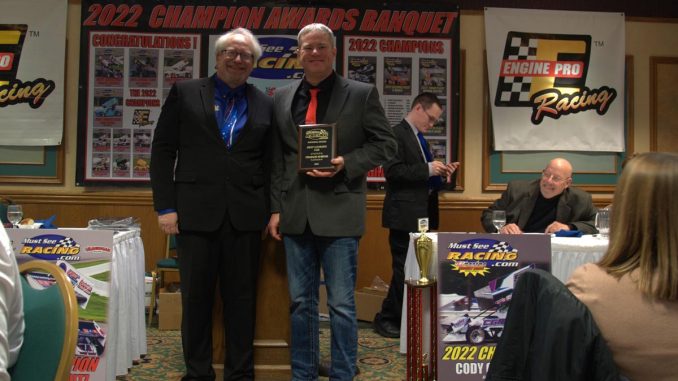 From Must See Racing
PERRYSBURG, Ohio (Jan. 15, 2023) – Must See Racing recognized its top drivers and teams from the 2022 season during the sanctioning body's Night of Champions celebration Saturday at Quality Inn Perrysburg.
Chief among the banquet's honored guests were Must See Racing National Sprint Car Series champion Charlie Schultz and Must See Racing Midwest Lights titlist Cody Gallogly.
Both drivers earned their first Must See Racing championships last year.
Schultz's title run was one for the ages, as he rallied back on the final night of the season to upset point leader Joe Liguori for the crown. A podium finish was enough for Schultz to supplant Liguori, who battled drive line issues during the finale at Pennsylvania's Jennerstown Speedway.
The Ohio veteran used his championship speech to honor his father Al, who suffered a stroke two days prior to the banquet but was "recovering well" as of Saturday night.
"My mom and dad wanted to be here tonight, but with my dad's health that wasn't possible," Schultz noted. "I want us all to raise our glasses to all our dads, both with us and no longer with us, for making us all who we are today. Racing is a family sport, and without them, none of us would be in this room.
"Sportsmanship goes a long way, and this year's battle with Joe and his team was one I'll always remember," Schultz continued. "He helped me out a lot, I helped him a lot, and at the end of the day we went out and battled each other as hard as we could on the race track. That's what it's all about. The goal since we came back to sprint cars was to win a championship, and realizing that this year means so much to us as a family and to John Reiser and everyone involved with our No. 9s team.
"Now we've got a new goal, and that's to go out and try to win the whole thing again this year."
Gallogly dominated the Midwest Lights season, leading the crate sprint car tour in wins and fast times over the course of the year.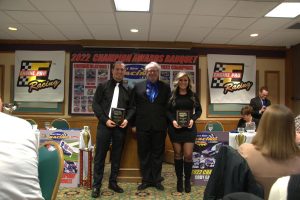 A sense of family was also evident in Gallogly's speech, as his father is battling valiantly against brain cancer.
"My wife wrote me a speech, but we'll see how this goes," Gallogly joked.
"After I went dirt racing and got my teeth knocked in, going back pavement racing was the right decision for my family and my wallet," he added. "In all seriousness, we have a great series and a great field with Must See Racing and this season has been the best decision I've made in a long time. … Racing is so much more than driving a race car; it's about meeting new people and making special memories.
"My parents couldn't be here, but I thank them for supporting me even though times have been tough. I was able to share this year with my dad, and that means the world to me. If I can be half the man he is some day, then I'll be grateful."
Among the other Must See Racing national honorees Saturday was Brad Ringer, crew chief for Liguori, who received Crew Chief of the Year honors. Liguori and Schultz were named co-recipients of the Driver of the Year award, while John Reiser secured Car Owner of the Year laurels.
Additional Midwest Lights award recipients included Andrew Bogusz (Rookie of the Year), Terry Bogusz (Crew Chief of the Year), and Jon Henes (Car Owner of the Year).
The night's highest honor, the Jerry Caryer Ironman Award for commitment to Must See Racing, was presented to Schultz as the driver who both made the most feature starts over the last five seasons and best exemplified loyalty to pavement sprint car racing as a whole.
Schultz joined Tom Jewell (2021) as the second recipient of the perpetual honor, which is housed at Must See Racing's series headquarters in Holly, Mich.
With the 2022 season officially in the books, Must See Racing will kick off its 2023 campaign with the Midwest Lights opener at Lorain (Ohio) Raceway Park on April 22.
The national series kickoff will be May 20 at Michigan's Berlin Raceway with the opening round of the Engine Pro Fast Car Dash.
For more news and information on Must See Racing, visit www.mustseeracing.com.
Must See Racing National Awards
Hard Luck Award: Tom Geren
Perseverance Award: Jeff Bloom
Rising Star Award: Joshua Sexton
Sportsmanship Award: Gene Fogle/White Hare Racing
Most Improved Driver: Rick Holley
Best Appearing Car: Charlie Schultz
Fast Qualifier of the Year: Joe Liguori
Hard Charger of the Year: Joe Liguori
Golden Steering Wheel: Tom Jewell
Crew Chief of the Year: Brad Ringer
Car Owner of the Year: John Reiser
Driver of the Year: Charlie Schultz/Joe Liguori (co-recipients)
Jerry Caryer Ironman: Charlie Schultz
Must See Racing Midwest Lights Awards
Hard Luck Award: Lauren DePasquale
Perseverance Award: Tim Henthorne
Spark Plug Award: Junior Gould
Rising Star Award: Charlie Baur
Sportsmanship Award: Steve Sexton/Team 151
Most Improved Driver: Joshua Sexton
Best Appearing Car: Cody Gallogly
Fast Qualifier of the Year: Cody Gallogly
Hard Charger of the Year: J.J. Henes
Rookie of the Year: Andrew Bogusz
Crew Chief of the Year: Terry Bogusz
Car Owner of the Year: Jon Henes
Driver of the Year: Cody Gallogly