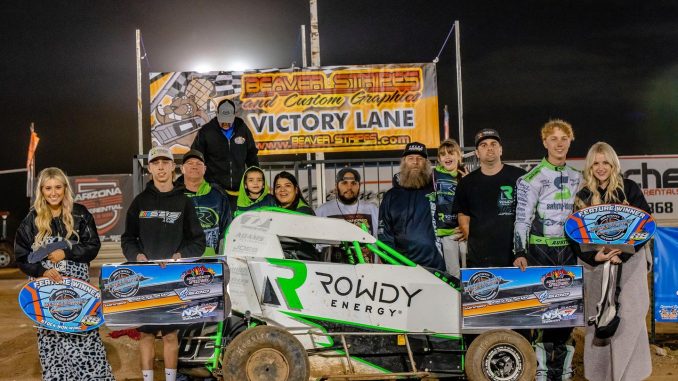 Peterson Media
Austin Torgerson put together a very impressive weekend at Adobe Mountain Speedway. Despite curfew pushing back Friday's features until Saturday afternoon, Torgerson was unphased as he put the Rowdy Energy Non Wing car in Victory lane during both features, and tallied a pair of seconds in winged action.
Kicking the action off on Friday night in his non winged heat race, Torgerson took the green flag from the fifth starting position. From the third row, Torgerson flexed his muscle as he carved his way to the race lead and ultimately picked up the heat race win.
Lining up seventh in his Winged heat race, Torgerson had another strong Rowdy Energy entry underneath him as he again worked his way through the field quickly. Racing to a second-place finish, Torgerson was in prime position for the impending feature event.
With time becoming an issue, track staff pushed feature events to Saturday afternoon, and this didn't faze Torgerson who continued to shine with two very strong cars underneath him.
Taking the green flag from the sixth starting position in the Winged feature, Torgerson was in the third running position by just the eighth lap of the 20-lap feature event.
Working his way into the second position at the halfway point, his sole focus turned to Jett Yantis who was out front and setting a strong pace. Running through traffic, Torgerson would be unsuccessful at reeling in Yantis, but was able to fend off KJ Snow in the closing laps as he secured a second-place finish.
In Non-Winged action, Torgerson lined up in the fourth starting position, and got off to a great start when the green flag was displayed to the field. Jumping into second on the opening lap, Torgerson slid into the lead on the fourth lap and never looked back.
Breaking away from the field, Torgerson went on to pick up his first win of the season, as he celebrated then quickly turned his attention to Saturday's regularly scheduled program.
Getting Saturday's program underway in Winged time trials, the Medford, OR driver timed in third fastest in his qualifying group which lined him up on the front row of his heat race.
Racing to the win, Torgerson earned himself a front row starting position for the impending feature event.
Gridding the field from the third row of his Non-Winged heat based on pill draw, Torgerson put on another show as he worked his way forward. Charging to a second-place finish, Torgerson was rewarded with the pole for the Non-Winged feature event.
From his front row starting position in the Non-Winged feature, Torgerson was simply too good out front in the Rowdy Energy entry. Leading from start to finish, Torgerson was able to secure his second win of the season, and of the day, with one feature event left to run.
With the waiving of the green flag in the Winged 'A', Torgerson dropped back to third on the initial start, but was back into second on the eighth circuit. Just as he did earlier Saturday afternoon, Torgerson was in pursuit of Jett Yantis who was out front.
Erasing a two second lead, Torgerson closed in on Yantis in the closing laps, but Yantis was able to clear traffic a little better on this night, as Torgerson took home another second-place finish in winged competition.
ON TAP: Austin Torgerson will be idle this weekend as his next scheduled event in March 4th back at Adobe Mountain Speedway.
BY THE NUMBERS: Starts-6, Wins-2, Top 5's-5, Top 10's-5
STAY CONNECTED: Stay connected with Austin Torgerson by following Torgerson Racing on Facebook, and @TorgersonRacing on Twitter.