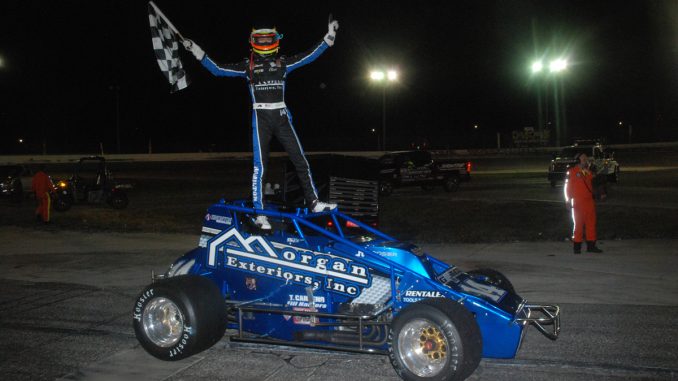 By David Sink
February 25, 2023 – Pinellas Park, Florida – Lady Luck was on Davey Hamilton Jr's side Saturday night during the 4th annual Dave Steele 125 at Showtime Speedway near Clearwater, Florida. Everything that could go right did. He turned in a dominating performance to claim the biggest win of his young career driving the Kirk Morgan Racing #14 Beast to his first Steele 125 victory.
During last year's event, Hamilton set quick time and led nearly every lap until Kyle O'Gara passed him late in the race to steal the victory from him. After the race Hamilton alluded to the fact, he thought he had saved his tires, but hadn't. We would not let that seal his fate this year.
Hamilton se quick time once again this year. A random draw among the fastest seven qualifies would see Hamilton drawing the coveted pole position alongside Showtime Speedway promoter Robert Yoho.
At the drop of the green Hamilton grabbed the lead, but it would be short lived. Shane Butler assumed the point on lap 9. After swapping the lead again on lap 23, Hamilton would take the lead for good on lap 29 and go the distance without any challenges as he built a commanding lead the duration of the event.
It was only Hamilton's second non-wing sprint car victory of his career, but his biggest win to date. Hamilton beat Kody Swanson to the checkered by 4.584 seconds for the $5,000 payday plus over an estimated $1000 in posted lap monies.
Shane Butler came home third followed by Kyle O'Gara with Steven Hollinger rounding out the top five.
The only series incident occurred on lap 23 when the throttle stuck on Robert Yoho's machine entering turn one. Yoho would get upside down before exiting the car quickly when a fire erupted. Yoho was uninjured.
"Last year I was struggling with restarts and spinning tires" explained Hamilton. "Today during practice, we weren't very fast. We were fifth fastest. I didn't think we had a car to win. My crew have been working It, and they had a hard job to make this car right for me, but we found it in qualifying".
"We had a really good race pace. I wasn't pushing it, but I wasn't going easy. We were running constant laps. I lost the lead twice tonight. It wasn't on purpose I can tell you that. The way they make you start here is at the flag stand, which isn't normal for sprint car racing. I struggled with wheel spin. The better line here is the outside going into one. We came up one spot short last year, but I'm thankful to be on top this year" concluded Hamilton.
The finish (125 laps): 1. 14-Davey Hamilton Jr.; 2. 68-Kody Swanson; 3. 18-Shane Butler; 4. 67-Kyle O'Gara; 5. 1-Steven Hollinger; 6. 61-Colton Bettis; 7. 93-Dude Teate; 8. 7-larry Brazil Jr.; 9. 83-Bryan Riddle; 10. 33-Robert Yoho; 11. 86-JJ Dutton; 12. 4-Travis Bliemeister; DNS. 59X-John Inman