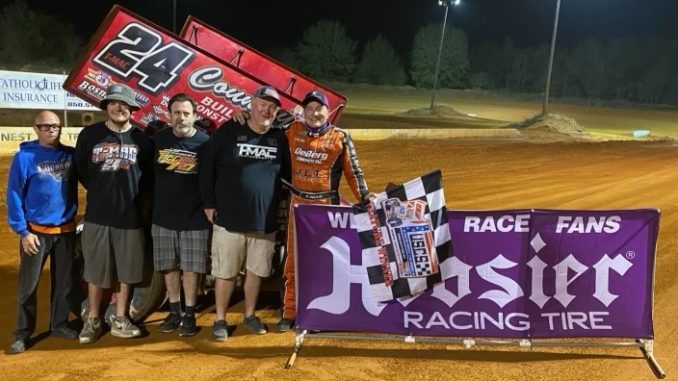 PETERSEN MEDIA
Terry McCarl looks forward to kicking his season off in Florida every year. Not only is it an escape from the Iowa winter and a place to catch up with some long-time marketing partners, but TMAC has found continued success in Florida as he racked up two more wins this season as he swept a weekend double header at Southern Speedway, and ran third at the Ronald Laney Memorial at East Bay Raceway Park.
"I was really pleased with our trip down to Florida," Terry McCarl said. "It's a trip I look forward to for a multitude of reasons, and this season trip didn't disappoint. We had a lot of fun, and we had a really fast racecar at both East Bay and Southern Speedway."
After becoming a grandfather for the first time on Super Bowl Sunday, McCarl made the decision to travel to East Bay Raceway Park for the Annual Ronald Laney Memorial that kicked off that following Thursday night.
Pulling a high number in the draw, McCarl's sixth place finish put the Country Builders/JLT Enterprises/DeBerg Concrete backed No. 24 in the night's 'B' Main. Lining up fourth in the semi, the Altoona, IA driver took care of the task at hand as a second-place finish locked him into the 25-lap feature event.
Taking the green flag from the 23rd starting position, TMAC had his hands full with event points being tallied leading into Saturday night's King of the 360 feature. Knowing East Bay Raceway Park very well, McCarl would quickly begin his charge through the field.
With his elbows up, McCarl salvaged a tough start to the night with an impressive run forward as he took the opening night checkered flag with a 10th place finish.
Friday night had more points up for grabs, and on this night, TMAC had a better draw as he put the CM Rock/Bosma Family Farms/HRP mount on the front row of his heat race and proceeded to race his way to the win and lock into the impending feature event.
Gridding the field from the second row on this night, McCarl quickly jumped into second as he showcased a ton of speed in the TMAC Motorsports entry. As the laps clicked off, McCarl would endure a left rear flat that forced him to come to a stop and forfeit his track position. From the tail end of the field, McCarl would get as much as he could in a short amount of time as he worked his way back up to a 13th place finish.
Running second in his heat race on Saturday night, McCarl secured enough points to lock into the Ronald Laney Memorial, King of the 360's Feature event. Lining up 13th, TMAC was able to gain spots early on a very tricky surface that began laying rubber quickly into the 40-lap race.
Getting into ninth just prior to the halfway point, things would get wild once the race hit the 22nd lap as drivers began losing tires. Running in the Top-10, McCarl's tire let go on the 24th lap and forced him back to 20th with fresh rubber bolted on.
Knowing that he could now push the limits with his fresh tire, McCarl wasted to time racing his way back to the front as he was into the Top-10 within five laps and was in in fifth just 10 laps removed from his flat. Getting into fourth in the race's waning laps, TMAC would move into third on the 38th marker and pick up the podium at the storied event.
McCarl's podium added to an impressive run he has had at the event over the years. With 25 events being ran, TMAC has been absent from two of them, and Rain has intervened and cancelled two King of the 360's finales. The other 21 nights have been extremely good to TMAC as he was picked up 4 wins, 13 total podiums, 18 Top 5's and 19 Top-10's with the other two results being DNF's.
With East Bay in the rear-view mirror, McCarl and company joined the USCS and headed to Milton, Florida and competed at Southern Speedway.
The doubleheader weekend kicked off on Friday night with McCarl advancing from third to first in his heat race as the win propelled him into the Hoosier Speed Dash.
Lining up on the front row of the Dash, McCarl continued to flex his muscle as he picked up the win and earned the pole for the 25-lap feature event.
Getting out to the early lead, McCarl would set a nice pace before feeling pressure from Mark Smith once traffic came into play. As the two veterans dulled through traffic, McCarl would fend Smith off, and record his first win of the 2023 season, marking the 71st different track he has won at over the course of his storied career.
Returning to Southern Speedway for one final night of action in Florida during his early Spring Break Tour, McCarl picked up right where he left off the night before as he raced to the heat race win from the seventh starting position aboard the Burnett's Rock and Landscaping/Dynasty Stucco/Meyer International Midways/Paislee Lane Boutique entry.
Pocketing the Dash win for the second consecutive night, McCarl headed into the feature event looking to fully clean sweep the weekend. From the waiving of the green flag, McCarl was the class of the field.
Leading all 30-laps, McCarl capped off a dominant weekend with another win, marking a clean sweep for the weekend at Southern Speedway.
"I have a great group of partners in the South, and it is great to spend a couple of weeks with Burnett's Rock and Landscaping, Dynasty Stucco, Meyers International Midways and Paislee Lane Boutique and have some fun," McCarl said. "I have to thank Marcus Kennedy who built a great set of PRO Shocks and worked overtime to get them to us for the trip, as well as Tyler Davis for all of his hard work. I have a great team of partners behind me in 2023, and I want to thank them for their support and making these trips possible."
Terry McCarl and TMAC Motorsports would like to thank Country Builders Construction, JLT Enterprises, DeBerg Concrete, CM Rock, Bosma Family Farms, HRP, Justice Brothers/Gillund Ent, Durst Inc., ICGC Iowa Concrete Grinding and Coating, Engler, Phil & Vivian, Octane Inc., Tailgators Bar and Grill, Sposato Paint, Elder Cadillac, Cox Design and Metal Fabrication, Pro Shocks, Wilwood Brakes, Crow Enterprises, Schoenfeld, Hoosier Tire, Bell Helmets, All Star Performance, Winters Performance, Burnett's Rock and Landscaping, Dynasty Stucco, Dent Eliminators, Maxim Chassis, Walker Filtration, Saldana Tanks, KSE Steering, UltraShield Seats, Smith Ti, Rayce Rudeen Foundation, and Hinchman Safety for their continued support.
2023 BY THE NUMBERS: Starts- 5, Wins-2, Top 5's-3, Top 10's-4.
ON TAP: TMAC is TBD on his next event at this time.
STAY CONNECTED: For inside access to Terry McCarl give him a follow on Twitter @TerryMcCarl24 or visit his website at www.terrymccarl.com.