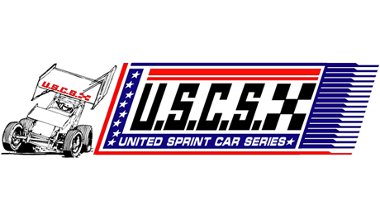 By Pete Walton
Columbus, MS – March 11, 2023 – New Jersey hot-shoe Davie Franek chased pole starter Koty Adams from Doyline, LA for over half the 30-lap USCS A-Main before grabbing the lead in lapped traffic to race into the USCS Victory Lane for the third time in 2023 to collect the $3000 top prize.
Franek crossdd ubder the checkers only a car length ahead of Sdams, who was driving Dustin Gates #6.
Matt ovington from Glenpool, Oklahoma cross the finish line in third place followed by ninth starting Brad Bowden from Hernndo, Mississippi in fourth place and Tuscaloosa, Alabama's Lee Moore completed the top five.
USCS Outlaw Thunder Tour winged sprint car Results for 3/11/2023 at Magnolia Motor Speedway – Columbus, MS
USCS Outlaw Thunder Sprint Cars – 15 Entries
Feature 30Laps
1. 28F-Davie Franek[2]; 2. 6-Koty Adams[1]; 3. 95-Matt Covington[4]; 4. 8-Brad Bowden[9]; 5. 1A-Lee Moore[3]; 6. 10-Terry Gray[10]; 7. 88-Trent Moss[6]; 8. 66-Danny Smith[8]; 9. 47-Dale Howard[15]; 10. 187-Landon Crawley[11]; 11. 23-Lance Moss[5]; 12. 44-Ronny Howard[13]; 13. 47K-Kaylee Bryson[14]; 14. 28-Jeff Willingham[12]; 15. (DNF) 13-Chase Howard[7]
Hoosier Speed Dash 6-Laps
1. 6-Koty Adams[2]; 2. 28F-Davie Franek[3]; 3. 1A-Lee Moore[1]; 4. 95-Matt Covington[6]; 5. 23-Lance Moss[4]; 6. 88-Trent Moss[5]
Engler Machine & Tool Heat 1 8-Laps
1. 88-Trent Moss[3]; 2. 28F-Davie Franek[2]; 3. 6-Koty Adams[6]; 4. 23-Lance Moss[8]; 5. 8-Brad Bowden[4]; 6. 187-Landon Crawley[7]; 7. 47K-Kaylee Bryson[5]; 8. (DNF) 47-Dale Howard[1]
JJ Supply of NC Heat 2 8-Laps
1. 95-Matt Covington[5]; 2. 1A-Lee Moore[1]; 3. 13-Chase Howard[2]; 4. 66-Danny Smith[3]; 5. 10-Terry Gray[4]; 6. 28-Jeff Willingham[7]; 7. (DNF) 44-Ronny Howard[6]