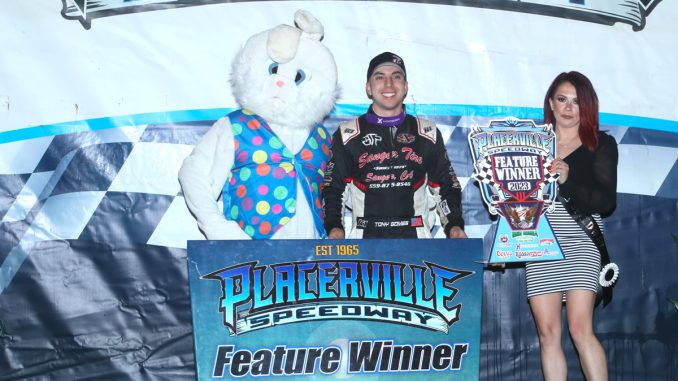 PETERSEN MEDIA
Having speed during the first two events at Placerville Speedway, circumstances had yielded strong finishes for Tony Gomes and C&M Motorsports. That changed Saturday night when the Modesto, CA driver raced his way to his first feature event win of the 2023 season.
"Saturday night was great," Tony Gomes said. "We timed in fourth fastest, and that put us in a great position for the rest of the night as we just needed to transfer through our heat race to make the redraw, which we were able to do."
With 35 cars packed into the pit area for Placerville Speedway's second points paying event of the season, Gomes jumpstarted his night by timing the Lund Construction/Anrak/Sam Rhodes backed No. 7c in fourth fastest in time trials.
Lining up in the second row of his heat race, Gomes was on a mission as he was able to make a couple of swift moves and race into second. Holding on to the second when the checkered flag was displayed to the field, Gomes was securely in the 25-lap feature event, as well as the all-important redraw.
Pulling the number four pill, Gomes took the green flag for the 'A' in the second row. Jumping into second in the early goings of the feature event, Gomes would quickly real in the early leader, Michael Ing.
On the eighth circuit Gomes would drive deep into three and four as he pressured Ing, and as he slid up the track, the duo made contact which resulted in Ing spinning to a stop which paused the action.
"I completely misjudged that corner when I got to Ing, and we made contact and he spun," Gomes said. "It was my fault, and 100% not how I wanted to make the move for the lead by any means."
Restarting as the race leader, Gomes would feel pressure at various points in the night from the likes of Andy Forsberg, Landon Brooks and Caeden Steele. As the last few laps of the race were slowed with cautions, Gomes was solid on each and every restart as he was able to give himself a slight advantage as he powered his way to his first win of the season, and his second career win at the speedway.
"It feels great to get a win this early in the season, and it will build up some momentum which is huge in the sport," Gomes said. "I am thankful that Cody and Mandi continue to believe in me and give me a great opportunity in a great car. I also want to thank Cody, John, and Arbo for their hard work all night."
The C&M Motorsports team would like to thank Lund Construction, Anrak, Sam Rhodes, Alturas Tires, Swartz Diesel, Adrian Blanco Jewelry, Kings Meats, American Paving Systems, PT Shocks, Creason Enterprises, and all of their product sponsors for their continued support.
ON TAP: C&M Motorsports will be back in action on Saturday night at Placerville Speedway for the Tribute to Al Hinds.
BY THE NUMBERS: Starts-3, Wins-1, Top 5's-2, Top 10's-2
STAY CONNECTED: Keep up with C&M Motorsports by following @PrecisonShocks or @Mandi7C on Twitter.