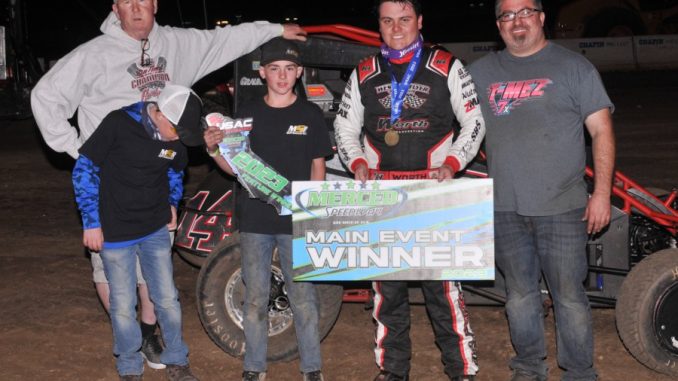 From Lance Jennings
MERCED, CALIFORNIA – APRIL 15, 2023… Subbing for defending champion Michael Faccinto, Ben Worth (Coalinga, CA) led all 30-laps to claim the season opener at Merced Speedway. Driving the Graunstadt Enterprises' #14J Silva Ranches / T&T Trucking Spike, Worth earned the fourth USAC Western States Midget victory of his career over Brody Fuson, Cade Lewis, Caden Sarale, and A.J. Bender.
While Faccinto was racing a winged sprint car at Placerville, Worth opened the program by claiming the Woodland Auto Display Fast Time Award with a time of 12.725 seconds over the 13-car roster. In doing so, he earned $100 for his efforts and leads the Top Qualifier points heading to Kern County on April 29th.
Former Santa Maria Sprint Car Champion, T.J. Smith and Fuson raced to victory in their 10-lap heat races.
Grabbing the early lead, Worth faced constant challenges for the top spot by Smith in the famed #68 Six8 Motorsports entry. Behind the leaders, a torrid battle for position by Sarale, Fuson, Bender, and Lewis was underway. After a few laps, Worth switched to the outside groove and began to inch away from the field.
Smith, now secure in second, was under fire from Sarale as slower traffic came into play. As Worth navigated through the traffic, a close call halted his progress and caution flags bunched the field. Smith had another opportunity for the lead and remained within striking distance until his engine expired on the white flag lap. From there, the 2019 Rookie of the Year powered to the checkered flags at the Merced County Fairgrounds.
Steve Paden (Rossmoor, CA) earned the night's Ebbco Offroad "Hard Charger Award" with a fifth place run from eleventh. By doing so, the 2003 Champion sits atop the Passing Master standings.
The night was dedicated to Sammy Bahr, who recently passed away. Bahr was a longtime USAC official who served with the CRA Sprint Car, West Coast Sprint Car, and Western States Midget Series.
The USAC Western States Midgets will return to action on Saturday, April 29th, at The Dirt Track at Kern County Raceway Park in Bakersfield, California. The USAC/CRA 410 Sprint Cars will join the action packed card.
The USAC Western States Midget Series thanks BR Motorsports, Brown & Miller Racing Solutions, Competition Suspension Incorporated, Ebbco Offroad, Extreme Mufflers, FloRacing, Hoosier Racing Tires, Hot Head Competition Engine Heaters, Jordan Hanni Well Drilling, Rod End Supply, Saldana Racing Products, Steve Lafond / Tear-Off Heaven Fotos, Wilwood Disc Brakes, Wireless 101, and Woodland Auto Display for their support.
For more information on the USAC Western States Midget Series, visit usacracing.com and the social media for USAC Racing. You can also find exclusive content on the USAC Western States Midget Facebook, Twitter and Instagram pages.
FloRacing.com has live, flag-to-flag coverage of the USAC Western States Midget Series. You can catch the action by subscribing to FloRacing on a monthly or yearly basis to view their huge catalog of live and on-demand auto racing and sporting events.
USAC WESTERN STATES MIDGET SERIES RACE RESULTS: April 15, 2023 – Merced Speedway – Merced, California
WOODLAND AUTO DISPLAY QUALIFICATONS: 1. Ben Worth, 14J, Graunstadt-12.725; 2. Brody Fuson, 51, Carlile-12.857; 3. Cade Lewis, 5K, Alexander-12.946; 4. T.J. Smith, 68, Six8-12.967; 5. Caden Sarale, 32, Sarale-13.057; 6. A.J. Bender, 00, Davis-13.220; 7. C.J. Sarna, 20, Sarna-13.400; 8. Samuel May, 55, Lambert-13.474; 9. Steve Paden, 56, Paden-13.589; 10. Bryan Drollinger, 71D, Drollinger-13.823; 11. Ron Hazelton, 15, Hazelton-13.980; 12. Kevin Gray, 7L, Gray-NT; 13. Randi Pankratz, 8, Pankratz-NT.
JORDAN HANNI WELL DRILLING FIRST HEAT: (10 laps) 1. Smith, 2. Lewis, 3. Paden, 4. Sarale, 5. Sarna, 6. Drollinger. NT.
HOT HEAD COMPETITION ENGINE HEATERS SECOND HEAT: (10 laps) 1. Fuson, 2. May, 3. Bender, 4. Hazelton, 5. Worth. NT.
SAMMY BAHR FEATURE: (30 laps, With Starting Positions) 1. Ben Worth (1), 2. Brody Fuson (5), 3. Cade Lewis (6), 4. Caden Sarale (4), 5. A.J. Bender (3), 6. Steve Paden (11), 7. Samuel May (8), 8. T.J. Smith (2), 9. Bryan Drollinger (9), 10. Ron Hazelton (10), 11. C.J. Sarna (7), 12. Kevin Gray (12). NT.
—————————-
**Gray flipped during qualifications.
FEATURE LAP LEADERS: Laps 1-30 Worth.
EBBCO OFFROAD HARD CHARGER: Steve Paden (11th to 6th)
NEW USAC WESTERN STATES MIDGET POINTS: 1- Brody Fuson-80, -Ben Worth-80, 3-Cadel Lewis-75, 4-Caden Sarale-68, 5-A.J. Bender-65, 6-Steve Paden-61, 7-T.J. Smith-60, 8-Samuel May-59, 9-Bryan Drollinger-49, 10-Ron Hazelton-48.
NEW WOODLAND AUTO DISPLAY TOP QUALIFIER POINTS: 1-Ben Worth-6, 2-Brody Fuson-5, 3-Cade Lewis-4, 4-T.J. Smith-3, 5-Caden Sarale-2, 6-A.J. Bender-1.
NEW PASSING MASTER POINTS: 1-Steve Paden-5, 2-Brody Fuson-3, -Cade Lewis-3.
NEXT USAC WESTERN STATES MIDGET RACE: April 29 – The Dirt Track at Kern County Raceway Park – Bakersfield, California