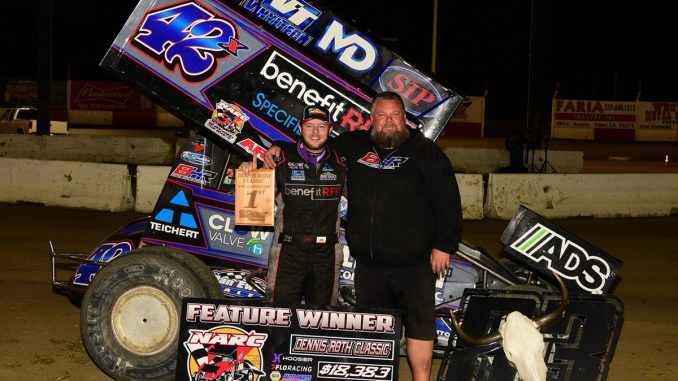 By Gary Thomas
Tulare, CA…Signature victories only come around every so often and on Saturday night at the Dennis Roth Classic in Tulare, Justyn Cox certainly delivered that to Bates-Hamilton Racing.
"I'm pretty much in disbelief right now," said an emotional Cox in victory lane following the $18,383 triumph. "I forgot how to believe in myself last year, so to come out and win the Dennis Roth Classic tonight is just amazing. I want to thank the entire Bates-Hamilton Racing team and all our great sponsors that support this operation. They took a chance on me this season and I'm happy to deliver a big win like this."
Cox began the NARC 410 sanctioned Dennis Roth Classic finale by timing-in ninth quick, before winning the night's final heat race. He then started on the pole of the Sunnyvalley Bacon Dash and ran second, placing the benefitRFP/ Lippert Construction/ Dan Ewart Sales/ VinylTech PVC Pipe/ Clow Valve No. 42x on the front row of the feature.
The Clarksburg, California driver found the high side to his liking and jumped into the lead at the waving of the green flag in the 30-lapper. Cox ran out front impressively while keeping the stout field of competitors at bay behind him. As the race wound down however, young star Corey Day began to give him everything he could handle.
Day sent multiple looks at taking over the top spot, but Cox remained calm, cool, and collected up front, executing a superb final set of corners to grab the checkered flag for victory. The win at Tulare Thunderbowl Raceway also marked the very first NARC 410 Sprint Car triumph for Cox.
"I told my guys before the race that I'm going to rip the heck out of the top in the main event," Cox stated. "I ended up knocked the jacobs ladder out with about five laps remaining, so it made the car a handful. It was intense racing in the feature, and I have to thank Corey Day for running me so clean. It's truly a special feeling to get my first NARC win at the track where I scored my first podium with the series."
BHR co-owner Roger Hamilton spoke of the accomplishment Saturday night.
"This win is special for many reasons. It's Justyn's first NARC win, the Dennis Roth Classic has quickly become the biggest NARC race in California, and Thunderbowl Raceway is the toughest track we race on. We consider it an honor to win this race that pays tribute to one of the truly iconic car owners in Sprint Car Racing. Special thanks to Todd Ventura and everyone at Roth Motorsports for putting on such a terrific event. Thanks also to Steve Faria and everyone at Thunderbowl Raceway and Jim Allen and the entire NARC staff for making this a 2-day show."
Prior to Saturday's action, the team lost a motor in qualifying on Friday night and were able to get it changed to still make it out for the first heat, where Cox finished third, locking into the Friday feature. With a fresh Kistler powerplant under the hood, the car had great speed and Cox was one of the fastest on the track. He had an unfortunate spin with seven laps to go while running 5th but was able to restart 20th and charge up to 15th in the closing laps.
"I felt really good on Friday night," Cox expanded. "The team came together and got a motor swap super-fast without any hiccups, and we went on to have a strong run in the main. I just made that one mistake trying something different and ended up spinning on my own."
Next up for Cox and Bates-Hamilton Racing will be a trip to the Merced Speedway this Saturday night. The event marks round two of the Sprint Car Challenge Tour season. Cox brought home a runner up finish during the inaugural SCCT race at the track in 2019. Tickets will be available at the gate and live video will be provided from www.calidirt.tv for those who can't make it.
BHR co-owner Josh Bates discussed the early season success and what is to come. "Roger and I are really happy with the speed we have had in the cars so far this season. Our crew is working exceptionally good together and Justyn is performing well. I'm hoping we can carry this momentum into Saturday night at Merced. SCCT poses a unique challenge, as there are 20+ cars capable of winning on any given night, so just making the show can be difficult."
As Merced sits on the horizon this weekend, Hamilton gave his final thoughts.
"I can't thank Josh enough for all the time and effort he puts into our race cars. "He places his heart and soul into this team and it's so nice to see that hard work pay off. We simply cannot compete without the countless hours put in at the shop and track by Scott, Drew, and Hayden. You guys are the best. Last, but certainly not least, thank you to my wife Lori, who is always so supportive of everything we are doing with BHR and all her hard work taking care of our merchandise."
𝑩𝒂𝒕𝒆𝒔-𝑯𝒂𝒎𝒊𝒍𝒕𝒐𝒏 𝑹𝒂𝒄𝒊𝒏𝒈 would like to thank BenefitRFP, Lippert Construction, Dan Ewart Sales, VinylTech PVC Pipe, Clow Valve, Teichert Construction, Advanced Drainage Systems, Custom Pipe and Fabrication, B Scadden Design, Specified Pipe, North Bay Waterworks, SIP, Tigre, Star Pipe Products, McWane Ductile, Kaeding Performance, Kistler Engines, Maxim Racing, Sellers Race Wings, ART Enterprises, Rod Tiner Racing, Tiner-Hirst Enterprise, Vanlare Steering Repair, Arbo-Tec, Performance Powder Coating, Warehouse Paint, Justice Brothers, K1 Race Gear, Arai Helmets and Bullet Impressions for their support this season.
𝐁𝐚𝐭𝐞𝐬-𝐇𝐚𝐦𝐢𝐥𝐭𝐨𝐧 𝐑𝐚𝐜𝐢𝐧𝐠 Dennis Roth Classic Quick Recap-
April 14th: Qualified (10th), Heat Race (3rd), A-main (15th)
April 15th: Qualified (9th), Heat Race (1st), Dash (2nd), A-main (1st)
𝐔𝐩𝐜𝐨𝐦𝐢𝐧𝐠 𝐑𝐚𝐜𝐞𝐬-
April 22nd: Merced Speedway – Sprint Car Challenge Tour
𝗦𝗽𝗼𝗻𝘀𝗼𝗿 𝗦𝗽𝗼𝘁𝗹𝗶𝗴𝗵𝘁: Kaeding Performance and Kistler Engines
The Kaeding family has had a long and successful history in both racing and business in California. Over the years they combined the two into a successful racing business. The property where the business is located has been in the family since the early 1940's. They are proud to represent the finest manufacturers in the business.
"Brent Kaeding has been an integral part of helping us build our program since the winter of 2019," said Hamilton. "He, Bud, BF, Brian, and Red have gotten us everything we need to compete at this level. My association with the Kaedings goes back 40 years this year, and having Brent and Bud come over to congratulate us on Saturday night means the world to Lori and me."
Kistler Engines was established in 1993 and builds lightweight, high performance racing engines with a commitment to quality. They pride themselves in high-tech, innovative designs, producing highly competitive engines for sprint cars (410 c.i., 360 c.i. & 305 c.i.), as well as, late models & midgets. Kistler Engines has also earned a great reputation for their service among professional race teams due to their quick turnaround time on rebuilds.
"The engine we ran Friday and Saturday night was the first 410 I purchased from Paul in the winter of 2019," Hamilton elaborated. "It was the same engine Tim Kaeding ran 4th with at the Knoxville Nationals that year driving for Jason Sides. I considered selling it at the end of last season, but Mike at Kistler had a couple things he wanted to try to make it a little better for the shorter tracks out west." Needless to say, I'm glad I didn't sell that engine!"
Cox also spoke about the reliable and robust powerplant. "The motor we ran on Saturday has some serious power. It takes off better than any motor I've run so far but has so much throttle range. That makes it easy to keep the tires under me down the slick straights, but also throttle just perfect when riding the wall. I'm thankful to have a Kistler under the hood and wouldn't want anything else."
𝐒𝐨𝐜𝐢𝐚𝐥 𝐒𝐩𝐨𝐭𝐥𝐢𝐠𝐡𝐭-
To keep up with Bates-Hamilton Racing be sure to like the BHR Page on Facebook at https://www.facebook.com/BatesHamiltonRacing
Follow along on Twitter at https://twitter.com/bhr42x
Make sure to also follow our Instagram page @bhr_42x
𝗚𝗧 𝗣𝗿𝗼𝗺𝗼𝘁𝗶𝗼𝗻𝘀-
GT Promotions is a media company focusing on public relations and social media management for motorsports venues, series, race teams and more. Since 2006 we have worked with numerous clients to boost exposure through our various channels. To inquire about becoming a part of the GT Promotions team simply email gary7n@sbcglobal.net & to keep up with our work follow https://twitter.com/garythomasGT