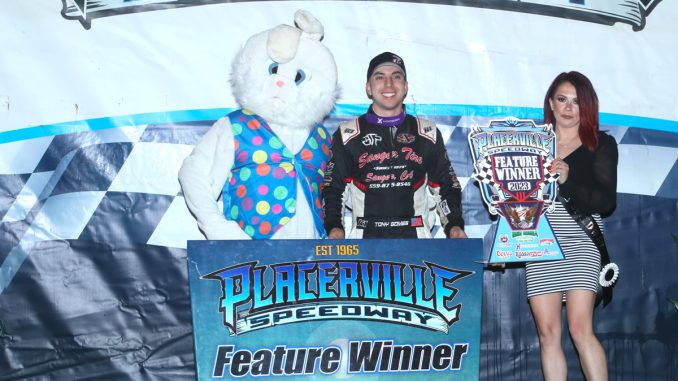 PETERSEN MEDIA
Tony Gomes and C&M Motorsports have seemingly been in the mix at each winged 360 race held at Placerville Speedway in 2023. After late race issues hindered them two weeks ago, Gomes and company bounced back in a big way on Saturday night as he raced to his second feature event win of the season.
"Saturday night was a great night for this team," Tony Gomes said. "We got better each time we hit the track, and it ultimately led us to our second feature event win of the season after leading all 25-laps."
With 17 cars checked into the pita area for the fourth points paying event of the season for the sprint cars, Gomes timed the Lund Construction/Anrak/Sam Rhodes backed No. 7c entry in fifth quickest in time trials.
Lining up in the second row of his heat race, Gomes quickly found himself on the front row with the original pole sitter called for a jump start. Leading the heat to green, Gomes was hard on the throttle as he powered out to the early advantage.
Going on to pick up the win, Gomes earned a spot in the nightly redraw where he pulled the three and lined up in the second row of the 25-lap feature event.
Just as it happened in his heat race, the pole sitter was again called for a jump start, and it put Gomes on the pole for the 25-lapper. On a lightning fast surface, Gomes proved to be too tough off the front row.
When the race went green, the Holister, CA native turned Modesto, CA resident quickly jumped out to the lead as he drove away from the field and worked the ¼ mile bullring to perfection.
Over the course of the race, a couple of timely yellows kept Gomes out of traffic, and he was strong on each restart as he opened up an advantage time and time again.
Leading all 25-laps, Gomes was dominant as he picked up his second win of the season and his third career win at the track.
"I felt great in the feature event, and when I had to move around we didn't miss a beat and this is a testament to the work that Cody has put in," Gomes said. "Cody and Mandi continue to support me, and I am happy to get them back in victory lane. I also want to thank Bobby and John for all of their hard work all night as well."
The C&M Motorsports team would like to thank Lund Construction, Anrak, Sam Rhodes, Alturas Tires, Swartz Diesel, Adrian Blanco Jewelry, Kings Meats, American Paving Systems, PT Shocks, Creason Enterprises, and all of their product sponsors for their continued support.
ON TAP: C&M Motorsports is slated to return to Placerville Speedway on Saturday night with the driver TBD as Gomes currently has another commitment.
BY THE NUMBERS: Starts-5, Wins-2, Top 5's-3, Top 10's-3
STAY CONNECTED: Keep up with C&M Motorsports by following @PrecisonShocks or @Mandi7C on Twitter.