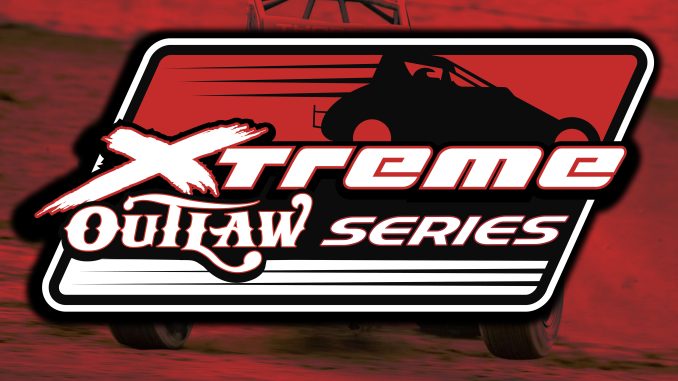 By Jordan DeLucia
SALISBURY, NC (May 22, 2023) – The Xtreme Outlaw Midget Series presented by Toyota returns to its birthplace this week for the second annual DIAEDGE Double Down Showdown at Millbridge Speedway – Tuesday-Wednesday, May 23-24.
The 1/6-mile oval of Millbridge presents one of the most unique challenges Midget drivers will face all year with its red clay surface and high banks. The track hosted the Series' inaugural event one year ago, which was won by teenage racing standout Gavan Boschele.
Tuesday, May 23 kicks off the weekday doubleheader with a 30-lap, $4,000-to-win Feature, while Wednesday features a 35-lap, $5,000-to-win main event. The Midgets will be joined by Non-Wing Micro Sprints both nights.
Tickets will be on sale at the gate on race day. If you can't make it to the track, stream all the action live on DIRTVision.
Here are the drivers to watch and storylines to follow this week:
NEW TEAMMATES – NASCAR Cup Series driver Chase Briscoe makes his return to Xtreme Outlaw Midget competition this week and is bringing along a special guest in a second car for the Double Down Showdown.
Late Model and UMP Modified veteran Kyle Strickler will make his Midget racing debut in Briscoe's second entry. Originally from Pennsylvania, Strickler moved to his current residence in Mooresville, NC, in 2006 and soon after began his UMP Modified racing career. Now a multi-time Feature winner and recently crowned champion of the DIRTcar Nationals in February, Strickler said he's always wanted to step into the open-wheel world and a mutual connection with a former Stewart-Haas Racing team member has spawned this new opportunity for him.
Read More – Chase Briscoe Plans Xtreme Return At Millbridge, Fielding Car For Kyle Strickler
Briscoe bagged finishes of 12th and eighth in the two-day event last year. He'll suit up again with the Midget on Tuesday and Wednesday for the first time since January's Chili Bowl Nationals as a precursor to his NASCAR duties at Charlotte Motor Speedway and the Coke 600 this Sunday.
WHAT THE DR. ORDERED – After a trying weekend out west in the opening weekend of USAC competition, Xtreme Outlaw points leader Cannon McIntosh is ready to head back to his new home track of Millbridge, where he's been dominant on a weekly basis this year.
McIntosh, 20, of Bixby, OK, posted back-to-back runner-up finishes in the last two Xtreme events, earning him the points lead heading into Millbridge. However, he struggled a bit this past weekend with finishes of ninth, 23rd and 14th in three races with the USAC National Midget Series, bringing him back to the new race shop in Mooresville, NC, to prepare for the Double Down Showdown, which is what he wanted to see to get back on track.
McIntosh has been dominant in weekly Micro Sprint competition at Millbridge this season, racking up eight total victories there since March across both the Winged and Non-Wing divisions, and will be among the top picks to get his first Midget trophy there this week.
CHARGED UP – A big win this past weekend for Zach Daum has the Illinois veteran riding down a strong path to Millbridge, where he's been successful before.
Daum, the 32-year-old defending Series champion, started on the outside pole Saturday night on the 1/4-mile of Belleville High Banks and stayed inside the first three spots through the first half of the 40-lap Feature until a collision after a restart with the two leaders opened the door. He inherited the lead under yellow and drove it the rest of the way out front to a $6,000 victory.
Now, he turns his attention to Millbridge. Daum was runner-up on both nights of the Double Down Showdown there last year and has a great shot at going one spot higher in his own equipment this time around.
HOME GAME – One year ago in the Series' inaugural event, 14-year-old Gavan Boschele drove the Keith Kunz Motorsports, Bullet/Toyota #5 to Millbridge Victory Lane where he had so many times before as a young veteran of the 1/6-mile oval.
Boschele, of Mooresville, NC, will get back behind the wheel of his KKM #5 for the first time since the Chili Bowl Nationals in January, where his strong showing in a B-Feature went sideways after contact with the outside wall, knocking him out of the event. In a recent interview, he said he's confident that he'll bounce back and avoid those mistakes this week, where he'll be among the favorites to win yet again.
Read More – Gavan Boschele Prepared To Defend Inaugural Xtreme Outlaw Victory At Millbridge
Now at age 15, Boschele has already made a countless number of laps around Millbridge in his career, having competed regularly at the track since he was less than five years old. More recently, he's been competing on occasion in the Non-Wing Micro Sprint division in preparation for this week.
HOT START – Ryan Timms hasn't been able to run as many Midget events as other top open-wheel competitors this year, but he's made the most of the majority of his starts thus far. A big win Friday night in Kansas with USAC gave he and the Keith Kunz Motorsports crew a boost of momentum heading into mid-week racing at Millbridge.
Timms, 16, of Oklahoma City, OK, ran well in his first Xtreme Outlaw Feature event of the year at Federated Auto Parts Raceway at I-55 in April, driving all the way from 17th on the starting grid up to third by the checkered flag.
Finishes of 14th and 16th in the Double Down Showdown at Millbridge last year means Timms will have some work to do this week if he expects to finish well this time around.
THIS WEEKEND AT A GLANCE
When and where
Friday-Saturday, May 23-24 at Millbridge Speedway in Salisbury, NC
On the internet
Xtreme Outlaw Midget Series presented by Toyota
Twitter – @Xtreme_Outlaw
Instagram – @XtremeOutlaw
Facebook – @XtremeOutlawSeries.WRG
Live broadcast
DIRTVision – DIRTVision.com. Platinum annual FAST PASS for $299 or monthly FAST PASS for $39/month.
Current championship points standings (view full standings)
1. Cannon McIntosh (1057pts); 2. Jade Avedisian 1026pts (-31); 3. Chase McDermand 998pts (-59); 4. Gavin Miller 984pts (-73); 5. Chance Crum 953pts (-104); 6. Zach Daum 946pts (-111); 7. Landon Brooks 945pts (-112); 8. Kyle Jones 944pts (-113); 9. Thomas Meseraull 922pts (-135); 10. Ethan Mitchell 900pts (-157).