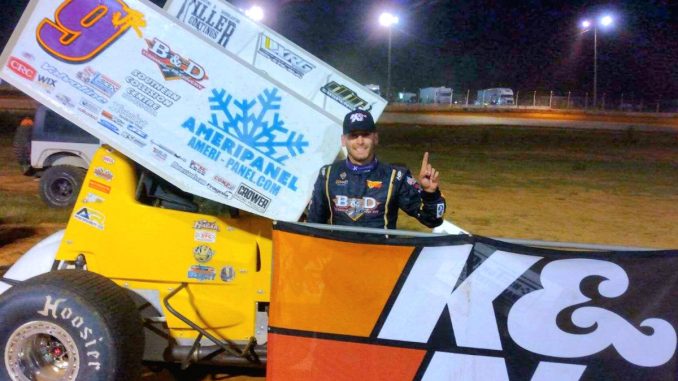 By Pete Walton
LEXINGTON, TN – Derek Hagar of Marion, AR edged Dale Howard of Byhalia, MS to win the opening round of 2023 USCS Sprint Car Speedweek for the United Sprint Car Series presented by K&N Filters at Lexington 104 Speedway. Hagar took the lead from his outside front row starting position, and crossed under the checkered flag of the 30-lap Feature Race with a .477 second margin of victory over the Polesitter Howard.
British driver Ryan Harrison of Rothwell, United Kingdom took the third spot, and Carson Short of Marion, IL finished fourth. The 14-time USCS National Champion and National Sprint Car Hall of Fame Inductee Terry Gray of Bartlett, TN was fifth.
Koty Adams of Haughton, LA came home in the sixth spot, and seventh went to Caden Englehart of Terre Haute, IN. Tucker Boulton of Brighton, TN finished eighth, Chase Howard of Nesbit, MS was ninth, and Lance Moss of Cherryville, NC was the Hard Charger of the Race after starting 18th and rounding out the top ten.
In preliminary action, the three eight-lap Heat Races were won by the defending USCS Speedweek Champion Dale Howard in the Engler Machine and Tool First Heat Race, Harrison in the JJ Supply of NC Second Heat Race, and Terry Witherspoon of Jacksonville, FL in the DHR Third Heat Race. Dale Howard won the six-lap Hoosier Racing Tire Speed Dash.
The first of six races over nine days featured 24 drivers from 11 different states and the United Kingdom. The next stop for the USCS Sprint Car Speedweek Tour will be Saturday night at Riverside International Speedway in West Memphis, AR. The race night will also feature Late Models, Winged Mini Sprints, and Stock Cars.
For more information about the 18th Annual USCS Sprint Car Speedweek Presented By Engler Machine & Tool visit the United Sprint Car Series web site at www.uscsracing.com, or call Pete Walton at 770-865-6097. The USCS Facebook Page is located at www.facebook.com/uscs.racing.
United Sprint Car Series Marketing Partners are K&N Filters, Engler Machine & Tool, Hoosier Racing Tire, Hero Graphics, DMI, J&J Supply of NC, Racing Electronics, JE Pistons, DHR Suspension, Wilwood Disc Brakes, KSC Racing Products, PRO Shocks, Schoenfeld Headers, and Arizona Sport Shirts.
OFFICIAL RESULTS OF USCS SPEEDWEEKS ROUND 1 AT LEXINGTON (TN) 104 SPEEDWAY ON MAY 26, 2023:
FEATURE RACE – 30 Laps: 1. Derek Hagar, Marion, AR; 2. Dale Howard, Byhalia, MS; 3. Ryan Harrison, Rothwell, NTH; 4. Carson Short, Marion, IL; 5. Terry Gray, Bartlett, TN; 6. Koty Adams, Haughton, LA; 7. Caden Englehart, Terre Haute, IN; 8. Tucker Boulton, Brighton, TN; 9. Chase Howard, Nesbit, MS; 10. Lance Moss, Cherryville, NC; 11. Dewayne White, Byhalia, MS; 12. Ryan Roberts, Aurora, NE; 13. Terry Witherspoon, Jacksonville, FL; 14. Wade Buttrey, Fairview, TN; 15. Ronny Howard, Nesbit, MS; 16. Ayden Gatewood, Caruthersville, MO; 17. Jake Brashier, Denham Springs LA; 18. Jeff Willingham, Ripley, MS; 19. Trent Moss, Medon, TN; 20. D.L. (Tank) Brashier, Ethel, LA; 21. Brad Bowden, Hernando, MS; 22. Paul Jones, Casper, WY; 23. Spencer Meredith, Hernando, MS; 24. Josh McCord, Bossier City, LA DNS.
HOOSIER RACING TIRE SPEED DASH – 6 Laps: 1. D. Howard; 2. Hagar; 3. Bowden; 4. Harrison; 5. Short; 6. Witherspoon.
HEAT RACES – 8 Laps:
ENGLER MACHINE AND TOOL FIRST HEAT: 1. D. Howard; 2. Hagar; 3. Boulton; 4. Englehart; 5. Meredith; 6. R. Howard; 7. White; 8. T. Moss.
JJ SUPPLY OF NC SECOND HEAT: 1. Harrison; 2. Bowden; 3. Buttrey; 4. Adams; 5. L. Moss; 6. Roberts; 7. D. Brashier; 8. Jones.
DHR THIRD HEAT: 1. Witherspoon; 2. Short; 3. C. Howard; 4. Gray; 5. Gatewood; 6. J. Brashier; 7. Willingham; 8. McCord DNS.