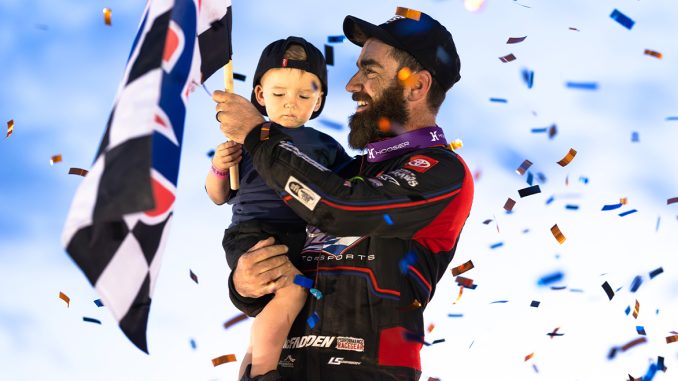 By Alex Nieten
LAWRENCEBURG, IN (May 29, 2023) – The last month has been a trying time for James McFadden and the Roth Motorsports team.
A penalty issued at the end of April for a failed tire test sent their 2023 World of Outlaws NOS Energy Drink Sprint Car season in a tough direction.
But the team stayed motivated. The Roth Motorsports organization stuck behind them. Partners maintained support. They went home to California and had a pair of encouraging races near their Fresno based shop before returning to the tour less than two weeks ago. Five races later came a revitalizing trip to Victory Lane with The Greatest Show on Dirt.
McFadden dominated Monday's Federated Auto Parts Memorial Day Spectacular at Lawrenceburg Speedway – leading all 30 laps on his way to a third victory of the season. His son, Mav, joined him atop the wing for an emotional celebration.
"We've obviously been through a lot as a team," McFadden said. "I've just got to thank everyone for sticking behind us. Obviously, Dennis and Teresa (Roth) and Toyota Racing Development. It's hard enough doing this up and down the road, and then to have the issues we had was pretty brutal for our team. To be standing here (Victory Lane) at Lawrenceburg is pretty crazy. I never thought I would. It's a tough joint. I've always felt really uncomfortable here. Hats off to Brent (Ventura), Wood (Gary Patellaro), and Rob (Beattie) for getting the car dialed in. We felt really good."
The Alice Springs, NT native is now an eight-time winner with the World of Outlaws. Prior to the night, McFadden's seven wins had been spread in seven different states. But with a triumph at Kokomo Speedway under his belt (2021), McFadden now owns a pair of victories in the state of Indiana. And of course, another win for McFadden means another for the Toyota Development Engine – upping its total to three with the World of Outlaws.
"I'm extremely happy," McFadden said. "Thank you, Dennis and Teresa, for this opportunity. It means a lot for me to be out here and be able to race against the best in the world. Thanks to all the fans for coming out. I hope you enjoyed the race. From my point of view, it was badass."
At the drop of the green flag, McFadden immediately pulled ahead from his pole starting position after topping the Toyota Racing Dash.
The driver of the Roth #83 survived a handful of early cautions and the ensuing restarts by staying at the top of his game each time the green flag flew. Behind him was a hornet's nest of haymakers for positioning within the top-five. A collection of the sport's best in Carson Macedo, Gio Scelzi, Rico Abreu, and Buddy Kofoid continued trading spots. Eventually, Macedo established control of runner-up.
As McFadden navigated slower traffic, he was able to move his machine anywhere necessary and maintain grip to move by cars – proof of their recent progress.
"We've been struggling to get everything to the ground and stop wheel spinning" McFadden said. "The last few nights we really gained a lot on our car. I think tonight was a testament to that."
McFadden's biggest challenge came slightly beyond the halfway point when Macedo found enough momentum to take a swing at the lead. Macedo threw a slider, but McFadden maintained momentum around the top to stay ahead and never looked back. The 34-year-old went on to cross under the checkered flag with a 1.355 second advantage.
"You always know Carson is going to be there," McFadden said of the second half of the race. "It's his sort of racetrack. You have to get up and get your elbows up. You race with these guys every weekend, and you know you've got to go. So, we did that. I felt like we got through lapped traffic really, really well.
"You always know someone's coming. You know Carson is going to throw a bomb or two, and that's why we do it. It's badass fun. We all have a lot of respect for each other. I'm just pumped to be standing here. It's been a rough month."
Macedo crossed the finish line after McFadden to notch his sixth consecutive top five finish and fifth podium over that stretch. He and the Jason Johnson Racing team have rediscovered some of their early season consistency, and Monday's runner-up put them in a tie for the points lead with Brad Sweet – who finished ninth. Macedo's finish marked his best Lawrenceburg result by far.
"He (McFadden) just did a really good job," Macedo explained. "We got to him in traffic there, and I was pacing him. And I thought if he were to make a mistake, I would have a really good shot at throwing something at him, and he just didn't really make one. He did a really good job. Hats off to him and the Roth team for getting the win. My guys did an incredible job all night, too. I felt like my car was solid."
Completing the podium was Rico Abreu for his sixth top three effort of the year aboard his #24 machine, which already matches his single season high for podiums in a year with the World of Outlaws. Abreu felt that a red flag slowed his momentum and chance to win but still came away happy with yet another strong performance.
"You just had to throw some bombs," Abreu said of his strategy. "Our car was phenomenally good. I honestly didn't need that red flag. These guys just kind of came right to me, but that's just racing. Hats off to (team members) Ricky (Warner), Zack (Middlebrooks), and Brady (Forbrook). A bunch of our friends are here tonight that got to see me race, so it's cool to get a good finish in front of them."
Rounding out the top five was Gio Scelzi (season best finish) and Buddy Kofoid.
Sheldon Haudenschild claimed the night's KSE Racing Hard Charger Award with a 19th to sixth effort in the Feature.
Carson Macedo opened the night by collecting his second consecutive Simpson Performance Products QuickTime and his Series-best seventh of the season. The Lemoore, CA native is up to 26 career Simpson QuickTimes.
CASE No.1 Engine Oil Heat One was topped by Donny Schatz (511th Heat win of career). Buddy Kofoid claimed NOS Energy Drink Heat Two (ninth of career), and Rico Abreu earned the win in NOS Energy Drink Heat Three (38th of career).
UP NEXT: The World of Outlaws NOS Energy Drink Sprint Cars are northbound for the first time in 2023 with a trip to River Cities Speedway (Grand Forks, ND) on Friday, June 2 before the Series debut at Ogilvie Raceway (Ogilvie, MN) on Saturday, June 3. For tickets, CLICK HERE.
If you can't make it to the track, catch all of the action on DIRTVision.
RESULTS:
NOS Energy Drink Feature (30 Laps): 1. 83-James McFadden[1]; 2. 41-Carson Macedo[2]; 3. 24-Rico Abreu[5]; 4. 18-Giovanni Scelzi[4]; 5. 71-Michael Kofoid[3]; 6. 17-Sheldon Haudenschild[19]; 7. 9P-Parker Price Miller[10]; 8. 2-David Gravel[11]; 9. 49-Brad Sweet[8]; 10. 15-Donny Schatz[6]; 11. 3Z-Brock Zearfoss[12]; 12. 1S-Logan Schuchart[9]; 13. 19AZ-Mitchel Moles[16]; 14. A79-Brandon Wimmer[14]; 15. 20G-Noah Gass[20]; 16. 1A-Jacob Allen[15]; 17. 101-Cody Maroske[23]; 18. 7S-Robbie Price[18]; 19. 99-Skylar Gee[17]; 20. 78-Justin Clark[24]; 21. 5-Spencer Bayston[13]; 22. 11K-Kraig Kinser[22]; 23. 29-Cole Macedo[7]; 24. 6-Bill Rose[21]; 25. 4X-Bradley Ashford[25]
Last Chance Showdown (12 Laps): 1. 17-Sheldon Haudenschild[1]; 2. 20G-Noah Gass[2]; 3. 6-Bill Rose[3]; 4. 11K-Kraig Kinser[5]; 5. 101-Cody Maroske[6]; 6. 78-Justin Clark[7]; 7. 4X-Bradley Ashford[8]; 8. 35-Zach Hampton[4]
Toyota Dash (6 Laps): 1. 83-James McFadden[1]; 2. 41-Carson Macedo[2]; 3. 71-Michael Kofoid[4]; 4. 18-Giovanni Scelzi[3]; 5. 24-Rico Abreu[6]; 6. 15-Donny Schatz[5]
Heat 1 (8 Laps): 1. 15-Donny Schatz[2]; 2. 41-Carson Macedo[1]; 3. 29-Cole Macedo[4]; 4. 9P-Parker Price Miller[3]; 5. 5-Spencer Bayston[5]; 6. 19AZ-Mitchel Moles[8]; 7. 20G-Noah Gass[6]; 8. 11K-Kraig Kinser[7]; 9. 4X-Bradley Ashford[9]
Heat 2 (8 Laps): 1. 71-Michael Kofoid[3]; 2. 83-James McFadden[1]; 3. 49-Brad Sweet[2]; 4. 2-David Gravel[4]; 5. A79-Brandon Wimmer[6]; 6. 99-Skylar Gee[7]; 7. 6-Bill Rose[8]; 8. 101-Cody Maroske[9]; 9. 17-Sheldon Haudenschild[5]
Heat 3 (8 Laps): 1. 24-Rico Abreu[1]; 2. 18-Giovanni Scelzi[3]; 3. 1S-Logan Schuchart[2]; 4. 3Z-Brock Zearfoss[4]; 5. 1A-Jacob Allen[5]; 6. 7S-Robbie Price[7]; 7. 35-Zach Hampton[6]; 8. 78-Justin Clark[8]
Qualifying: 1. 41-Carson Macedo, 00:12.097[1]; 2. 83-James McFadden, 00:12.164[2]; 3. 24-Rico Abreu, 00:12.245[6]; 4. 15-Donny Schatz, 00:12.313[3]; 5. 49-Brad Sweet, 00:12.340[5]; 6. 1S-Logan Schuchart, 00:12.364[7]; 7. 9P-Parker Price Miller, 00:12.370[17]; 8. 71-Michael Kofoid, 00:12.394[11]; 9. 18-Giovanni Scelzi, 00:12.409[10]; 10. 29-Cole Macedo, 00:12.452[4]; 11. 2-David Gravel, 00:12.458[23]; 12. 3Z-Brock Zearfoss, 00:12.525[13]; 13. 5-Spencer Bayston, 00:12.566[15]; 14. 17-Sheldon Haudenschild, 00:12.619[21]; 15. 1A-Jacob Allen, 00:12.762[19]; 16. 20G-Noah Gass, 00:12.764[25]; 17. A79-Brandon Wimmer, 00:12.812[14]; 18. 35-Zach Hampton, 00:12.885[20]; 19. 11K-Kraig Kinser, 00:12.920[8]; 20. 99-Skylar Gee, 00:12.936[18]; 21. 7S-Robbie Price, 00:12.984[26]; 22. 19AZ-Mitchel Moles, 00:12.996[16]; 23. 6-Bill Rose, 00:13.475[12]; 24. 78-Justin Clark, 00:13.990[9]; 25. 4X-Bradley Ashford, 00:15.891[24]; 26. 101-Cody Maroske, 00:25.000[22]