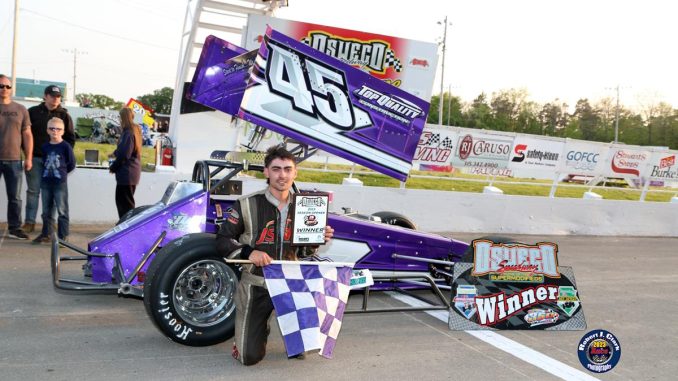 By Camden Proud
OSWEGO, NY (May 29, 2023) – Subbing for regular driver Bobby Holmes, former International Classic champion Tyler Thompson scored a ride with new car owner Chris Emmons for the 350 Supermodified portion of Opening Night, re-drew the pole, and dominated the 25-lap feature for his third career 350 Super victory.
"This car just keeps getting better and better every time I'm on the track," said Thompson of the Top Quality Motorsports prepared machine.. "I knew once I got out for the feature and got some heat in the tires that it would be a rocketship. This is Bobby Holmes' car. I hope I might get the chance to get back in it later this season, but have to thank Chris (Emmons) and the Top Quality Motorsports guys for the opportunity to be able to drive it."
Dave Cliff, who started outside pole, spent much of the feature holding off Josh Sokolic for the runner-up position. Eventually, Sokolic dropped out of the race with the engine breaking up on the No 26, allowing Cliff to pull away from Kyle Perry, who inherited third, but ran out of time to catch the Barbeau Racing No. 50.
"We kept getting worse every time on the track tonight, so we have to go back and do some homework because we had something going on," Cliff explained. "Congrats to Tyler (Thompson), I really made it pretty easy on him because I held up all the fast guys tonight. I have to thank all of the sponsors; Lakeside Restaurant, Woodchuck Saloon, Midstate Tree Service, and Joe's Jerky for staying onboard with us. We'll go back to the garage and try to make it better for next week."
Perry, who showed strong speed all night in the Bellinger-built No. 20, made the moves of the race early on after firing from the third row outside. The third-year driver made quick work of New England invader Brad Badd, as well as heat race winner Jason Spaulding, and later capitalized on Sokolic's misfortune for the fifth podium finish of his career.
"We took off pretty good, but it is tough starting back in sixth when you've got a bunch of fast guys up front," Perry mentioned. "As the race went on we were too loose tonight and Tyler was gone, but I did have a good battle there with Dave (Cliff) and Josh (Sokolic) for third. We will go back to the drawing board and come back next week."
Behind Perry, Spaulding and Babb rounded out the top five over Sokolic, Robbie Wirth, and Nick Kinney.
With the J&S Paving 350 Super point opener now in the books, the () race championship chase continues with a 30-lap feature scheduled for this Saturday, June 3, alongside the 50-lap ISMA / MSS / Oswego Winged Challenge Opener, and another 35-lapper for Pathfinder Bank SBS.
For more information, visit the track website online at OswegoSpeedway.com or LIKE on Facebook at Facebook.com/OswegoSpeedway or FOLLOW on Twitter @OswegoSpeedway or Instagram @OfficialOswegoSpeedway.
RESULTS
Barlow's Concessions and Oswego Health 72nd Season Kickoff
J&S Paving 350 Super 25
Saturday, May 27, 2023
Oswego Speedway
Oswego, NY
Feature (25-laps): 1. 45 TYLER THOMPSON, 2. 50 Dave Cliff 3. 20 Kyle Perry, 4. 23 Jason Spaulding, 5. 41 Brad Babb, 6. 26 Josh Sokolic, 7. 4 ® Robbie Wirth, 8. 7 Nick Kinney DNS 31 Nick Barzee
Heat 1 (8-laps): 1. 23 Jason Spaulding, 2. 26 Josh Sokolic, 3. 20 Kyle Perry, 4. 41 Brad Babb, 5. 45 Tyler Thompson, 6. 50 Dave Cliff, 7. 4 ® Robbie Wirth, 8. 7 Nick Kinney DNS 31 Nick Barzee
Group Time Trials: 1. 26 Josh Sokolic – 16.628, 2. 45 Tyler Thompson – 16.770, 3. 20 Kyle Perry – 16.834, 4. 50 Dave Cliff – 16.887, 5. 41 Brad Babb – 16.982, 6. 23 Jason Spaulding – 17.119, 7. 7 Nick Kinney – 17.300, 8. 4 ® Robbie Wirth – 17.465 DNS 31 Nick Barzee
Lighthouse Lanes Up & Comer (Pizza & Wings): #20 Kyle Perry