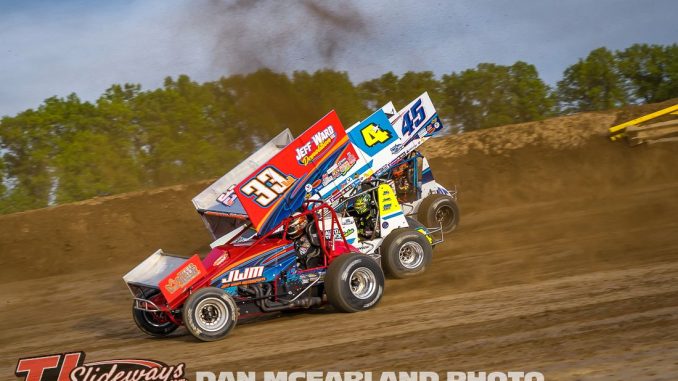 By Brian Liskai
ATTICA, Ohio – Cap Henry knew after the high side of the track was watered he had to act quickly at the start of the 410 sprint feature Friday, June 2 at Attica Raceway Park. The Republic, Ohio driver blasted from fourth into the lead at the drop of the green, then made daring moves in lapped traffic and drove to his first win of the year at Attica on Burns Electric/Metal Masters Fabrication Night.
Henry, Attica's 2020 track champion and the 2020 All Pro Aluminum Cylinder Heads/Kistler Racing Products presented by the Baumann Auto Group Attica Fremont Championship Series 410 champion, claimed his fourth overall victory of 2023 having won three at Fremont Speedway. The victory moves him into serious contention for the AFCS title.
It wasn't that easy for Henry as Trey Jacobs closed in lapped traffic but slipped over the edge of the track with just five laps to go. Following Henry to the checkers was last week's winner Travis Philo, Jacobs, Stuart Brubaker and Zeth Sabo.
"I don't know if the rest of the guys didn't see it (watering the track) or what but I knew that was the place to be. I saw them guys all run the bottom and I knew I had one chance to get there. Zack and Chris and Jeff and Gary have been working really hard on this thing….they keep plugging away at it. We were okay here just not good enough…I knew we'd get there. Mid-season championship is always a good one to win," said Henry beside his Jeff Ward Demolition, Elliott's Custom Trailers and Carts, Premier Planning Services, Tony Elliott Foundation, Primal Tee Shop; SCS Gear Box, Napa of Fremont backed #33W.
The 25 lap Dirt Nerds Podcast powered by propane UMP Late Model A-main saw only one caution and an exciting last 10 laps. After Gregg Haskell led the first two circuits, five time track champion Ryan Missler powered into the lead. The car on the move was eighth place starter Rusty Schlenk who took second on lap eight and closed on Missler in heavy lapped traffic by lap 13.
With five laps to go Missler and Schlenk were banking doors racing through lapped traffic with Schlenk taking the lead with just three laps to go. Schlenk earned his third win of the year at Attica, the 38th of his career to sit atop the division's all-time win list. Missler, Devin Shiels, Casey Noonan and Ryan Markham rounded out the top five.
"The track was absolutely perfect for the feature tonight. You could race anywhere. If the track is like this every week I may have to keep coming back. The fans had to enjoy that one, it was a blast. Racing with Ryan is a lot of fun. He's a good clean driver," said Schlenk beside his Velocita Fire suits, Buckeye Concrete Coatings, Terry Henricks Chrysler, Tom Finch Auto, VP Fuel, Dominator Race Products, Forbes Construction, All Star Performance, Mullins Engines, Willy's Carbs backed #91.
The Fremont Fence 305 feature saw three lead changes in the last five laps. Paul Weaver lead the first 14 circuits of the 25 lap A-main with Steve Rando taking over for laps 15-20 before slipping over the turn two rim, giving the lead back to Weaver. Weaver was locked in a battle with Bryan Sebetto in heavy lapped traffic when he made contact, did a 360, collecting Sebetto who was able to keep rolling. Sebetto then inherited the lead and held off Rando, Jamie Miller, Dustin Dinan and Brandon Moore for his first win of the year, the 14th of his career in the division at Attica.
"A lapped car went off the track on the back stretch came back on in front of Paul…that was unfortunate. That's not how I wanted to win one. I think Steve (Rando) probably had the fastest car…he just slipped out a little bit down there and gave it back to me and Paul. Sometimes when you're leading like that you have to hit your marks. I've don't it. I've run off the end leading and it sucks for Steve and it sucks for Paul how that all fell out," said Sebetto.
"I really, really, really wanted to win tonight so that Guy (Myers, Sebetto's crew chief) and Zack (Myers, Henry's crew chief) could both have feature wins on the same night. That really means a lot. An army of people go into putting these cars on the race track. If it weren't for Kevin Schlachter I wouldn't be out here racing. He was generous enough to put a car together for me last year when I decided I wanted to come and have some fun. We try to make this fun and not so much work," added Sebetto beside his Sandusky Bay Remodeling, JLH General Contractor, Sandusky Bay RV Rentals, KH Suspension, NAPA of Fremont, Clay Keim, Depot Pizza, CA Kustoms backed #01.
Attica Raceway Park will kick off the Ohio Sprint Speedweek with the Tezos All Star Circuit of Champions Friday, June 9 with the UMP late models also on the racing card for the Bert and Brigitte Emick Classic.
For more information go to www.atticaracewaypark.comor follow the track on Twitter @atticaracewyprk or on Facebook at www.facebook.com/atticaracewaypark and Instagram at attica_raceway_park.
About Burns Electric – www.burnselectric.com
Located in downtown Tiffin, Burns Electric has a gallery showroom of innovative kitchen designs featuring custom and semi-custom cabinetry and state-of-the-art appliances in name brands you trust. Our showroom will dazzle you with plenty of wow factor. We're the largest lighting showroom in the area. Countertop and flooring departments complete your shopping needs for new construction and remodeling projects. Burns' kitchen, bath, and lighting design team has the know-how to bring it all together for an exciting new look. Burns has the largest selection of appliances, light fixtures, cabinetry, countertops, and flooring, top quality name brands at low prices. Burns – We have it all! www.burnselectric.com
About Metal Master Fabrications – http://metalmasterfabrication.com
John Eberle started the business in 2005, and has been successfully operating it ever since. With a background in metal work, welding and maintenance, John switched to doing contract work and started the company when people saw what he did and the quality of the work and asked him to help them with their fabrication needs. Metal Master does work on-site or off-site welding, cutting, installation, one-off or small production-type work, repetitive parts or one-off fabrication. Metal Master can weld aluminum, stainless steel and carbon steel. Types of welding include tig, mig and stick. Metal Master also does rigging, sand-blasting and painting from small to large-scale items and is state certified in pipe welding.
Attica Raceway Park 2
Friday, June 2, 2023
410 Sprints – Callie's Performance Products
Qualifying
1.32-Bryce Lucius, 12.730; 2.33W-Cap Henry, 12.872; 3.35-Stuart Brubaker, 12.937; 4.68G-Tyler Gunn, 12.959; 5.5T-Travis Philo, 13.012; 6.9-Trey Jacobs, 13.022; 7.5-Byron Reed, 13.092; 8.8M-TJ Michael, 13.141; 9.7N-Darin Naida, 13.165; 10.23-Zeth Sabo, 13.178; 11.15C-Chris Andrews, 13.262; 12.101-Cody Maroske, 13.322; 13.9Z-Duane Zablocki, 13.543; 14.00-Jake Hesson, 13.568; 15.41-Thomas Schinderle, 13.584; 16.12-Kyle Capodice, 13.666; 17.75-Jerry Dahms, 14.123;
Heat 1, Group A – (8 Laps)
1. 7N-Darin Naida[1] ; 2. 5-Byron Reed[2] ; 3. 9-Trey Jacobs[3] ; 4. 23-Zeth Sabo[5] ; 5. 9Z-Duane Zablocki[7] ; 6. 101-Cody Maroske[6] ; 7. 12-Kyle Capodice[9] ; 8. 32-Bryce Lucius[4] ; 9. 41-Thomas Schinderle[8]
Heat 2, Group B – (8 Laps)
1. 5T-Travis Philo[1] ; 2. 33W-Cap Henry[4] ; 3. 68G-Tyler Gunn[2] ; 4. 35-Stuart Brubaker[3] ; 5. 8M-TJ Michael[5] ; 6. 00-Jake Hesson[7] ; 7. 15C-Chris Andrews[6] ; 8. 75-Jerry Dahms[8]
A-Main 1 – (30 Laps)
1. 33W-Cap Henry[4] ; 2. 5T-Travis Philo[3] ; 3. 9-Trey Jacobs[1] ; 4. 35-Stuart Brubaker[6] ; 5. 23-Zeth Sabo[8] ; 6. 32-Bryce Lucius[15] ; 7. 5-Byron Reed[2] ; 8. 101-Cody Maroske[11] ; 9. 8M-TJ Michael[10] ; 10. 9Z-Duane Zablocki[9] ; 11. 7N-Darin Naida[5] ; 12. 15C-Chris Andrews[14] ; 13. 68G-Tyler Gunn[7] ; 14. 41-Thomas Schinderle[17] ; 15. 75-Jerry Dahms[16] ; 16. 12-Kyle Capodice[13] ; 17. 00-Jake Hesson[12]
305 Sprints – Fremont Fence Co.
Qualifying
1.1W-Paul Weaver, 13.899; 2.9R-Logan Riehl, 14.021; 3.7M-Brandon Moore, 14.030; 4.01-Bryan Sebetto, 14.201; 5.19R-Steve Rando, 14.213; 6.26-Jamie Miller, 14.253; 7.5JR-Jimmy McGrath Jr., 14.308; 8.3F-Wade Fraley, 14.316; 9.36-Seth Schneider, 14.336; 10.2-Brenden Torok, 14.389; 11.5-Kody Brewer, 14.477; 12.3M-Logan Mongeau, 14.484; 13.5DD-Dustin Dinan, 14.526; 14.49i-John Ivy, 14.530; 15.34-Jud Dickerson, 14.531; 16.20I-Kelsey Ivy, 14.547; 17.16-Lee Sommers, 14.636; 18.5M-Mike Moore, 14.709; 19.4X-Blayne Keckler, 14.752; 20.X15-Kasey Ziebold, 14.762; 21.10TS-Tyler Schiets, 14.772; 22.11TS-Tate Schiets, 14.954; 23.92-Kevin Hawk, 15.010; 24.2S-Jackson Sebetto, 15.096; 25.1S-James Saam, 15.698;
Heat 1, Group A – (8 Laps)
1. 1W-Paul Weaver[4] ; 2. 36-Seth Schneider[1] ; 3. 7M-Brandon Moore[3] ; 4. 5JR-Jimmy McGrath Jr.[2] ; 5. 20I-Kelsey Ivy[6] ; 6. 3M-Logan Mongeau[5] ; 7. 4X-Blayne Keckler[7] ; 8. 11TS-Tate Schiets[8] ; 9. 1S-James Saam[9]
Heat 2, Group B – (8 Laps)
1. 5DD-Dustin Dinan[1] ; 2. 19R-Steve Rando[4] ; 3. 5-Kody Brewer[2] ; 4. 49i-John Ivy[5] ; 5. 5M-Mike Moore[6] ; 6. 2-Brenden Torok[3] ; 7. 92-Kevin Hawk[7] ; 8. 2S-Jackson Sebetto[8]
Heat 3, Group C – (8 Laps)
1. 26-Jamie Miller[2] ; 2. 01-Bryan Sebetto[3] ; 3. 3F-Wade Fraley[1] ; 4. 9R-Logan Riehl[4] ; 5. X15-Kasey Ziebold[7] ; 6. 16-Lee Sommers[6] ; 7. 10TS-Tyler Schiets[8] ; 8. 34-Jud Dickerson[5]
B-Main 1 – (10 Laps)
1. 2-Brenden Torok[2] ; 2. 16-Lee Sommers[3] ; 3. 92-Kevin Hawk[5] ; 4. 10TS-Tyler Schiets[6] ; 5. 3M-Logan Mongeau[1] ; 6. 4X-Blayne Keckler[4] ; 7. 1S-James Saam[10] ; 8. 2S-Jackson Sebetto[8] ; 9. 34-Jud Dickerson[9] ; 10. 11TS-Tate Schiets[7]
A-Main 1 – (25 Laps)
1. 01-Bryan Sebetto[6] ; 2. 19R-Steve Rando[3] ; 3. 26-Jamie Miller[4] ; 4. 5DD-Dustin Dinan[5] ; 5. 7M-Brandon Moore[1] ; 6. 49i-John Ivy[12] ; 7. 5JR-Jimmy McGrath Jr.[11] ; 8. X15-Kasey Ziebold[15] ; 9. 3F-Wade Fraley[10] ; 10. 36-Seth Schneider[8] ; 11. 5-Kody Brewer[9] ; 12. 9R-Logan Riehl[7] ; 13. 2-Brenden Torok[16] ; 14. 5M-Mike Moore[14] ; 15. 92-Kevin Hawk[18] ; 16. 3M-Logan Mongeau[20] ; 17. 10TS-Tyler Schiets[19] ; 18. 16-Lee Sommers[17] ; 19. 1W-Paul Weaver[2] ; 20. 20I-Kelsey Ivy[13]
Late Models – Dirt Nerds Podcast
Qualifying
1.91-Rusty Schlenk, 15.152; 2.50-Ryan Missler, 15.176; 3.5M-Ryan Markham, 15.341; 4.36-Matt Irey, 15.358; 5.51-Devin Shiels, 15.427; 6.101-Chester Fitch, 15.696; 7.44S-Collin Shipley, 15.781; 8.74-Jeff Warnick, 15.846; 9.RH21-Gregg Haskell, 15.921; 10.92-Justin Chance, 15.924; 11.2C-Clint Coffman, 15.948; 12.1N-Casey Noonan, 16.034; 13.X3-Dan Wallace, 16.071; 14.27-Ken Hahn, 16.191; 15.87-Jeff Geis, 16.270; 16.56-Brandon Gregory, 16.321; 17.28-Kent Brewer, 16.351; 18.29-Nate Potts, 16.457; 19.4G-Bill Griffith, 16.512; 20.45-Jamie Grochowski, 16.605; 21.20H-Troy Hahn, 16.611; 22.2R-Ryan Davis, 16.616; 23.69R-Doug Baird, 16.683; 24.16-Steve Sabo, 16.774; 25.23-Scott Fowler , 17.122; 26.14T-Cody Truman, 17.237; 27.11-Austin Gibson, 17.521; 28.12-Bobby Michaels, 18.406;
Heat 1, Group A – (8 Laps)
1. RH21-Gregg Haskell[1] ; 2. 5M-Ryan Markham[3] ; 3. 50-Ryan Missler[4] ; 4. 87-Jeff Geis[6] ; 5. X3-Dan Wallace[5] ; 6. 16-Steve Sabo[9] ; 7. 69R-Doug Baird[8] ; 8. 11-Austin Gibson[10] ; 9. 74-Jeff Warnick[2] ; 10. 56-Brandon Gregory[7]
Heat 2, Group B – (8 Laps)
1. 51-Devin Shiels[3] ; 2. 91-Rusty Schlenk[4] ; 3. 2C-Clint Coffman[2] ; 4. 28-Kent Brewer[1] ; 5. 29-Nate Potts[5] ; 6. 4G-Bill Griffith[6] ; 7. 20H-Troy Hahn[7] ; 8. 23-Scott Fowler [8] ; 9. 14T-Cody Truman[9]
Heat 3, Group C – (8 Laps)
1. 92-Justin Chance[1] ; 2. 44S-Collin Shipley[2] ; 3. 1N-Casey Noonan[5] ; 4. 36-Matt Irey[4] ; 5. 2R-Ryan Davis[8] ; 6. 27-Ken Hahn[6] ; 7. 45-Jamie Grochowski[7] ; 8. 12-Bobby Michaels[9] ; 9. 101-Chester Fitch[3]
B-Main 1 – (10 Laps)
1. 16-Steve Sabo[1] ; 2. 27-Ken Hahn[3] ; 3. 4G-Bill Griffith[2] ; 4. 74-Jeff Warnick[10] ; 5. 45-Jamie Grochowski[6] ; 6. 69R-Doug Baird[4] ; 7. 11-Austin Gibson[7] ; 8. 20H-Troy Hahn[5] ; 9. 14T-Cody Truman[11] ; 10. 101-Chester Fitch[12] ; 11. 12-Bobby Michaels[9] ; 12. 23-Scott Fowler [8] ; 13. 56-Brandon Gregory[13]
A-Main 1 – (25 Laps)
1. 91-Rusty Schlenk[8] ; 2. 50-Ryan Missler[3] ; 3. 51-Devin Shiels[7] ; 4. 1N-Casey Noonan[10] ; 5. 5M-Ryan Markham[5] ; 6. 92-Justin Chance[2] ; 7. 44S-Collin Shipley[4] ; 8. 36-Matt Irey[6] ; 9. RH21-Gregg Haskell[1] ; 10. X3-Dan Wallace[13] ; 11. 2C-Clint Coffman[9] ; 12. 27-Ken Hahn[17] ; 13. 2R-Ryan Davis[15] ; 14. 16-Steve Sabo[16] ; 15. 87-Jeff Geis[11] ; 16. 74-Jeff Warnick[19] ; 17. 45-Jamie Grochowski[20] ; 18. 4G-Bill Griffith[18] ; 19. 28-Kent Brewer[12] ; 20. 29-Nate Potts[14]