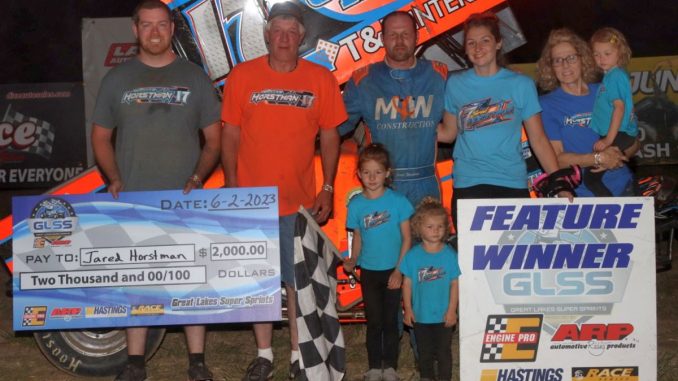 By T.J. Buffenbarger
LAKE ODESSA, Mich. (June 2, 2023) — Jared Horstman positioned himself to be in the right place at the right time in route to winning Friday's Great Lakes Super Sprints feature at I-96 Speedway. Horstman, from Cloverdale, Ohio, was running in second position when leader Cole Macedo experienced mechanical issues in the closing stages of the feature event, giving Horstman the lead. Horstman then drove away from the field for his second consecutive win in GLSS competition at I-96.
Horstman was unsusccesful after a restart sliding past Macedo for the lead during a restart, and thought that his opportunity to take the lead may have slipped away before Macedo's mechanical issues.
"I don't know what happened to him, but I'm going to go ask to fine out," said Horstman of Macedo's misfortune. "I don't think I slid hard enough. I didn't stop the car a lane higher than I should have. Hindsight is 2020 thought and we are fortunate to be here, and glad things worked out the way they did."
Macedo and Phil Gressman started on the front row for the 25-lap main event. Macedo jumped to the lead while Gressman slid off the track in turn four giving chase, losing several positions in the process.
Luke Griffith and Horstman then gave chase to Macedo running in the second and third positions. Behind them Dustin Daggett and Macedo's teammate Ryan Ruhl were having a torrid battle trading the fourth position back and forth.
Macedo was blasting through slower traffic with Griffith trying to keep pace when the first caution flag of the event came out with 10 laps complete when Braydon Phillips slid off the track between turns one and two. Phillips was able to restart at the tail of the field.
While Macedo continued to lead Horstman used the restart as an opportunity to take second from Griffith with a power move around the outside. Behind them Ruhl wrestled fourth away from Daggett.
Three laps later the caution appeared again when Andy Chehowski spun in turn four in front of the leaders. Chehowski was able to rejoin the tail of the field for the restart.
Horstman was able to hang with Macedo after the restart and attempted a slide job through turns three and four to take the lead but couldn't carry enough momentum to complete the pass and allowed Macedo to open up a sizeable lead.
Macedo appeared to be on cruise control when his car slowed with three laps to go after drivetrain issues. This gave Horstman the lead for good taking the checkered flag over Ruhl, Daggett, Max Stambuagh from 11th starting position, and Phil Gressman rallying from his early race mistake to round out the top five.
Horstman said his family owned team setup their car for the late stages of the event.
"Early in the race we set up to be a little snug," said Horstman. "We knew what the track conditions early with the water that we were going to be good late That was kind of the idea behind what we did. I found the top there running third and I didn't want to push too hard."
That strategy ended up paying off on what is becoming one of Horstman's favorite racetracks and has used their recent performances at I-96 to snap out of some bad luck that has plagued his team at times this season.
"I've always loved coming here," Horstman said of I-96. "We were just talking about track prep track prep here is hands down second to none. Walt (Wisniewski)does a great job and it's always fun. I love this big place. It's wide open. It's good to get to come back here and get another one under our belt. Go home and do some more homework and hopefully this monkey is gone for the rest of season."
Daggett set fast time in qualifications with a lap of 14.487 seconds. Daggett, Macedo, and Gressman won heat race events.
A.J. Aldrich got upside down after contact with the wall in turn four during qualifications while Kevin Martens flipped during the third heat race after losing a wheel. Both drivers exited their cars under their own power.
Great Lakes Super Sprints
I-96 Speedway
Lake Odessa, Michigan
Friday, June 2, 2023
Qualifying
1. 85-Dustin Daggett, 14.487[10]
2. 50YR-Ryan Ruhl, 14.497[1]
3. 49T-Gregg Dalman, 14.543[6]
4. 16C-Tylar Rankin, 14.570[17]
5. 50SRS-Cole Macedo, 14.610[22]
6. 71H-Max Stambaugh, 14.620[15]
7. 17-Jared Horstman, 14.645[3]
8. 0-Brayton Phillips, 14.671[2]
9. 7C-Phil Gressman, 14.841[20]
10. 19-Jett Mann, 14.846[5]
11. 11G-Luke Griffith, 14.962[11]
12. X-Mike Keegan, 14.967[18]
13. 23-Devon Dobie, 14.986[14]
14. 70-Eli Lakin, 15.058[4]
15. 42-Boston Mead, 15.069[8]
16. 86-Keith Sheffer Jr, 15.182[16]
17. 2-AJ Aldrich, 15.366[13]
18. 3A-Mike Astrauskas, 15.413[7]
19. 10-Jason Blonde, 15.466[21]
20. 20A-Andy Chehowski, 15.869[19]
DNS: 67-Kevin Martens, 15.869
DNS: 38-Max Frank, 15.869
Heat Race #1 (8 Laps)
1. 85-Dustin Daggett[4]
2. 17-Jared Horstman[2]
3. 19-Jett Mann[1]
4. 16C-Tylar Rankin[3]
5. 23-Devon Dobie[5]
6. 86-Keith Sheffer Jr[6]
7. 10-Jason Blonde[7]
DNS: 38-Max Frank
Heat Race #2 (8 Laps)
1. 50SRS-Cole Macedo[3]
2. 11G-Luke Griffith[1]
3. 70-Eli Lakin[5]
4. 50YR-Ryan Ruhl[4]
5. 0-Brayton Phillips[2]
6. 20A-Andy Chehowski[7]
DNS: 2-AJ Aldrich
Heat Race #3 (8 Laps)
1. 7C-Phil Gressman[2]
2. X-Mike Keegan[1]
3. 71H-Max Stambaugh[3]
4. 49T-Gregg Dalman[4]
5. 42-Boston Mead[5]
6. 3A-Mike Astrauskas[6]
7. 67-Kevin Martens[7]
A-Main (25 Laps)
1. 17-Jared Horstman[5]
2. 50YR-Ryan Ruhl[7]
3. 85-Dustin Daggett[6]
4. 71H-Max Stambaugh[11]
5. 7C-Phil Gressman[2]
6. 23-Devon Dobie[13]
7. X-Mike Keegan[4]
8. 16C-Tylar Rankin[12]
9. 11G-Luke Griffith[3]
10. 86-Keith Sheffer Jr[16]
11. 70-Eli Lakin[10]
12. 42-Boston Mead[15]
13. 49T-Gregg Dalman[8]
14. 19-Jett Mann[9]
15. 3A-Mike Astrauskas[18]
16. 0-Brayton Phillips[14]
17. 20A-Andy Chehowski[17]
18. 50SRS-Cole Macedo[1]
19. 10-Jason Blonde[19]